Sacred Fire: Practicing Devotion to the Sacred Heart of Jesus
By Philip Michael Bulman
Laudate Press (2014), 352 pages
This is a great title for a book that will rekindle your love for the Sacred Heart of Jesus. Sacred Fire describes the scriptural roots of the Sacred Heart devotion, and how it has evolved over the centuries. More importantly, it gives readers practical ways to adopt the devotion in their homes and families.
Bulman, who holds a master's degree in journalism from Northwestern University and is the author of Replenish the Earth, a novel of the early Christian church, self published this book in order to get the message of devotion to the Sacred Heart to as many people as possible. The design of the book may not be what you expect from a well known publisher, for example the type face used is a sans serif. For some readers this may be a welcome change since it can have the effect of large print.
The book contains wonderful stories of saint's love for the Sacred Heart of Jesus from the expected, Saint Margaret Mary Alacoque, to Carmelite saints, and Saint Faustina (Divine Mercy). After turning pages in the book I found that chapters on the Eucharist, the Litany of the Sacred Heart, Reparation to the Sacred Heart, had other treasures buried in them. If you purchase this practical compendium you will want to put tabs on favorite prayers and sections in order to find them easily. An index would have been a great undertaking but would be a great help in a future printing as well as bold headings for prayers and sub-chapters.
Philip Bulman's desire to share his love for the Sacred Heart of Jesus is obvious in the collection of stories, prayers and scripture he has put together for us to enjoy as we, in his words, "taste the ineffable sweetness to be found in the infinite depths of his heart."
Copyright 2014 Sr. Margaret Kerry, fsp
About the Author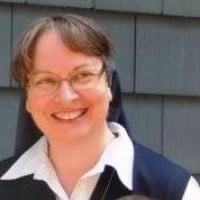 A Daughter of St. Paul for 40 years Sr. Margaret continues to pursue new ways to proclaim the Gospel: sharing the Pauline Charism with the laity, writing books (St. Anthony of Padua: Fire & Light; Strength in Darkness: John of the Cross; Prayers for the New Evangelization), & through direct evangelization. She is available for workshops on the Vocation & Mission of the Laity, Media Literacy, and The New Evangelization. mkerry@paulinemedia.com