Welcome to this summer's Lawn Chair Catechism! We're reading Joe Paprocki's best-selling book, A Well-Built Faith: A Catholic's Guide to Knowing and Sharing What We Believe. We're taking it one chapter at a time all summer long.

When someone is keeping a secret from us, we need to work hard in order to discover it. Thankfully, we have a God who does not keep secrets. In fact, God is all about revealing. One of the things that God revealed to his people Israel is the
Decalogue—
the Ten Commandments. In this session, we'll explore the Commandments as well as the Beatitudes and the Virtues.
In a sense, we can think of the advice that our coaches give us for sports as rules that we need to follow if we want to excel in that area. These rules guide us and actually free us to excel at something. In the same way, God has given us rules to follow—the Ten Commandments—to free us so that we can remain in relationship with him.
When Jesus taught us how to live God's Law of Love, he offered us the Beatitudes, which we can think of as "counterintuitive commandments"--they go against common sense. This should not come as a surprise, however, since the gospel itself is counterintuitive. Does common sense teach us to love our neighbors, to pray for our persecutors, to turn the other cheek, or to find life through death? No. That's why following God's Law of Love, as taught by Jesus, calls us to conversion. We need to change the way we think.
Certain behaviors (usually the bad ones) are habit forming. When it comes to good habits, we need to work at forming them. For centuries, the Church has taught seven habits, or principles, that are key to living as disciples of Jesus, habits called virtues. They need to be used; they can be lost if they are neglected.
As Catholics, our belief in the Ten Commandments, the Beatitudes, and the virtues means that we don't have to go searching for some great secret to a deeper relationship with God. God has revealed to us, through the Ten Commandments and through Jesus Christ, who is the incarnation of the Law of Love, how we are to live in order to remain in grace, in relationship with him. God's Law of Love is a gift that enables us to live a life that is blessed with God's presence.
Questions for Reflection and Discussion:
How can laws set us free?
Why do you think the people of Israel were so thankful to receive the Ten Commandments?
Which of the Commandments do you think our society is most in need of following?
Why might we call the Beatitudes the "counterintuitive commandments?"
At which of the seven Virtues would you like to be better?
Feel free to comment on your own thoughts from this week's reading, your impressions and reflections, and/or your answers to these questions. You can also share your blog post by linking up below.
Next week, we'll cover Chapter 14: Tuck-Pointing, Painting, and Siding: Works of Mercy and Social Justice. For the complete reading schedule and information about this summer's Lawn Chair Catechism, visit the Lawn Chair Catechism page.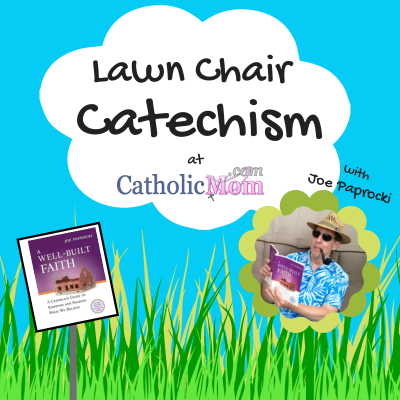 [inlinkz_linkup id=438009 mode=1]
Copyright 2014 Sarah Reinhard
About the Author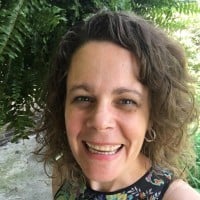 When she's not chasing kids, chugging coffee, or juggling work, Sarah Reinhard's usually trying to stay up read just one…more…chapter. She writes and works in the midst of rural farm life with little ones underfoot. She is part of the team for the award-winning Catholic Mom's Prayer Companion, as well as the author of a number of books. You can join her for a weekday take on Catholic life by subscribing to Three Shots and follow her writing at Snoring Scholar.