I don't know what the chances are that I'll ever get to the Holy Land. Honestly, it wasn't until I read Fr. James Martin's Jesus: A Pilgrimage for our book club conversation here at CatholicMom.com that I first felt the stirrings of any desire to go there.
Which is ironic, because I received a copy of Fr. Mitch Pacwa's The Holy Land: An Armchair Pilgrimage MONTHS before I started reading that. In my defense, though, I opened the envelope at my mother-in-law's house and generously let her borrow it. (I didn't realize it would take her months to look through it.)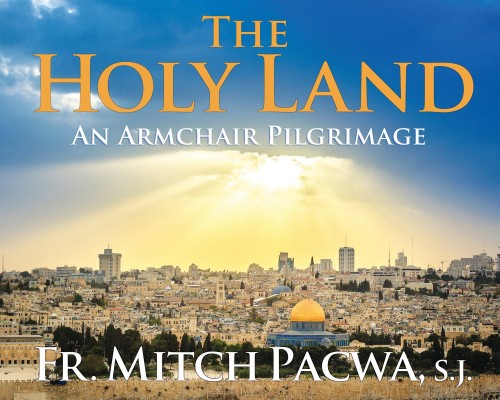 Now that it's back in my possession, I've spent a bit of time with it. In fact, I wish I had used it as a companion for Fr. Martin's book, because the full-color pictures and the explanations so beautifully give me an idea of the scenery Fr. Martin talks about.
I'll be honest: I haven't read it all, but I have looked through all the pictures at least twice. And when the kids see it, they'll be sure to do the same...which is, to me, another benefit of this book.
This isn't just a devotional, though it is that. It's not just a coffee table book, though it's that too (it's larger sized and completely full-color). (And hey! It smells like the books I remember from my grandmother's coffee table. Pardon me while I have a moment...) It's not just a book with great maps and pretty pictures, though it has both.
This is a book that can teach us about our faith history and the Bible in the way that only pictures and excellent commentary can. These are high-quality pictures, and Fr. Pacwa approaches his part as the guide in a very serious and professional manner. But we should expect no less. In his introduction, he writes,
Through the last three decades, I have learned to pray more on pilgrimage, leading the pilgrims in prayer and meditation on the biblical events that took place in this land blessed by the prophets, priests, kings, and people of Israel—but especially by our Lord and Savior, Jesus Christ, his Blessed Mother, Mary, St. Joseph, the apostles, and other saints. My primary goal in this book is to share the biblical texts associated with the key pilgrimage shrines and sites throughout the land, so as to help you deepen your prayer through augmenting "composition of place," that is, an imaginative sense. This book therefore includes pictures of the sites, which are frequently marked by churches and art that further illustrate the biblical events and their significance.
I think my favorite part of the book, hands down, is Chapters Six, the Via Dolorosa. Fr. Pacwa invites us to pray the Way of the Cross as we journey through Jerusalem on the path Jesus may have taken. The chapter ends and we're taken to Chapter Seven, which is the Holy Sepulcher Church.
Maybe I will make it to the Holy Land someday, and I'll have the chance to pray in these physical places. But until then, I am grateful to have this resource to share with my family and to use myself to grow closer to Jesus.
I hope that you armchair pilgrims—both those who might never have the opportunity to travel to the Holy Land and those who have already been there and want a refresher pilgrimage—may find an opportunity in this book to pray more and come closer to our Savior, Jesus Christ. The Holy Land is a great teacher.
So Fr. Pacwa tells us in the introduction, and it's a promise I think he kept.
Purchase The Holy Land: An Armchair Pilgrimage and support CatholicMom.com without spending any extra.
Be sure to check out our Book Notes archive.
Copyright 2014, Sarah Reinhard
About the Author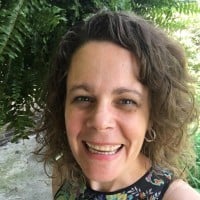 When she's not chasing kids, chugging coffee, or juggling work, Sarah Reinhard's usually trying to stay up read just one…more…chapter. She writes and works in the midst of rural farm life with little ones underfoot. She is part of the team for the award-winning Catholic Mom's Prayer Companion, as well as the author of a number of books. You can join her for a weekday take on Catholic life by subscribing to Three Shots and follow her writing at Snoring Scholar.