It is true... I am a fan of the saints. I have eagerly researched the saints and I am blown away by their lives, their faith, and their examples of holiness. In my passion for getting to know the saints, I have released a number of SAINT craft kits featuring my 15-year-old daughter's drawings of over 44 Saints!
While I love the cute, kid-magnet images in pure Kelly Comic style and I think they are awesome for their appeal to kids,
I'm here to say...there is actually nothing cute or comic-y about the Saints.
These holy men and women and sometimes children are incredible heroes of our Faith, and their stories are Church-tested and true and way beyond the scope of legends or fairy tales.
I've developed a special fondness for St John Paul II, St Therese and St Padre Pio, but I learned something in Rome, listening to Fr Scott's homilies.
Much as we think that we discover certain Saints and devotions through others, by chance or by research, there is another reality
...sometimes the Saints call out to us.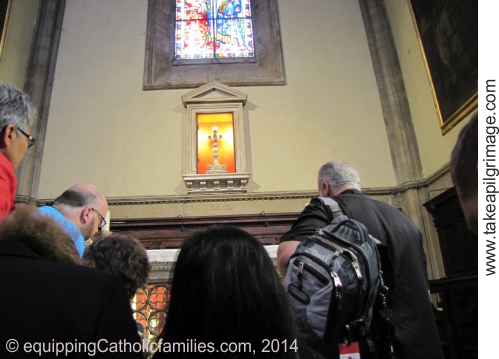 The presence of tombs and relics of their physical bodies left here on earth offer the reality check of real people and real holiness.
We know that their holy souls have long left their earthly bodies that remain, but walking so close to the tombs and relics of these holy people can have a profound affect on us pilgrims on earth.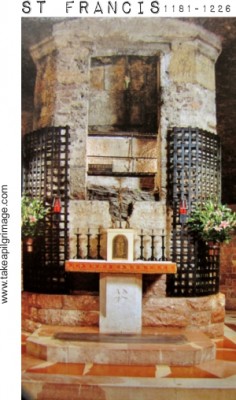 To walk around the tomb of St Francis, kneeling at the base of his tomb and pressing our written intentions through the grate...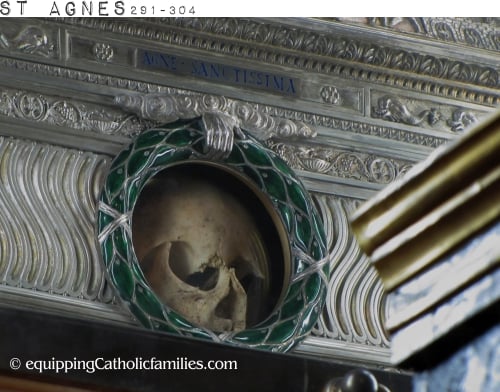 To pray quietly, staring at the skull of St Agnes, our little sister in faith...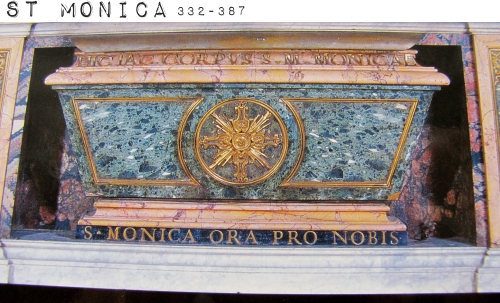 To pray quietly at the tomb of my other namesake...at St Augustine's mother's altar at St Agostino's church.
To happen upon statues, tombs and altars of saints I hadn't heard of...and wonder what their stories are.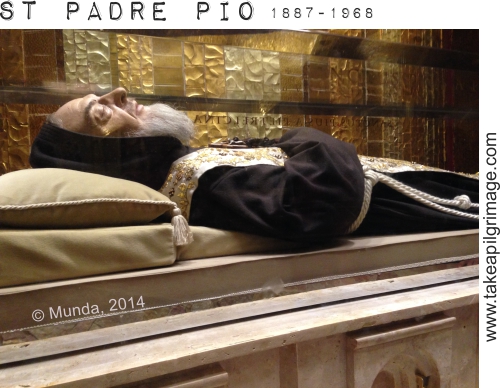 To suddenly gaze through the glass, less than a foot away from St Padre Pio...his sleeping face all but breathing.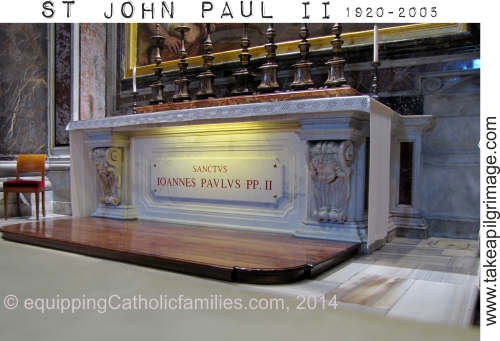 To watch a guard press my crucifix to the side of St John Paul II's tomb...
...these are special moments that have magnified my devotion and connection to the saints!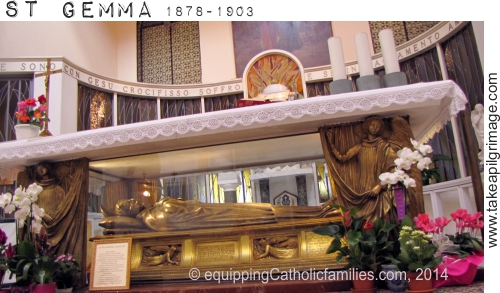 The saints touch us with their lives, especially when connections are made. Sometimes we inherit a loved one's devotion. Sometimes we hear details of a saint's life that we can relate or aspire to. Sometimes they are recommended to us for particular intentions, specific to their patronage. Sometimes we happen upon a saint's life story that leaps from the page of a book, impressing upon us in an instant...true holiness in humanity.
Visiting their tombs, seeing their relics, clothing, or prayer books can only magnify our connection to them.
I don't think that the saints are just whooping it up in Heaven, waiting for us to call upon them.
I think that the saints know exactly how they can help us and lead us to holiness...and they like to plant the desire in our hearts to learn more about them and pursue Jesus every which way we can.
Want to discover your connection to the Saints?
Consider a pilgrimage to Rome with St Gemma's Catholic Pilgrimages!
Want to read more about my pilgrimage to Rome?
Check out our new Gallery of Prep, Pilgrimage, Reflections, and Pope posts at Equipping Catholic Families.
Copyright 2014, Monica McConkey
About the Author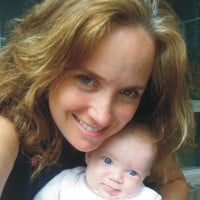 Monica, mom of 5, blogs about Catholic crafts and family traditions at EquippingCatholicfamilies.com. She is an author and creator of Super Saints quizzing cards and over 45 Saint, Sacrament, Catechism and Prayer-packed Craft Kits to help teach the Catholic Faith. The Catholic teaching tools and gifts are available through Arma Dei, the Catholic family publishing company founded with her husband Bill.