I've been hanging out with the saints.
I've been watercoloring the Kelly Saints images I made available for my Saints craft kits...and my daughter Kelly has been drawing more saints for me.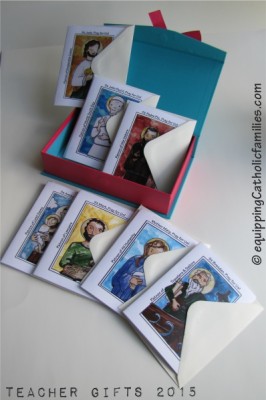 I made these All Occasion Saints Cards with these watercolor versions of her drawings and I launched into a new project of Super Saints Cards with actual games kids can play while learning facts about the saints!
I had no idea that I would learn so much more about the saints...and get so excited about the life facts that link them!
These cards are my own version of Top Trumps...a cool card game available for all the most popular movie and book characters, animals and wonders of the world! The numeric data on each card can be compared and contrasted...similar to the way I suspect Pokémon and YuGiOh cards are played. OK, I'm not really sure as I haven't actually played with those and either have my kids.
We prefer...the SAINTS!
I never get tired of learning about Mother Mary and reflecting on the gifts and virtues she models for us.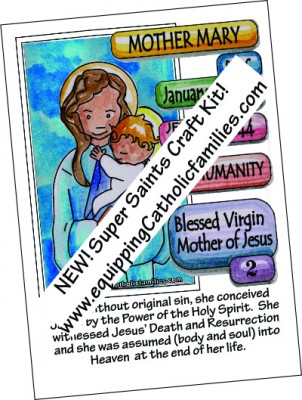 I'm blown away by her resignation to God's Will even when an ANGEL appeared to her and told her of God's Outlandish Plan for her life...conceiving and caring for the Savior of the World!
The simplified facts about Mother Mary probably won't come as a surprise to you or your kids, but...
Did you know that St. Brigid actually heard St. Patrick preach and it was St. Patrick who baptized her parents?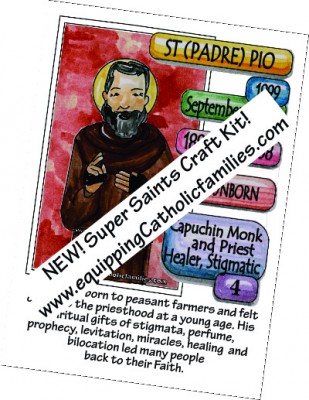 Do you ever think about how there was about 10 years when St André and St Thérèse and St Pio were alive at the same time in different countries?
Each belonged to a different order and they were all humbly serving the Lord through their prayer, their spiritual gifts and their simple, but profound teaching and example.
Want your kids to learn more about the saints...in a fun new way this summer?
Check out the Super Saints Craft Kit!
Copyright 2015 Monica McConkey.
Images copyright 2015 Monica McConkey. All rights reserved.
About the Author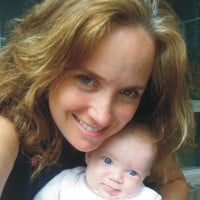 Monica, mom of 5, blogs about Catholic crafts and family traditions at EquippingCatholicfamilies.com. She is an author and creator of Super Saints quizzing cards and over 45 Saint, Sacrament, Catechism and Prayer-packed Craft Kits to help teach the Catholic Faith. The Catholic teaching tools and gifts are available through Arma Dei, the Catholic family publishing company founded with her husband Bill.