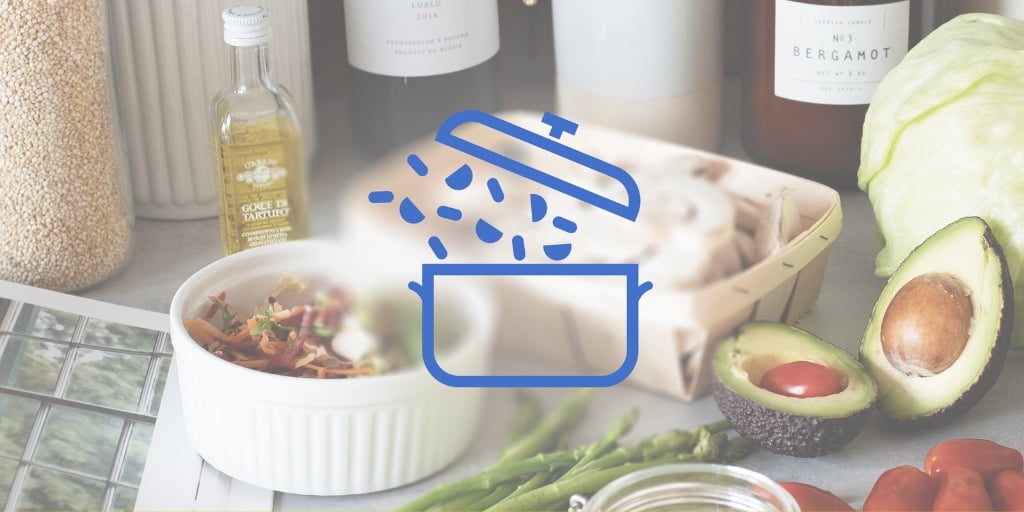 QUICK & EASY: IT DOESN'T GET ANY EASIER THAN BAKED SALMON
Not even sushi is as quick and easy as this oven-baked salmon recipe. You can prep the salmon in just a couple of minutes, and it only needs to cook for a short time. While the salmon is baking, you can throw together a quick salad – like perhaps a Sensation Salad – and butter a loaf of French bread to heat in the oven for a few minutes after the salmon comes out. Depending on the thickness of the salmon, you could have a complete meal on the table in under 30 minutes.
SIMPLE GOODNESS THAT IS HEALTHY AND DELICIOUS
A while back I shared a recipe for fish or shrimp ceviche over at CatholicFoodie.com, and I noted some of the health benefits of seafood. Both the ceviche recipe and this oven-baked salmon recipe call for fresh fish. This is important. The fresher the fish, the more health benefits it provides, especially if you prepare it in a healthy way. I mean, I love fried fish… it's just not the healthiest way to eat.

Making ceviche does nothing to take away from the freshness of the fish used, and this oven-baked salmon recipe only adds extra-virgin olive oil and salt to complement the fish.
SALMON NUTRITION

Salmon is a highly nutritious food. Of course, it is high in protein, and the "good fats." But did you know that a 4 oz serving of wild salmon provides a full day's requirement of vitamin D? It is one of the few foods that can make that claim. That same piece of fish contains over half of the necessary B12, niacin, and selenium, and is an excellent source of B6 and magnesium. Canned salmon also contains large amounts of calcium (due to the bones of the fish).

HEALTH BENEFITS OF SALMON

People who eat fish seem to be protected from a host of conditions. Some of this is probably due to the omega-3 fats, but there may be other benefits apart from this. The science isn't clear yet as to all the reasons why eating fish (particularly fatty fish such as salmon) seems to be so darned good for us.

Omega-3 fats seem to primarily work through reducing inflammation in our bodies. Inflammation is turning out to be at the base of many health problems, including heart disease, diabetes, some types of cancers and arthritis. Omega-3's also help prevent the blood clots which cause many strokes.

An exciting, fairly recent development is the realization that omega-3 fats have potential to help slow cognitive problems such as Alzheimer's disease and age-related cognitive decline. Also, people who have sufficient levels of omega-3's (especially as compared to omega-6 fats) seem to have less depression and suicide risk, as well as less aggression — in one study, giving prison inmates this type of fat (plus vitamins) reduced aggressive behavior by a third in a mere two weeks. –from All About Salmon: Salmon Nutrition, Health Benefits, Cooking, Farmed vs. Wild
TIPS FOR BAKING SALMON IN THE OVEN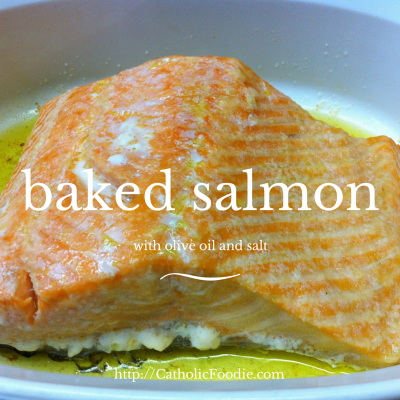 There are so many different ways that you can bake salmon. You can add black pepper, dill, fennel, mint, citrus, leeks, and even mustards. And you are certainly free to engage your creativity according to your tastes. But today I am going to share this very simple recipe for oven-baked salmon that really draws out the natural flavors of the salmon. It's so simple! You just need extra-virgin olive oil and salt.
Please note that I do not include in the recipe a specific time that it needs to cook. That's because the cook-time really depends on the thickness of the salmon that you have.
So how do you know when the salmon is done? A general rule of thumb is to bake salmon for 4 to 6 minutes per 1/2-inch thickness. Salmon is done as soon as it begins to flake, and you can easily test the doneness by inserting a fork into the fish and gently twisting. If it starts to flake, it's done. Two other signs of doneness to look for: the flesh will be opaque and the juices will turn a milky-white.
INGREDIENTS
1 to 2 lbs salmon fillet, with the skin on (we prefer a wild-caught salmon, like a sockeye, but farm-raised bakes well too)
Extra-virgin olive oil (a generous pour to coat well the top of the salmon)
Coarse ground kosher salt
INSTRUCTIONS
Preheat oven to 450.
Rinse salmon in fresh cold water, then pat dry.
Place salmon in a glass or ceramic baking dish, skin side down.
Coat with extra-virgin olive oil, then generously sprinkle with kosher salt.
Bake until opaque and flaky.
Bring the Delectable Cuisine of the Holy Land to Your Kitchen Table!
This Oven-Baked Salmon recipe is one of 78 easy-to-prepare recipes featured in my new cookbook Around the Table with The Catholic Foodie: Middle Eastern Cuisine.
What is your favorite way to prepare salmon or other fresh fish?
I would love to hear your favorites! Share them with me in the comments below!
Copyright 2014 Jeff Young
Photo copyright 2014 Jeff Young. All rights reserved.
Find more of Jeff's recipes at CatholicFoodie.com!
About the Author