LEBANESE FATTOUSH SALAD
The Fattoush Salad is a classic Middle Eastern salad. And like most classic dishes, there are many variations on a common theme. Some families add purslane leaves or mâche. Other families might add Romaine or some other types of lettuce. Coming from the same culture that gives us Tabbouleh, you will naturally also find parsley, mint and green onions in this salad.
Whereas Tabbouleh contains bulgar wheat to give it greater substance, the unique element in the Fattoush salad is the addition of toasted arabic bread (or pita bread). Lightly toasted and hand-torn, the bread gives this salad a crispness and a texture that is out of the ordinary, yet very appealing. However, the inclusion of bread in this salad means that it must be served and enjoyed right away once the dressing is added. Otherwise, the bread will go soggy.
THE TART GOODNESS OF SUMAC
For most of my life when I heard the word sumac, I thought of it in relation to poison sumac, kind of like poison ivy. But there is a variety of sumac (staghorn sumac) that is not poisonous. The berries of that particular sumac bush are ground and used in lots of Middle Eastern dishes. Sumac adds a distinctively tart bite that I really love.
In this particular Fattoush Salad recipe, I list the sumac as optional. If you can get your hands on it, I definitely recommend using it. But this salad is great even without it.
BON APPETIT!
INGREDIENTS
2 loaves of Syrian Bread / Arabic Bread (or a thin version of Pita Bread)
1 bunch of parsley, finely chopped
1 bunch of green onions, finely chopped
1 bunch of fresh mint, finely chopped
1 cucumber, peeled and chopped
4 homegrown tomatoes, cut in small wedges
2 cloves of garlic, well crushed with a dash of kosher salt with a mortar and pestle
½ cup of extra virgin olive oil
Juice of 2 lemons
Kosher salt and freshly cracked black pepper, to taste
Ground Sumac, to taste (optional)
Black olives for garnish (optional)
INSTRUCTIONS
Lightly toast the pita bread, then break – by hand – into small pieces and set aside.
Finely chop the parsley, green onions, mint. Chop the cucumber, and cut the tomatoes into small wedges.
Toss the ingredients and mix well.
Add the extra virgin olive oil, the lemon juice and garlic. Add salt and freshly-cracked black pepper to taste.
Toss pita bread in with the salad and mix well.
Sprinkle with ground sumac (optional)
Garnish with black olives (optional) and serve.
More Middle Eastern Recipes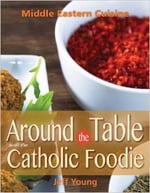 You can find this recipe for Lebanese Fattoush Salad and over 70 more in my new book Around the Table with The Catholic Foodie: Middle Eastern Cuisine.
And there's more Catholic culinary inspiration at CatholicFoodie.com.
You can find all our Meatless Friday featured recipes here.
Copyright 2015 Jeff Young.
Photo copyright 2015 Jeff Young. All rights reserved.
Find more of Jeff's recipes at CatholicFoodie.com!
About the Author