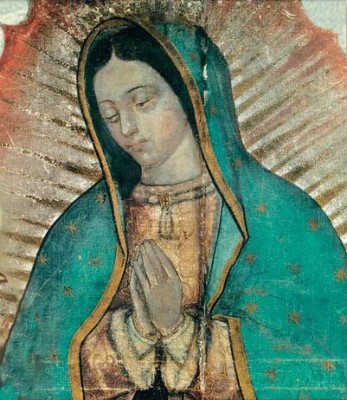 My mom or as I lovingly called her "ma" had a great devotion to Our Lady of Guadalupe. She and I would go to the novena masses ,offered at our parish, before her feast day on December 12th. We didn't always do this. This is something she and I began doing shortly after I graduated college with my teaching degree. To be honest, I am not sure why we began this beautiful tradition. I just know we took our first steps toward our Lord in 1993.
All of the masses at our parish were in Spanish except for one, and since most or all of the parish community was Spanish speaking and many were the "firsts" to be in the United States it made sense.
It was heartwarming to sing the traditional hymns to Our Lady and watch the Matachines, South American Indian dancers, in traditional dress honoring Our Lady with their traditional dances and music. This was wonderful for me because it was a beautiful combination of my Mexican heritage and my Catholic faith.
For me, December is a beautiful time in Advent, where I can remember the special times with my "ma" who I lost 14 years ago to cancer, and pass on the tradition to my son as well. Everyone who knew her also knew how much she loved preparing for Christmas, sending out cards, making tamales, but that a tradition close to her heart was honoring Our Lady Of Guadalupe early on a December morning.
That is why you will find me at church at 6 a.m. on December 12th singing Our Lady praises and thanking God he chose her to be his mother and that she said Yes!
So, after I sing and celebrate mass on that day I will drive to work with a smile in my heart and on my face and I am sure my "ma" is smiling too! What are some things you do in December that warm your heart?
Copyright 2014 Elizabeth Desiderato
About the Author