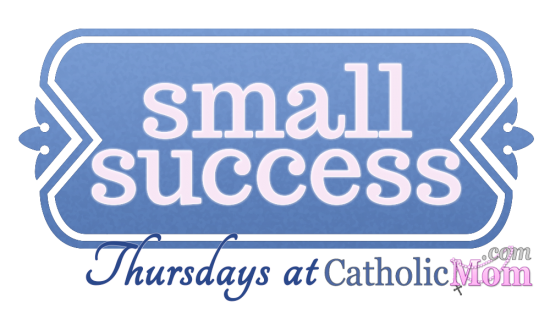 It's Thursday, January 8th, and this the first time we're celebrating Small Success Thursday in the new year! We pray all the time, sometimes we even ask. This morning I'd awakened and said to God in my pre-alert state, "God, I'd love more sleep." There was a two hour delay on school owing to snow. I'd love to say I stopped and said, "Thanks God." but I returned to the land of nod before the radio finished saying "The Montgomery County Schools have a two hour delay."
Getting up an hour later, feeling more ready to tackle life, I began making the lunches. Again I said aloud, "I wish God, there were no school today instead of a two hour delay." (I'm an ungrateful servant). But God once again, said "Yes." and no sooner had I finished making lunches but the radio proclaimed the happy answer, no school today.
After a brief joyous chorus, the children scattered to the four corners of the house and I found myself with unstructured time. I made hot chocolate and frittered away a morning on Facebook. Prayer answered translated to what....Good intentions, lots of time not seized. My son and two of my daughters made snickerdoodle cookies. They brought me a plate. Reaching for them, I said, "Thank you." but thought, "That gym membership needs to happen." and recognized, I did the same thing to God. He gave me a good, I came back with a complaint.
Two weeks sans Small Success Thursday, I'd become quite casual with the blessings of even miracles like answered prayers. I'd also felt dry spiritually and intellectually, like I had no more words, and now there came a flood. So when I sat down to write the SST, say "Thank you." Immediately, the weight of the day vanished. I made a list and began to do 1, 2 and 3. So join us today and say "Thank you." for all the blessings of the past two weeks. Hopefully, by the 15th, I'll be able to say, I bought a planner and joined a gym in addition to "Thank you."
[inlinkz_linkup id=483768 mode=1]
Copyright 2015 Sherry Antonetti
About the Author

Sherry Antonetti is a mother of ten children, published author of The Book of Helen and a freelance writer of humor and family life columns. You can read additional pieces from her blog, http://sherryantonettiwrites.blogspot.com.