St. Patrick's Faith Event Ministry is an evangelization movement of St. Patrick's Parish in Merced, California, the Diocese of Fresno. The mission of St. Patrick's Faith Event Ministry is to plan, promote, and host dynamic Christian speakers, artists, and events for our parish and our community.
Our goal, in the spirit of the New Evangelization of St. John Paul II, is to awaken and unite our community, to nurture individual hearts, and to build up, inspire and spiritually strengthen each family – the domestic church – so that we may be living witnesses, through our vibrant faith, of the love of Christ and the richness of our faith in our everyday life.
Mission 2015 – Matt Maher in Concert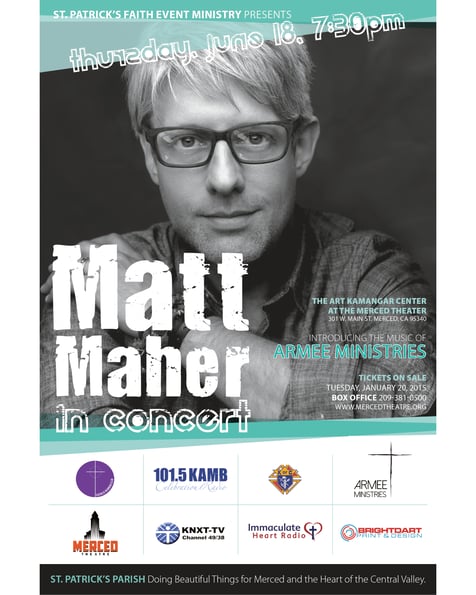 St. Patrick's Faith Event Ministry presents five-time Grammy-nominated Christian artist, Matt Maher, in concert at The Art Kamangar Center at the Merced Theatre, Thursday, June 18, 2015.
Introducing the Music of ARMEE Ministries
Matt travels the globe spreading the message of God's love through his music. He's been featured on EWTN, led the worship rally for Pope Benedict XVI's visit to the United States, and performed his song, Lord I Need You, for Pope Francis and a crowd of nearly 4 million pilgrims, young and old alike, at World Youth Day 2013 in Rio, Brazil. Matt's touring companions have included Michael W. Smith, Jars of Clay, Tenth Avenue North, Third Day, Toby Mac, Audrey Assad and Mercy Me. His latest album, All the People Say Amen showcases Maher's music and his career as an anointed "musical collage." Join us for a night of music and ministry, praise and worship with songs you love like Your Grace is Enough, Christ is Risen, and Matt's newest release Because He Lives.
General Ticket Sale for Matt Maher in Merced begins Tuesday, Jan 20. Ticket prices are $29, $24, $19 and $15. Visit www.mercedtheatre.org to purchase your tickets on line, phone the box office at 209-381-0500 or walk in the Art Kamangar Center at the Merced Theatre, 301 W. Main St. in downtown Merced.

Now you can hear Matt Maher and all your inspirational music wherever you are, with whatever device you have handy on www.immaculateheartmusic.com.
Fr. Donald Calloway, MIC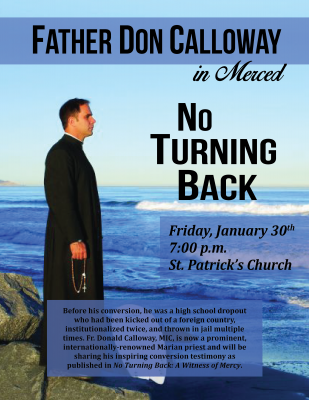 Fr. Donald Calloway, MIC, a convert to Catholicism, is a member of the Congregation of Marian Fathers of the Immaculate Conception. Before his conversion to Catholicism, he was a high school dropout who had been kicked out of a foreign country, institutionalized twice and thrown in jail multiple times. After his radical conversion he earned a B.A. in Philosophy and Theology from the Franciscan University of Steubenville, OH, M.Div. and S.T.B. degrees from the Dominican House of Studies in Washington, DC, and an S.T.L. in Mariology from the International Marian Research Institute in Dayton, Ohio.
A prominent, internationally renowned Marian priest, Fr. Calloway exhibits an unmistakable zeal for the priesthood and devotion to Our Lady. He is a well-known conference speaker on Divine Mercy and the Blessed Virgin Mary. He'll share his inspiring conversion story as published in No Turning Back: A Witness of Mercy at St. Patrick's Church • 671 East Yosemite Ave • Merced, CA • Friday, January 30, 7PM. This is an admission-free event. A free-will offering will be graciously accepted.
"St. Patrick's Parish – Doing Beautiful Things for Merced and the Heart of the Central Valley."
[youtube_sc url="http://youtu.be/038LxMfIqqs"]
Copyright 2015, Brian K. Kravec
About the Author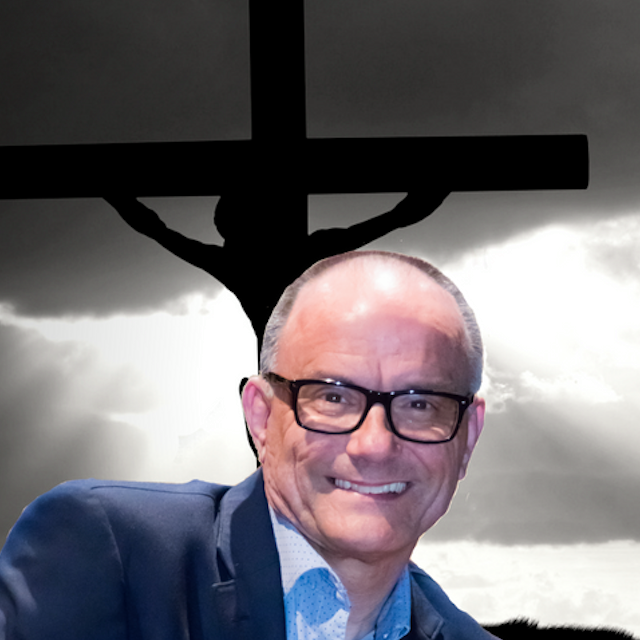 Brian is a cradle Catholic, husband and father. He's the Co-Founder and Executive Director of Possibility Productions, a 501(c)(3) faith event evangelization apostolate in service of the Body of Christ. Brian has proudly served the Roman Catholic Diocese of Fresno on the Board of Directors for KNXT Catholic Television, is the Steward of St. Patrick's Faith Event Ministry for his local parish and a 4th degree member of the Knights of Columbus. Brian and his wife are consecrated members of the Militia Immaculata. For information on the MI and Total Consecration visit Consecration.com.