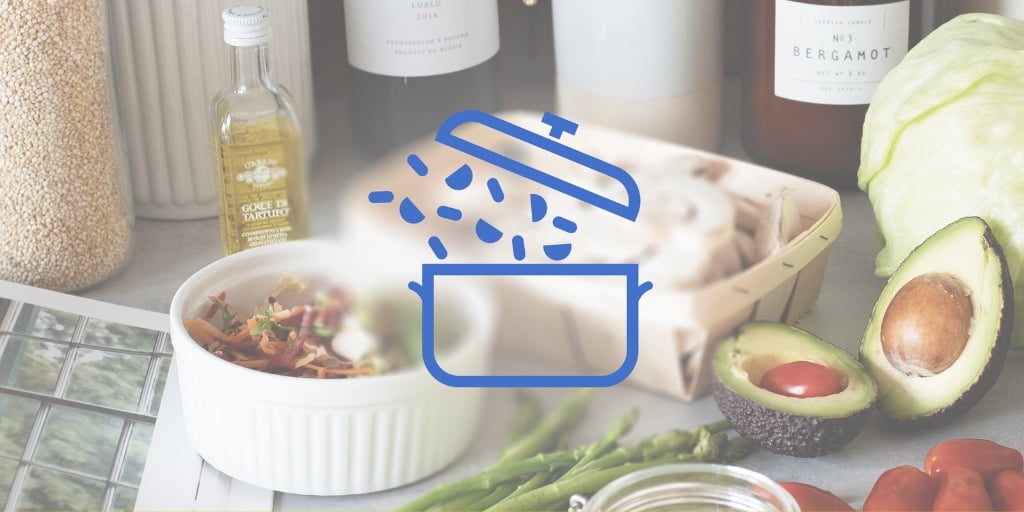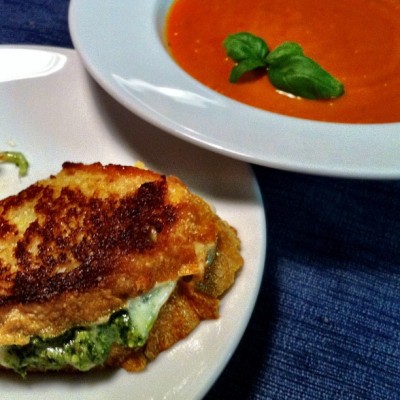 I don't know about you, but this cold weather has me craving warm soup! Tomato Soup, to be specific.
Tomato soup is one of those foods that brings me back to my childhood. Isn't it amazing how comfort foods can do that?
I grew up in the 70s.
Yes, I wore bell bottoms. Yes, I listened to the Bee Gees. Yes, I had a bowl haircut.
I was cool. ;-)
Several things come to mind when I think of the food of my childhood. Here are just a few: Spam, Deviled Ham, Deviled Eggs, Vienna Sausages, Pimento Cheese Sandwiches on white bread, Charlie's Chips, Orange Julius… and, of course, the capo di tutti capi of all 70s foods for me: the grilled cheese sandwich. White bread, butter, and American cheese. Wow.
The Grilled Cheese Sandwich, by its very nature, is quick, easy, buttery, warm, and filling. And coupled with a hot bowl of Campbell's Tomato Soup sprinkled with black pepper… Oh my goodness! I loved that!
Just thinking about it, I'm in 70s heaven! Wait! Is that the Bee Gees I hear? I have to be honest, though. I'm not much for American cheese anymore. As a matter of fact, I'm really not much into processed foods anymore (and it seems like most of the foods I ate growing were processed). Must have been a 70s thing.
I've stepped up my grilled cheese sandwiches over the last few years, and this is my suggestion for a "Grown-Up Grilled Cheese." It's fancy. It's natural. And it's GOOD! Instead of white bread, use artisan bread. Instead of American cheese, use mozzarella. Then add a little secret sauce: spinach pesto!
If this hip menu doesn't get you in a 70s retro groove, I don't know what will!
Spinach Pesto Grilled Cheese Sandwiches
Making the Spinach Pesto is so easy. You will need:
1 1/2 cups baby spinach (packed)
2 tablespoons fresh mint
1 tablespoon fresh basil
1 clove garlic
2 tablespoons pecans (toasted)
4 oz feta cheeese
3 tablespoons extra virgin olive oil
juice of 1/2 lemon
salt and pepper to taste
Once you have your ingredients assembled, then all you need to do is combine everything in a food processor and blend. Adjust seasonings to taste.
For the Grilled Cheese Sandwich
INGREDIENTS
1 tablespoon butter (we prefer KerryGold!)
2 slices bread (we used an artisan Italian loaf)
1/2 cup fresh Mozzerella, grated
3 tablespoons of the spinach pesto
DIRECTIONS
Heat a cast iron skillet over medium heat.
Butter the outside of each slice of bread, sprinkle half of the cheeses on the inside of one slice of bread, top with the spinach pesto, the remaining cheese and finally the other slice of bread… You're trying to keep the pesto "sandwiched" in the middle.
Place the sandwich in the skillet and cook until golden brown and the cheese has melted… about 3 minutes on each side.
And We Can't Forget the Tomato Soup…
What's a grilled cheese sandwich without tomato soup?
Exactly.
So I like to make this tomato soup to go with the grilled cheese:
INGREDIENTS
2 boxes (26 oz each) of Pomi chopped tomatoes
2 cups chicken stock
1 large onion, chopped
2 medium carrots, grated
3 to 4 cloves of garlic, minced
3 tablespoons Extra virgin olive oil
2 tablespoons butter (we prefer Kerrygold!)
1/4 cup fresh basil
2 bay leaves
1/2 cup to 1 cup of Half & Half (or 1/2 cup of heavy cream)
Salt & pepper, to taste
Crushed red pepper flakes, to taste
DIRECTIONS
Heat olive oil in a soup pot over medium heat.
Add the onion, carrots, and garlic. Saute until softened (about 10 minutes).
Add the tomatoes, the chicken stock, bay leaves and butter.
Simmer until the veggies are tender, about 30 minutes.
Remove the bay leaves, and add the basil and the cream or Half & Half.
Puree with a handheld immersion blender until smooth.
Around the Table with The Catholic Foodie
I want to let you know that Liguori Publications is running a special right now on my book. Between now and February 28th, you can get Around the Table with The Catholic Foodie: Middle Eastern Cuisine for 30% off! Just go to http://liguori.org/catholicfoodie to order. You can also download a sample of the recipes from that page.
And I have another little announcement: the destination for my next Food & Faith pilgrimage has been announced... We're going to Italy! October 12 to the 24, 2015. Details are coming soon, and you will be able to read all about it at CatholicFoodie.com.
Soup Is Good Food
That old Campbell's Soup commercial is true. Soup is good food.
Do you have a favorite cold-weather soup? Which soup says comfort food to you?
Tell me about it in the comments below!
You can find all our Meatless Friday featured recipes here.
Recipe and photo copyright 2015 Jeff Young. All rights reserved.
Find more of Jeff's recipes at CatholicFoodie.com!
About the Author