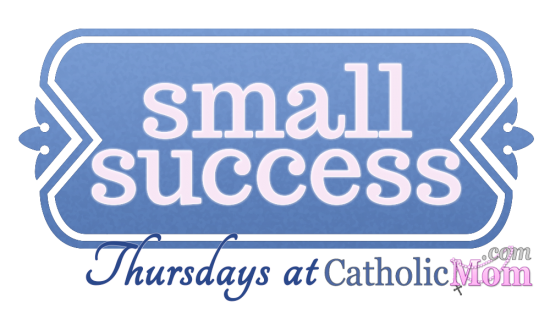 After the triumph of the will last week, reality hit back hard. The gym did not get visited this week. The computer did not get serious writing done. Laundry, taking down the decorations from Christmas, paperwork and potty training took over. When Anna expressed interest, I knew I could either impose my schedule, or let my daughter grow up some. I surrendered and we lived a cloistered life. Anna has been diaper free except for pull ups at night since Tuesday. Even better, Paul felt the need to show he might be able to match her feat and pottied twice.
This is epic news, I mean epic news. I've been diapering people since 1993. When you have ten children, people presume you know what you're doing. I can say with all honestly, homework, bedtimes, eating vegetables and potty training remain for me, reminders that I am not nearly so much in control as I am in charge. It is in these moments when I have to wrestle with the hard reality, that success in my life is usually not my own. Sometimes this is easy to handle, I whoop over a scored basket, an A, an honor roll, a personal best time, a read book, a painted picture. Other times, it is not.
The Blessed Mother gets to hear about my frustration with the various situations on a daily basis via the rosary. "For my son to do his homework...every time, Hail Mary, Full of Grace...For my daughter to learn to use the potty,...every time...." I complain to her so I won't to my own mom as much. I keep having to learn to surrender even as I also have to learn to be diligent while at the same time, willfully surrendering. (Sort of like I have to sort socks, but I can either sigh and gnash teeth while I fold, or surrender and know this will help my family, sometimes the grace wins, sometimes, the socks do).
Still, my husband recognized his wife might be feeling a bit penned in by the process and scheduled a date night for us Friday. We ordered pizza for the kids, I got the youngest dressed for bed and we were on route to the restaurant with reservations. We got two miles before the teen called to tell us, the youngest threw up. We made a U-turn while I canceled the dinner. The second youngest threw up before we made it in the door. It must have been the pizza, as mercifully, they were the only two to get sick, so we'll retry next weekend. We laughed about the undate as we lay down after stripping two beds and giving two children showers and popped in the second season of "Once Upon a Time." Our lives are not our own.
Saint Therese of Lisieux said, "Jesus does not demand great actions from us, but simply surrender and gratitude." I have to work on both. My husband brought me cream colored roses and purple carnations. It helped.
This week's small successes include:
1) Getting my hair done. The woman who runs our parish CCD program also does hair, and she comes to the house so we got a great visit, I got my hair done, and Anna didn't have to practice her new skill in a strange place.
2) We almost had a date night. We had a reservation and a plan and we got out the door.
3) I've lost three pounds since joining the gym. (Yay, goal of 17 more.)
4) Started reading a new book.
5) Got all the Christmas stuff down.
Now it's your turn.
[inlinkz_linkup id=490455 mode=1]
Copyright 2015, Sherry Antonetti
About the Author

Sherry Antonetti is a mother of ten children, published author of The Book of Helen and a freelance writer of humor and family life columns. You can read additional pieces from her blog, http://sherryantonettiwrites.blogspot.com.