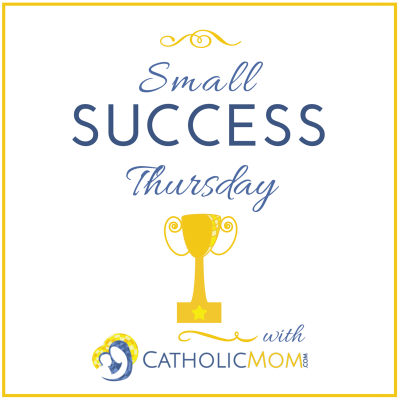 I'm sorry I blanked out on last week. I kept thinking I'd get to it until I realized, it was Friday.
Today, I have piles of bills, piles of laundry, and piles of groceries from a major shop. Two of my kids stayed home as they had fevers. Mercifully, basketball practice was canceled. Still, the schedule gobbled up the whole day and when I finally sat at my laptop, I had to ask myself, why does it matter? What purpose does Small Success serve? Is it worth continuing?
Earlier today when I was at the grocery store, I saw a couple with a young son around 16 months. The mother was obviously expecting her second, and I felt shocked to remember and recognize somehow I'd forgotten, how little little people are. Seeing her son, made me recall mine. I also loved the obvious joy this family displayed in the ordinary business of shopping. It was a reminder to me, to enjoy this time with my four-year-old. We are always called to witness. It matters because we all need reminders, (for me, it's each day), of what we are called to do in this life. The family reminded me, to be mindfully joyful.
But God knows I am hopelessly distracted, so he sent a second reminder via my son Paul. After school, my youngest son didn't want to just hurry up back to the house. He stopped and threw leaves over his head three times. We barked at the neighbor's two yappy dogs. He found a dogwood berry and gave it to me, and we did chalk drawings. If he had followed my will, I'd have missed seeing the sun setting behind him. I'd have failed to notice today was a perfect Fall day. I'd have let the chalk stay in the bin, waiting for some other perfect day when I had time.
Small Successes are a way of stopping time, of fighting against the pressure, rush and ugliness of the world. God wants us to be salt and light, but also to appreciate the care, craft and beauty he's put into this world. He gives us perfect days and yappy dogs and sons who don't want to go back inside, so we'll recognize, we don't have to be as efficient as we imagine. We're called to be used by the Holy Spirit in the moment, not to multi-task every moment and hope somehow the Holy Spirit is infused in our business.
So I hope this week, as we near the end of the liturgical year, as we approach Thanksgiving, that you have someone in your life that keeps you from getting too efficient, too busy, too capable of getting through the day without noticing it. Have a great week of Small Successes.
Copyright 2015 Sherry Antonetti
[inlinkz_linkup id=578876 mode=1]
About the Author

Sherry Antonetti is a mother of ten children, published author of The Book of Helen and a freelance writer of humor and family life columns. You can read additional pieces from her blog, http://sherryantonettiwrites.blogspot.com.