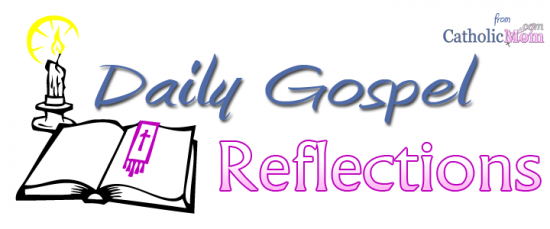 Today's Gospel: Mark 7:1-13
Memorial of Saint Scholastica, Virgin
Like St. Scholastica's brother, at some point doesn't every sincere Christian face the temptation to elevate her prayer tradition or devotional practice above her relationship with God?
As a non-Catholic, I assumed Bible study was the only proper prayer. When I worked outside the home, I thought morning prayer at dawn was the only acceptable way to pray. When I became a Secular Carmelite, I switched to thinking that praying the Office properly was the only "right" way to pray.
When God was teaching me to depend on Him for my needs, He removed all my relationship crutches. Once I learned that lesson, He kept sending me to community to be taught. In all of these circumstances, I experienced anxiety almost to the point of panic when He changed up the routine.
If my traditions and disciplines and devotions become an impediment to my relationship with God, to charity, don't I want Him to remove them? What if the circumstance that prevents me from my usual routine is meant to draw me more closely to Him in another, new way?
The Doctors of Prayer teach me that God routinely switches up my routine in order to ensure that my ritual is not an end in itself – that what I seek is not the empty fulfillment of a duty, but the Person of Christ.
Ponder:
Lord, is there any area of my life in which I have placed my preferred tradition above charity?
Pray:
With all my heart, I follow You, Lord. I ask you to point out any impediment I have placed between You and me.
We thank our friends at The Word Among Us for providing our gospel reflection team with copies of Abide In My Word 2015: Mass Readings at Your Fingertips. To pray the daily gospels with this wonderful resource, visit The Word Among Us.
Copyright 2015 Sonja Corbitt
Sonja Corbitt is a member of the Catholic Vitamins Podcast Team. She is a growing voice of Scriptural Evangelization, speaking at conferences and in parishes around the country. Sonja can be found at her website www.pursuingthesummit.com.
About the Author

Deacon Tom Fox and his wife Dee are co-hosts of the CATHOLIC VITAMINS Podcast for over 6 1/2 years. Tom has also been a member of the Catholic Mom columnists team for eight years, and was a regular contributor to the Catholic Moments Podcast for three years. Most recently, Deacon Tom has been leading a project to bring Catholic radio to the north central Arizona community where he and Dee reside. Blessings!