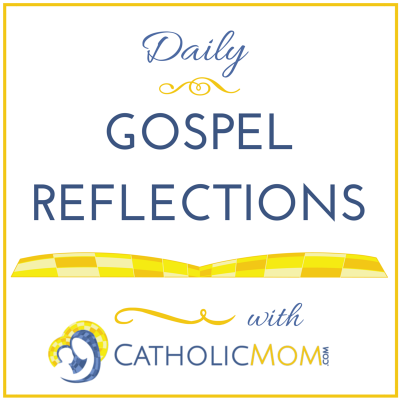 Today's Gospel: Matthew 5:17-19
Why do so many Christians view the law in terms of dos and don'ts? There is a Psalm which suggests meditating on God's law (viewed as the commandments or the Torah). Do any of us these days meditate on God's instructions for remaining in love with him and with our neighbor?
I went to Confession—the Sacrament of Reconciliation—this morning. I'm speaking of the morning of the day that this is written. Many older Catholics still use the word Confession, but I think there's great Church wisdom in renaming it to be called Reconciliation. It's the place where my human brokenness meets with God's mercy, and I seek to reconcile and to start fresh. The penance given to me by the priest this morning was to read St. Paul's First Letter to the Corinthians, Chapter 13. It's Paul's beautiful essay on love.
"If I speak in human and angelic tongues, but do not have love, I am a resounding gong or a [irritating, piercing] clashing cymbal."
That's what the commandments are for—to share with us the call to love one another. How can we live this? By not stealing. Speaking honestly. Rejoice in the goods and successes of others. Honor marriages. Avoid sex outside of marriage. These may be expressed in terms of the guide book, but living them means living in love.
We have our young people regularly do the Pledge of Allegiance in school. How about if we have our adults do a Pledge of Intention to live the Commandments and to encourage others to do so. Amen.
Ponder:
The Ten Commandments are often used to help children with their examination of conscience before confession/reconciliation. Considering this reflection, might we adults also benefit from this approach?
Pray:
Dear Lord, grant us Your wisdom and grace to obey your commandments every day of our lives. Amen.
We thank our friends at The Word Among Us for providing our gospel reflection team with copies of Abide In My Word 2015: Mass Readings at Your Fingertips. To pray the daily gospels with this wonderful resource, visit The Word Among Us.
Copyright 2015 Deacon Tom Fox
About the Author

Deacon Tom Fox and his wife Dee are co-hosts of the CATHOLIC VITAMINS Podcast for over 6 1/2 years. Tom has also been a member of the Catholic Mom columnists team for eight years, and was a regular contributor to the Catholic Moments Podcast for three years. Most recently, Deacon Tom has been leading a project to bring Catholic radio to the north central Arizona community where he and Dee reside. Blessings!