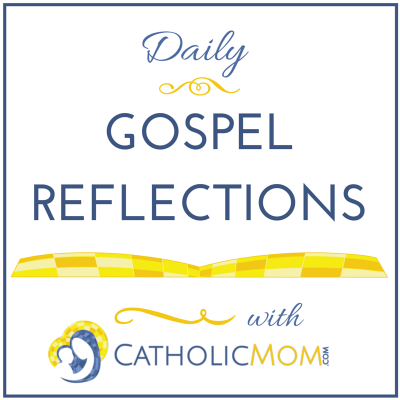 Today's Gospel: John 12:24-26
Feast of Saint Lawrence, Deacon and Martyr
For the Gospel on this feast of Saint Lawrence, Deacon and Martyr, I asked my dear wife, Dee, to look at the two verses from John and to share a word that best reflects what came to her. She did this, and the word was 'cultivate.'
Not that the word cultivate is in the verses, but that's where her heart was moved to. The Gospel says that a grain of wheat falls into the earth, and then it dies—to be reborn, of course, as wheat. But does the seed fall into the earth? Not so. Not really.
The ground needs to be cultivated. Just so, our hearts and minds and souls must be cultivated. And how are they cultivated? By spending time such as I asked of Dee. But also by prayer, meditation, by frequent reception of the Eucharist, and by the regular participation in the great cultivating tool, the Sacrament of Reconciliation.
In my ministry as a deacon, I have oft encountered people who do good work in the community. They may volunteer in a food bank, or help out at an animal shelter. These works are written down in 'the ledger' of course. But all good works must spring from the source of all love and goodness. Good works are cultivated by time spent in front of the Blessed Sacrament. Time spent 'saying the beads' as my Irish ancestors used to say.
Those who spend time at an animal shelter are kind, and they might be sensitive to dogs and cats. But they are at the edge of being do-gooders. And please, don't dismiss this as being judgmental. The best witnesses of cultivation come from the likes of Mother Teresa, St. Padre Pio, St. John Paul the Great, and so many others.
Ponder:
Where do the good works that I try to be involved in come from? What nourishes them?
Pray:
Dear Jesus, nourish me, break up my clumps of hardened soil, and let my soul be sprinkled by my tears of repentance. Amen.
We thank our friends at The Word Among Us for providing our gospel reflection team with copies of Abide In My Word 2015: Mass Readings at Your Fingertips. To pray the daily gospels with this wonderful resource, visit The Word Among Us.
Copyright 2015 Deacon Tom Fox
About the Author

Deacon Tom Fox and his wife Dee are co-hosts of the CATHOLIC VITAMINS Podcast for over 6 1/2 years. Tom has also been a member of the Catholic Mom columnists team for eight years, and was a regular contributor to the Catholic Moments Podcast for three years. Most recently, Deacon Tom has been leading a project to bring Catholic radio to the north central Arizona community where he and Dee reside. Blessings!