During Lent, we often hear three beloved Gospel stories on the third, fourth and fifth Sundays of the penitential season. First, the woman at the well. Then, the healing of the blind man at the Pool of Siloam. And lastly, the raising of Lazarus from the dead. Recorded in the Gospel of John, all three stories coincide with the Lenten theme of Paschal mystery—life, death and resurrection in Jesus Christ.
These three familiar Gospel stories also are the backdrop for author Stephanie Landsem's Living Water Series of Biblical historical fiction. The Well, Landsem's debut novel, is about the woman at the well. TheThief centers on the healing of the blind man and also integrates the story of the good thief crucified with Jesus. And The Tomb, which releases March 17, is a story about Martha, Mary and Lazarus.
Landsem has always been interested in reading and history. A history major in college and an avid traveler for most of her life, she appreciates adventure, culture and one-of-a-kind experiences.
But writing? Writing entered Landsem's life quite unexpectedly.
As a mother of four children, Landsem recalls entering into a transition in her motherhood when her youngest child started Kindergarten.
"My oldest daughter asked me what I was going to do [with all the kids in school], and I didn't know," Landsem said. "She asked me what I would do if I could do anything in the world, and I told her I'd write historical fiction. She replied with, 'Then, why aren't you doing it?'"
And the rest really is history.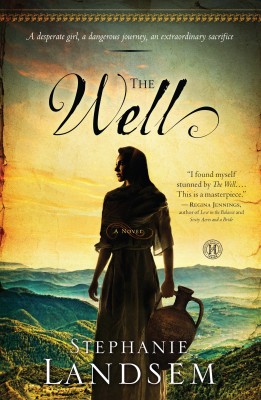 In Lent of 2007, during Mass one Sunday, the Gospel reading was about the woman at the well. Landsem started thinking about the woman and what was going on with her. She wondered why Jesus stopped to talk to her. By the end of Mass, Landsem had the outline for The Well in her head.
One year later, Landsem completed her first draft, but it took several more drafts to get the story exactly how she wanted it.
"I rewrote The Well seven or eight times," Landsem said. "I was very much surprised with how the novel changed and developed as I wrote it."
During the writing process, Landsem took an online creative writing class and started reading blogs for and by other writers. She found support and encouragement in a critique group at her local library.
Finally, Landsem entered The Well into a contest at a Christian fiction writer's conference, and it was a finalist. Although The Well did not win, the recognition boosted Landsem's confidence, and she was encouraged to seek an agent and publishing group to represent the book. She signed with Howard Books, a division of Simon & Shuster, with the condition that The Well would be the first in a series of three books.
In its completion, The Well has received remarkable praise; just take a look at the editorial and customer reviews on Amazon, Barnes & Noble and Goodreads.
I personally found The Well to be an absolutely beautiful story about faith, love, hope and surrender. It is adventurous, moving and inspiring. I could not put it down, and I did not want it to end, as I read the last several pages through my tears of overwhelming emotion for the characters that Landsem so deeply developed. What I loved most of all was Landsem's beautiful way of writing a story about unconditional love so strong that we are willing to sacrifice our own hopes and desires for the good of another person and for the glory of God. (Click here for my full review on Goodreads.)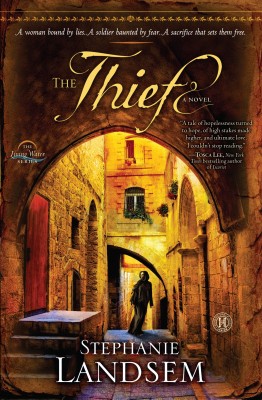 Landsem's second novel The Thief was a much faster writing project.
"Simon & Shuster wanted to include a synopsis of the second book in the back of The Well," Landsem recalled. "So, I came up with the premise for The Thief over the phone with my sister and wrote it in 15 months."
Landsem's third novel in the Living Water Series, The Tomb, releases March 17. It is a story about Martha and also incorporates her siblings Mary and Lazarus—all of whom were Jesus' friends.
"The Tomb was definitely the hardest to write, because I had to work within a certain timeframe and with a greater number of actual characters, [according to the Biblical account]," Landsem said.
In all of her novels, Landsem likes to maintain the accuracy of the Gospel story, especially the recorded words of Jesus. "I don't want to guess what might have been and I don't think readers want that either. So I stick to what was actually written down in the Bible."
With the real Biblical accounts as her backdrop, Landsem marvelously brings to life the very intimate, one-on-one encounters Jesus has with ordinary people. From these encounters, faith in Him spreads. It's like a ripple effect.
"We can do a lot with our encounter with Jesus," Landsem said.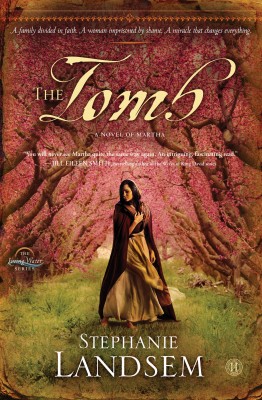 When asked how her Catholic faith influences her writing, Landsem says that she hopes her faith influences everything she does.
"From loving my husband and kids to volunteering at school to battling the daily household mess," Landsem said. "And so, when I sit down at my desk to write, my prayer is pretty simple: Here I am, Lord, I come to do your will."
For more information about Stephanie Landsem's Living Water Series, visit www.stephanielandsem.com.
Support the work we do at CatholicMom.com by purchasing these books through our affiliate link! You pay nothing extra!
Copyright 2015 Sarah Damm.
Portrait courtesy of Stephanie Landsem. All rights reserved.
About the Author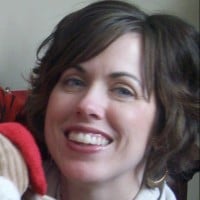 Sarah Damm is a Catholic wife and mother of six children, living in Minnesota. She spends her days running errands, helping with homework, and keeping up with laundry and the family schedule. Sarah loves her faith, coffee, and good books. You can find out more about her at SarahDamm.com.