Today, I'm very happy to share my recent conversation with a beautiful "soul sister" of mine, Brooke Taylor. While Brooke and I have never had the pleasure of meeting in person, she has been a great online friend and supporter of both CatholicMom.com and of my writing. Today, Brooke shares with us her very special new project, a CD called "Pray with Me". Here is a brief overview:
Pray with Me is n album containing a treasury of Catholic family prayers set to original music compositions, many prayers containing a narrative historical description pointing out the origins and importance of the prayer, and several prayers recited in Latin.
I recently had the opportunity to personally review "Pray with Me" and highly recommend it as a gift for your family. Whether you already pray all of the over thirty prayers on this project or you're not praying at home at all, this CD has something special for you and your family!
Q: Please briefly introduce yourself and your family to our readers.
I am a wife and mom of five. We have four biological boys and a daughter, whom we adopted from Poland. I'm also a radio personality, speaker and blogger. For the last ten years I worked as morning show co-host at Contemporary Christian radio station in Cleveland, OH. I recently left my job to be a stay-home mom.
Q: Congratulations on the recording of the beautiful CD "Pray with Me". Please describe this project for our readers and tell us what motivated this recording.
Thank you, Lisa! This project was dormant in my heart for years. It came from my experience of working at the radio station, and encountering so many lapsed Catholics who never "got" their faith or understood the beauty and origins behind many of our Church traditions. I also connected with families simply trying to better "live out" their beliefs at home, but struggling to find practical ways to do so. Our faith is so rich and deep, but it can also be intimidating and overwhelming for those who don't really know where to start. Once I left my job, I knew it was time to step out and follow God's call to bring this CD to life. Because, anyone can pray!
Q: What are your hopes for this project in terms of reaching the families you are trying to serve? How can an audio CD be a gift to families who may be struggling with prayer in their homes?
My hope is to plant a seed about the power of prayer, and how that can strengthen the foundation of each family, and offer a lifelong reservoir of grace. Once these prayers are learned, they remain in our minds and hearts forever, and I cannot think of a more valuable treasure to pass along to our children!
Q: What advice do you have for parents who may never have tried to pray with their children, both young ones and teens or young adults?
I would like to encourage parents to have hope and faith! It's never too late. Something as simple as teaching your child the Sign of the Cross can be the key that unlocks their heart to having a relationship with Christ. Something happens we say these prayers that cannot be seen. In the spiritual realm, prayers are a powerful proclamation. Learning even one simple prayer can create a small spark that has the potential to set off a wonderful wildfire of faith in their lives. That's the power of the Holy Spirit, and the beauty of our Catholic prayers.
Q: You've recently undergone a transition in your career. What are your goals now for your work and home lives?
Yes! Our daughter was diagnosed with Institutional Autism and with her needs, along with the busyness of four boys, I knew it was time to "retire" from early mornings and long weekends in ministry and care for my family full-time. I have recently started a podcast with my friend, Jennifer Willits, called "Good Things Radio." We record from our homes, so that has been a wonderful blessing! I'm also a speaker and emcee and enjoy the blessing of still connecting with other women that way.
Q: How can readers order or purchase the CD?
You can order the CD by visiting my blog: TheSacredSink.com. It's also available on iTunes and Amazon.
Copyright 2015 Lisa M. Hendey
Images copyright Brooke Taylor, used with permission
About the Author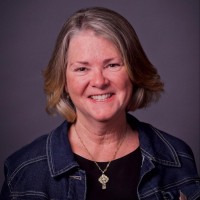 Lisa M. Hendey is the founder of CatholicMom.com, a bestselling author and an international speaker. A frequent radio and television guest, Hendey travels internationally giving workshops on faith, family, and communications. Visit Lisa at LisaHendey.com or on social media @LisaHendey for information on her speaking schedule or to invite her to visit your group, parish, school or organization. Visit Lisa's author page on Amazon.com.