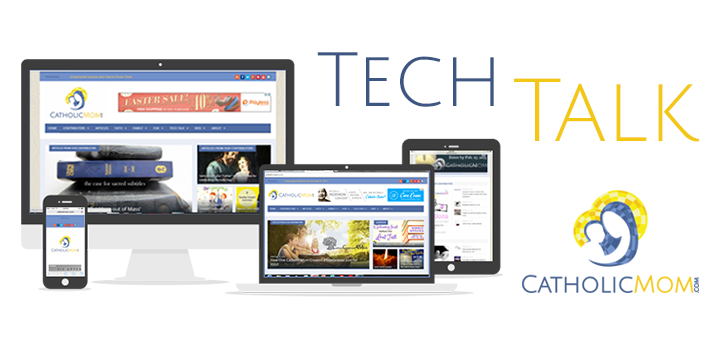 There are a variety of ebook readers out on the market today. The most popular brand is probably the Amazon Kindle, followed by the Barnes and Noble Nook, and a few other players. Since 2009 I had been using a 2nd Generation Kindle. However, recently I decided to upgrade and in lieu of another Kindle and in order to save money, I found something completely different.
The Kobo Touch is an $80 (new) touch-screen e-reader. It can read the majority of ebook formats and I found mine used on eBay for $34. While the Kobo Touch is the older of the Kobo ebook readers, it is well-priced, can store a ton of books, and has one of the slickest interfaces I have seen in an ebook reader device.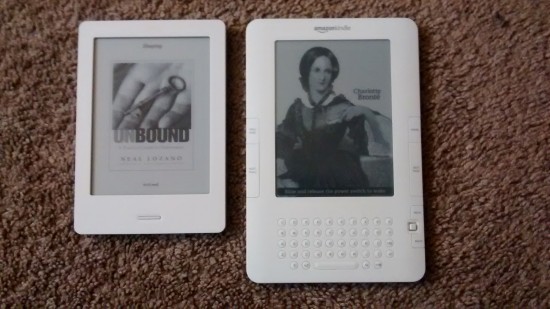 The Kobo touch appears to be smaller than my 2nd generation Kindle, however, the screen size is exactly the same. There is one exception, in that the contrast and the text quality on the Kobo are slightly better than the Kindle.
The Kobo Touch is, as its name implies, a touch-screen device, but it is not a tablet. It uses an e-ink screen designed to be easy on the eyes. Like other dedicated e-reader devices, the battery is only used when the text on the screen changes. For that reason, the battery life will last up to a month, provided the wi-fi antenna is turned off when the device is not being used. The Kobo also attempts to further improve battery life by giving users control over how often the screen is purged of residual backround text. I personally have my settings to refresh every 6 pages.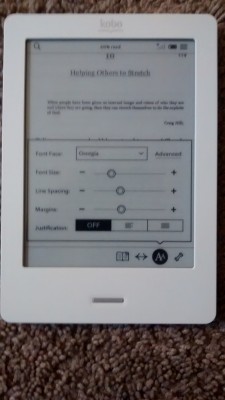 The Kobo Touch has a lot of customization options which can be accessed by tapping the bottom bar area on the device. There are a variety of text styles to pick from, and no, Comic Sans is not one of them. The font size can be increased or decreased in order to fit an individual reader's tastes and the margins can even be increased or decreased. The text justification to left or right can be changed as well.
The Kobo Touch comes with an interesting feature called Reading Life. This allows a user to track how quickly they read, provide estimates for book completion times, and there are awards or badges to be earned for reading achievements. All of this can optionally be connected to a user's social media accounts to update friends or followers on what is being read or when a book is finished. The Amazon Kindle does have some similar features for social sharing, but I am unaware of badges or reading stats being present.
I have found page turns to be very quick compared to my old Kindle. The devices powers on quickly and pages can be turned either by tapping on the left or right side of the screen or by swiping one's finger in the direction they want to turn the pages in.
Kobo also has an extensive ebook store that can both be accessed on Kobo devices or online for the purchase of over 4 million ebooks. Kobo also offers a reading app that can be linked to one's Kobo account so that books will travel wherever a user goes. Wi-Fi needs to be enabled on the Kobo reader itself to sync current book positions. I will also note that a big plus for me is that many of the books in the Kobo store are DRM-free ePub formatted files. This means that certain books purchased through the Kobo store can be transferred to or converted for ANY ebook device without any encryption or copy protection.
Here is the bad news. When switching between any ebook reader devices, the books purchased on other ebook stores, like Amazon or Barnes & Noble will not be transferable to a device outside of their property base. For example. books bought through the Nook can only legally be transferred to another Nook device on the same account or to their app. The same holds true for Kindle books and for certain books from the Kobo store.
This is a problem with copyright enforcement, especially in the United States, and not the fault of a device or its manufacturer. Even if a user has legally purchased their book, they can't take it with them to another device. It is a little bit unfair to the end user to lock in their purchases to a particular platform, but it is the law. There are ways around these type of copy protections which can be found with searches online and will then "unlock" books so they can be moved between platforms, although this is technically in violation of applicable copyright laws. Again, this is not the fault of Kobo, Amazon, or Barnes and Noble or any of their devices, simply a function of copyright law.
::Steps off Soapbox::
Copyright issues aside, the Kobo Touch is a great little device. It is light, the page turns are quick, and there are plenty of customization options. The text quality is great and is easy on the eyes. The best thing is, at least in my case, used devices in great condition can sometimes be found through eBay for amazing prices. I intentionally wanted a used device which was not the "latest" thing to keep costs down. It has turned out great for me.
That being said, Kobo does make other ebook readers which directly compete with comparable Kindle and Nook models. Their devices are a solid 3rd option in the ereader world, and based upon my experience with my current device, I can highly recommend them. Kobo ereaders can also be used to access any of the free classic works on Project Gutenberg.
There are a variety of ereaders out there allowing for users to take their entire libraries with them. The Kobo Touch is a lower-cost way to do just that.
How have ereaders changed the way you learn more about your faith?
Read more of our Tech Talk columns.
Copyright 2015 Christopher Weitzel
Images: copyright Christopher Weitzel, 4/16/2015. All rights reserved.
About the Author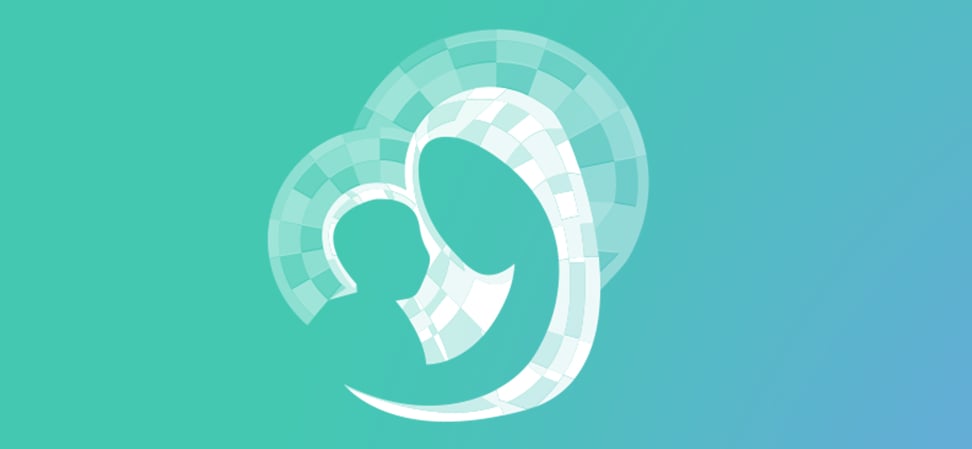 We welcome guest contributors who graciously volunteer their writing for our readers. Please support our guest writers by visiting their sites, purchasing their work, and leaving comments to thank them for sharing their gifts here on CatholicMom.com. To inquire about serving as a guest contributor, contact editor@CatholicMom.com.