My kitchen is, quite possibly, my favorite room in my house. This has nothing to do with a love of cooking, mind you, but as much to do with the presence of my table, coffee, and a view of great sunrises.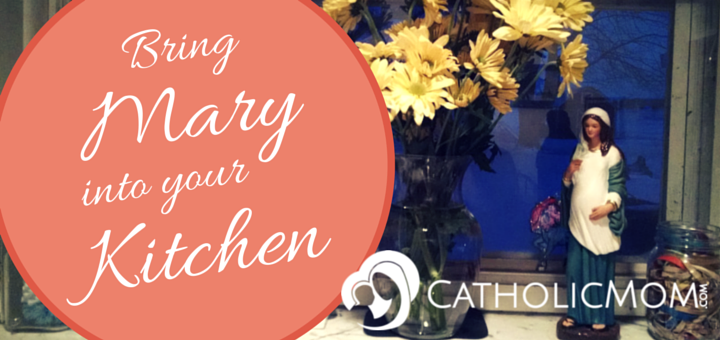 It's natural, then, for me to want to include Mary in my kitchen. I start most days with a rosary, devotions, and coffee, sitting in my kitchen. We eat our meals in the kitchen; I fold laundry there; often, I write accompanied by the tock of the kitchen clock.
The kitchen is the heart of my home, and I'll bet it's an important part of yours too. Here are a few of my tips for bringing Mary into your kitchen:
Put a statue by your sink.
I'm fond of the Kitchen Madonna, myself, but what you'll find looking over my sink is an olive wood bust a dear friend gave me. Seeing Mary here reminds me of my important role in the kitchen…and in God's kingdom.
Place a rosary by your coffeepot.
And yes, I suggest this so that you'll use it in your kitchen! Bless your efforts – however humble – and bless the space where you spend so much of your time.
Make the Hail Mary part of your kitchen routine.
Find yourself folding laundry at the table or rinsing dishes after dinner? Offer a Hail Mary – that's 14 seconds of your time – for your work, your family, your
How do you make Mary a part of your kitchen experience?
I'd love to hear your responses!
Copyright 2015, Sarah Reinhard
Image/graphic copyright 2015, Sarah Reinhard for CatholicMom.com