I can tell summer is almost here because the graduation notices and invitations have started rolling in. As a high school youth minister married to a high school theology teacher, I'm blessed to spend time with a lot of really wonderful teens and I love being able to support them and celebrate these big moments with them. I don't know about you, but every year I have grand plans to come up with fun and creative gifts and then the days slip past and I find myself running into the store to pick up a card on the way to the party and writing a check in a parked car in front of the house. (Please tell me I'm not the only one to do this!)
With so many wonderful graduates to bless on a limited budget, and a crazy end-of-the-year schedule, I've decided to start early and finally do it right!
Over the years I've collected a long mental list of graduation gift ideas – from my own experience and those of my siblings, from other more organized and creative folks, from asking recent grads what they found really great and useful, and from some scouring of the "interwebs". This year, I finally put pen to paper (or really, fingers to keys) and started jotting them down.
(The ideas are organized loosely into categories and most are flexible so you can work within your budget. And if you make it all the way to the end, I'll share my personal favorite and what we've decided to do for this year.)
Religious Gifts - Help your graduate strengthen, deepen and defend their faith in college
Practical Gifts - Things every college-bound grad needs, but might not realize yet
Fridge magnets, chip clips, disposable containers
Tumblers and travel mugs (accompanied by a stash of their favorite tea or coffee)
Laundry bag or basket complete with stain lifter, fabric softener or dryer sheets, and lint roller
First-Aid Kit
Glass bowls with lids for making all that ramen and mac 'n cheese
Cooling station for a laptop
Lap desk
Gift Cards - Because sometimes you run out of toiletries or just need to take a break and get a treat; here are some favorite stops for college freshmen
Bed, Bath & Beyond
Target
Amazon (especially for textbooks)
Gas Cards
Coffee Shop
Pizza
Ice Cream
Movie Theater
Something Different - For the adventurous gift-giver (or for the grad who has everything)
An "IOU" - then send a package of goodies and encouragement the first week of school
Divide your gift into installments and send it throughout the year (replenishing snacks, gift cards, seasonal gifts, etc.)
Holiday décor for the dorm room (Christmas stocking, twinkle lights, small Advent wreath with LED candles, mini-tree)
Gift cards to their college bookstore so they can stock up on school apparel
Skip the card and put your gift in a storage container instead
And my personal favorite….a pre-loaded flash drive. There are just so many things you can do with this, and it can be tailored to your unique graduate:
A video message from your family offering affirmation and encouragement
Photos and scans of hand-written letters or kid-drawings
Links or downloads of great Catholic videos and websites
Info on the nearest Newman Center or Catholic Church, complete with Mass and Confession times, directions and social events
Inspirational quotes and images
Catholic prayers
Links to great blogs, articles or daily devotions
Recommended apps for faith, organization, study and connecting with family and friends
Uplifting music
The possibilities are endless! Happy gifting! And Congratulations, Class of 2015!
What are your favorite graduation gifts?
Copyright Megan Swaim 2015.
"Alma Mater Europaea university graduation ceremony". Maribor, Slovenia, 12 March 2013" by Topjur01 - Own work. Licensed under CC BY-SA 3.0 via Wikimedia Commons
About the Author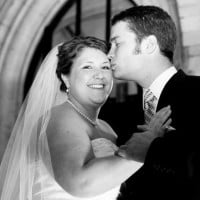 Megan Swaim is an Indiana girl on an east coast adventure. A former high school youth minister, she now gets to minister full-time to her three young daughters and her husband Josh. Megan spends her days homeschooling at the kitchen table, drinking iced coffee, and exploring coastal Virginia.