A few months ago I wrote a post here on CatholicMom about the challenges of raising kids today in a world that's polarized by either rigid gender norms or the belief that gender is just a social construct. It seemed to strike a chord with many and sparked some great discussion on social media and I've wanted to offer a follow-up. Since my experience is pretty limited to girls, I'll offer this "Part 2" from the perspective of raising daughters. Next month, I've asked a friend with three young boys to write a "Part 3" with reflections and suggestions for parents of sons.
It's hard for girls today to know what it means to be a girl! The world would reduce her femininity to "sugar and spice and everything nice" or tell her that she's got "girl power" and can should do everything a boy can do – but better! As parents, we can help our daughters develop a more authentic understanding of femininity by fostering virtues and habits that correspond to her feminine heart and by giving her the beautiful example of women saints.
The feminine genius is the unique capacity of a woman to love. Specifically, the very heart of our vocation as women is wrapped up in our ability to receive and to nurture life. Saint John Paul the Great, in Mulieris Dignitatem, wrote, "A woman's dignity is closely connected with the love which she receives by the very reason of her femininity; it is likewise connected with the love which she gives in return." (30)
One of the most obvious ways this is manifested is through physical motherhood. And the example of women religious shows us the beauty of spiritual motherhood. But living out the feminine genius isn't limited to those who have discerned their permanent vocation; even young girls can practice receiving others in love and giving of themselves generously:
A good listener learns to receive and consider another person by hearing their thoughts and feelings and needs. A good listener becomes an intercessor for others because she knows and cares about them. Even a small child is capable of this and parents can nurture these habits by pointing out the needs of others and encouraging her to pray for them. "Did you hear Grandma said that her back has really been hurting? What should we pray for her?"
Encourage her to receive those who come to your home by offering hospitality. Teach her to open the door and welcome guests with a smile and to offer something even as small as a glass of water. Hospitality has always been an important mark of a Christian home. "Your friends will be over soon. Let's take a few minutes to tidy up. Do you want to make a quick snack to offer them?"
One who is open to others is able to welcome and nurture new friendships because she is approachable; she has a special place in her heart for the "stranger" - the new kid at school or in the neighborhood, the one who is shy, the one who is forgotten. This can be difficult for small children, especially introverts, but there are ways of fostering this for each particular child. "What if we sent an invitation to Mary for your party? That would be a fun way to show her that we're glad she moved here and to help her meet some other girls!"
A young woman who is humble and generous is able to put others before herself. She is able to consider and make sacrifices for others because she is eager to do what she can to help. We can help our daughters become women of humility, generosity and sacrifice by helping them turn their focus to others and to find ways of helping. "Remember how we talked about the Syrian refugees? I'd like our family to send some money and supplies. What do you think a girl your age might need? Is there something you can sacrifice so we can give her those things?"
These are just a few of the countless ways we can help girls to embrace their feminine genius – to receive others and to love others with a generous gift of self. The saints show us just how many ways there are to live this feminine genius! (Some of my favorites are St. Katharine Drexel, St. Therese of Lisieux, Bl. Zelie Martin, St. Gianna, and Bl. Chiara Luce Badano.) Sharing their stories gives our daughters examples of what it means to be a daughter of God and inspires them to embrace their unique dignity and vocation as a woman.
How do you foster virtues in your family? And who are some of your favorite women saints?
Copyright 2015 Megan Swaim.
Image: "Father Daughter" by Pezibear 11/30/2014 via Pixabay, CC0 Public Domain
About the Author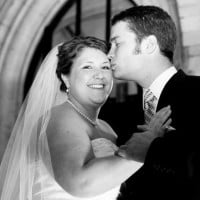 Megan Swaim is an Indiana girl on an east coast adventure. A former high school youth minister, she now gets to minister full-time to her three young daughters and her husband Josh. Megan spends her days homeschooling at the kitchen table, drinking iced coffee, and exploring coastal Virginia.