It's a blessing to have the opportunity to share about a project I've been involved with thanks to my work with the Avila Institute for Spiritual Formation. - Sarah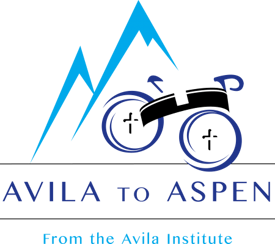 The Avila Institute for Spiritual Formation is partnering with St. Mary's parish in Aspen, Colorado, to help transform one of the most secular and wealthy cities in the United States into a haven for the finest in Catholic spiritual training and formation.
Fr. John Hilton, the "Pedaling Priest" (PedalingPriest.com), will be biking nearly 3,600 miles across the northern tier of U.S. states to raise awareness for this partnership. As he makes the trip, SpiritualDirection.com, the blog of Avila founder Dan Burke, will be reporting Fr. Hilton's progress in order to raise funds for the Avila Institute to have an outreach campus in Aspen. You can follow --and share -- that progress at spiritualdirection.com/Avila2Aspen.
Fr. Hilton's trip will begin in Anacortes, Washington, on June 5. He will spend six weeks traveling across the northern United States and a part of southern Canada and will conclude in Bar Harbor, Maine, seven weeks later.
Each day, Fr. Hilton will begin by offering Mass and a holy hour before he starts biking. During his ride, he'll record a brief video reflection that will be posted each evening and shared on SpiritualDirection.com.
St. Mary Parish desires to raise its level of spiritual programs to impact the mission of the Aspen community at large which is committed to providing a world class standard for its events and intellectual offerings. St. Mary's seeks to serve and evangelize those who come to experience Aspen's diverse and unique offerings.
"The need to form more authentic disciples of our Lord at St. Mary's and throughout the Church is urgent," writes Bishop Samuel Aquila, Archbishop of Denver, in his letter granting permission for this endeavor.
According to Fr. Hilton, "The relationship developing between the Avila Institute and Saint Mary's is very exciting. I'm confident that it's of God and will bear great fruit for the Church and in the lives of many who are seeking a deeper life in Christ Jesus. The unique nature of the institute will naturally attract a broader, even international, audience. This will allow St. Mary's parish to be part of the larger conversation relating to the interior spiritual struggles of the world."
The partnership, providing the finest Catholic training and formation on hand, will also offer the Catholic solution to those who are looking for spiritual guidance. "In addition to the skiing, mountaineering and cultural events [available in Aspen], we're working to make this a powerful place to grow in your relationship with Jesus Christ through dynamically orthodox conferences and seminars in service of the New Evangelization," says Fr. Hilton.
"Our purpose is purely one of service to St. Mary's and the work that the Holy Spirit is doing in and through [Fr. Hilton] and the parish," says Dan Burke, President and co-founder of the Avila Institute and founder of SpiritualDirection.com.
Archbishop Aquila, from the Archdiocese of Denver, has this to say:
The Avila Institute for Spiritual Formation offers premier courses under the guidance of the finest Catholic educators. With live, interactive, online courses, the Avila Institute can bring the classroom to students no matter where they are located in the world. They can chat with an admissions counselor and learn more at Avila-Institute.com.
SpiritualDirection.com began in 2009 by Avila Institute co-founder Dan Burke as an exploration of the interior life and teachings of the Catholic Church. It now serves over 45 thousand visitors monthly and offers a number of resources, including a book club, a weekly radio show, and many topical posts each day exploring Catholicism.
Since its establishment in 1882, St. Mary Catholic Church has provided for the spiritual needs of the Roman Catholic Community of Aspen and has extended its reach into the larger community through outreach and service. Her history is rich with pioneer spirit and great faith and she has left a beautiful impression on Aspen. Fr. John Hilton has been a Catholic priest for 33 years and has served as pastor of St. Mary's for the past four years. You can learn more about the parish at StMaryAspen.org.
About the Author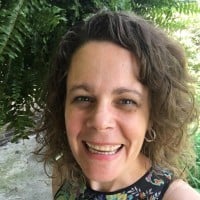 When she's not chasing kids, chugging coffee, or juggling work, Sarah Reinhard's usually trying to stay up read just one…more…chapter. She writes and works in the midst of rural farm life with little ones underfoot. She is part of the team for the award-winning Catholic Mom's Prayer Companion, as well as the author of a number of books. You can join her for a weekday take on Catholic life by subscribing to Three Shots and follow her writing at Snoring Scholar.