Welcome to the Unleashed Book Club! We're reading Unleashed, by Sonja Corbitt.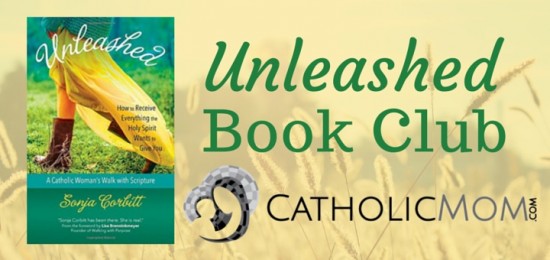 Summer readers, get ready for a Catholic Mom Book Club experience that will "unleash" your heart and send your soul soaring! Over the next nine weeks, we will break open the fantastic new book Unleashed: How to Receive Everything the Holy Spirit Wants to Give You by Sonja Corbitt. I had the pleasure of meeting Sonja in person when we spoke together at a conference a few years ago. As she took to the stage, I was moved to tears by her compelling testimony, her vibrant faith and her passion for (and incredible knowledge of!) sacred scripture. I believe when you "meet" Sonja by sharing Unleashed with us, you will have this same reaction. Today, I'm pleased to share an interview conversation with Sonja Corbitt. We thank our colleagues at Ave Maria Press for providing us with the opportunity to share this book with you in this Book Club setting. We look forward to a lively and compelling conversation! Lisa
Q: Please briefly introduce yourself and your family to our readers.
I am a Southern Baptist convert of eight years; a homeschooling mother of two boys, 16 (historian) & 8 (musician); and wife to a true Joseph (you will know I am not exaggerating when you read the book).
Q: Sonja, you and I have been blessed to meet and pray in person, but I want our readers to understand a bit of how your personal story and conversion to Catholicism play a part in your apostolate. Please share briefly what brought you into the Church, and what keeps you here.
My issues with authority - specifically men - are strangely what brought me to the Church, and also what keeps me here. Isn't God miraculously economical with resources? So while He was teaching me through my painful past with my father about authority and how and why to submit to it, He allowed me to also experience two painful church splits as a non-Catholic. Because I understood proper authority through the Bible, I also knew the Martin Luther debacle that splintered the Church, circa 1500, might not have been as above-board as my denomination led me to believe. It was a perfect storm.
Q: What inspired Unleashed?
Every time I present the Unleashed talk at conferences and retreats I am mobbed afterward by people with similar toxic relationships, self-medicating habits, repeating drama, and out-of-control desires. It seemed obvious that the Holy Spirit was hitting a nerve through this talk, so I simply wanted to cooperate as best I could while also staying out of the way of whatever He wants to accomplish.
Q: How did the process of taking work that you'd done in the past and translating it into this book format help you to revisit and see with fresh eyes the content explored in the book?
For me, few things are as weird as the sense of being informed by yourself. I swear, when people quote Unleashed to me in interviews or I read it back, I hear it like it's the first time I heard it from the Scriptures. It penetrates. It convicts. It challenges, all over again. I love that the Holy Spirit works like that. It just proves that all our gifts, talents, and offerings originate and come to fruition through Him.
The process of distilling such transformative experience into something other people might connect with was, for me, somewhat of a review with the Holy Spirit, I think. In the book I talk about how the Holy Spirit always reviews with us just before He launches us into some new venture, and for me, writing Unleashed was that review, although I don't think I really knew it fully at the time. I finished writing Unleashed knowing that I know that I know that whatever my future holds, I am utterly safe and thoroughly loved. THAT is one incredible assurance.
Q: You dwell beautifully in the book on the theme of finding freedom through the grace of God and the intercession of the Holy Spirit. Why do you want other women to find and know this freedom in their lives?
Because we, men and women, have been limited, bound, scarred, beaten, prevented, and forbidden long enough.
Q: In your writing and speaking, you share from a very personal space. Why is this worth the risk associated with letting others see inside your soul?
That's a hard one. I can only say John 8 is what keeps me risking it, without knowing if it's "worth it" or not. To be blunt, Jesus said being fake is a mark of Satan. I don't think we have to expose everything all of the time, but strategic sharing that is truly transparent is the essence of reality, according to Jesus in that passage.
Q: For someone who is considering the book but feels so overwhelmed that he or she can barely fathom prayer, let alone time in scripture, what words of advice would you offer?
If you read this book, you ARE praying, and you are praying with the Scriptures. We do it together.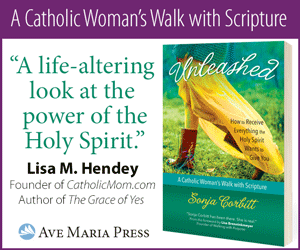 Q: What do you hope our readers will take from their experience of participating in our Unleashed Book Club?
My prayer is that each of us comes into more intimate contact with the Holy Spirit, so He can unleash everything He wants in every one of us.
Q: Are there any additional thoughts or comments you would like to share with our readers?
The DVD series that goes with the book is available now at pursuingthesummit.com. Perfect for study groups or individuals who long for more of God in the Scriptures, with me.
Next week, we'll cover Chapter 1. For the complete reading schedule and information about our Book Club, visit the Unleashed Book Club page.
Order your copy of Unleashed: How to Receive Everything the Holy Spirit Wants to Give You at Ave Maria Press
SPECIAL SALE PRICE: $11 - Use code UNLEASH
Copyright 2015 Lisa Hendey
Image courtesy of Sonja Corbitt, all rights reserved
About the Author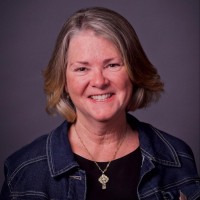 Lisa M. Hendey is the founder of CatholicMom.com, a bestselling author and an international speaker. A frequent radio and television guest, Hendey travels internationally giving workshops on faith, family, and communications. Visit Lisa at LisaHendey.com or on social media @LisaHendey for information on her speaking schedule or to invite her to visit your group, parish, school or organization. Visit Lisa's author page on Amazon.com.