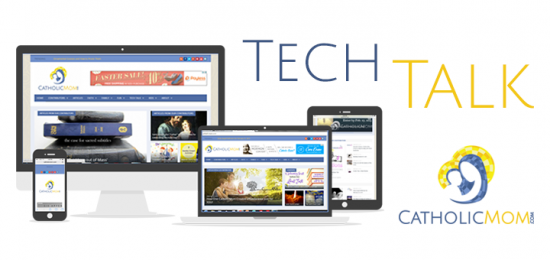 During the first weekend in June, I had the pleasure traveling to Atlanta, Georgia to attend both the Atlanta Eucharistic Congress and the Catholic New Media Conference. On Saturday, although the speaker lineup was stellar, my heart was drawn to the vendor hall instead. I roamed up and down the many rows of books, rosaries and organizations. Speaking to so many people devoted to spreading the joy of Catholicism in so many different ways, is always rejuvenating, encouraging and well, downright fun!
One such encounter came with the enthusiastic and knowledgeable people at the myParish App booth. I was instantly drawn to their booth by a t-shirt that read, "I am not texting, I'm praying".
It was clear after only a few moments of learning about the myParish App, that I needed to feature this innovative digital tool on TechTalk. I was intrigued by the ground up development, the intentional Catholicity of the app and the clean easy to navigate design. While I quickly identified my three favorite features of the app:
Confession - includes an how-to guide, examination of conscience and reminders;
Messages – allows you to stay connected to Parish happenings. Even better you can star, delete or share the message easily with others.
Homilies – providing an outlet for your Pastor to post his in audio, text or video, or subscribe to one of the others available on the app.
I soon wondered what the knowledgeable people over at myParish would say were the top 3 features that set their App apart from the many others on the market trying to provide the same service. Here is the thoughtful response I received from myParish and Diocesan Publications representative, Mike DiCosola:
1) Simple and Intuitive Parishioner Experience. It is difficult to look at something like this on a "features" list, but it is of great importance. As an App built from the ground up to be Catholic, it needs to be both beautiful and naturally easy to use. Many Apps aimed at Parishes are simply frames for website information - there is all sorts of content, but no clear purpose or goal in the app. The user is left frustrated trying to use something never really intended as a native app for the Church.
2) Inspiring Faith Daily. Our tag line is "Catholic Life Every Day" We see this most plainly in the ability to set personalized reminders for Mass, Confession and Prayers. This is one of the most commonly lauded features of the myParish App. People love that you can be reminded to silence your phone when you get close to the Church using GPS. Setting a reminder to pray the Angelus at noon is the modern day version of the church bells ringing out over the fields calling people to prayer. The most visited faith area of myParish is the Daily Mass readings which we have licensed from the USCCB to include directly in the App - we know of no other App that can legally do this. A faithful App needs to go beyond just providing information. A web-app can tell you about the Mass Times, but what will actually inspire someone to go? A customizable experience empowers the Parish to inspire the faithful to engage in the life of the parish beyond simply posting information.
3) Launch Kit: myParish is the only App that comes with a complete promotional kit. We understand the challenges that Parishes face in adopting a new technology and getting Parishioners to use it. Our Launch Kit includes customized images for the website and social media, printed materials to hand out to parishioners, stickers, t-shirts, sample Mass announcements, bulletin articles to promote the app and teach Parishioners about the features, a customized banner and stand, live phone support, designers to help you customize your App background and an on-line training process using webinars and videos.
myParish app is reasonably priced (both the startup costs and monthly fee), designed specifically for Catholic parish use, and continues to evolve with technology and the Church needs. Their partnership and 'here to stay with you" attitude alone puts the myParish on my very short list of mobile parish apps to consider.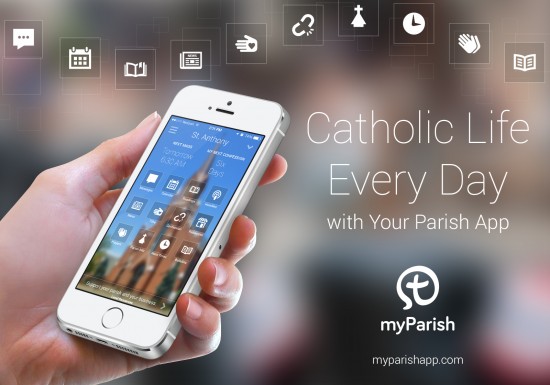 Read more of our Tech Talk columns.
Copyright 2015 Allison Gingras
Art/photography: courtesy myParish App , all rights reserved Diocesan Publications and myParish App.
About the Author