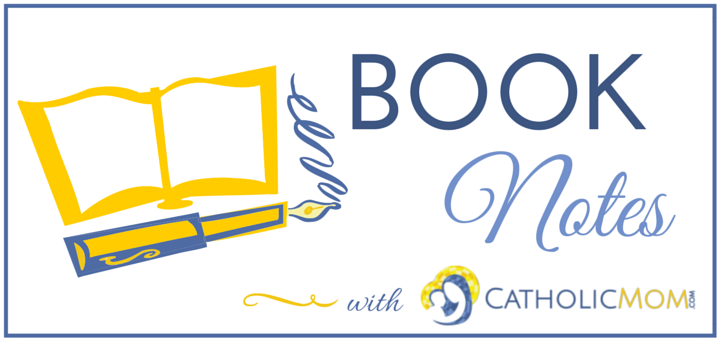 Well, HELLO! It's been waaaaay too long since I've joined you for my weekly book talk, and I'm glad to be back!
In the last few months, my reading has been...well, it's been impacted by life with a new family member, the onset of summer, and the jugglingization of figuring out how things work out now.
In June, I was thrilled that I finished two books. In July, I've already finished one...and given the state of my review piles, I think I'm going to have to take some speed reading courses...
But I'm not complaining. NOT. COMPLAINING. Having plenty of books with a side of chubby cheeks is a blessing.
So let's talk about what I've read lately, shall we? And feel free to chime in with your reading...I never EVER grow tired of talking books (in case you had any doubts).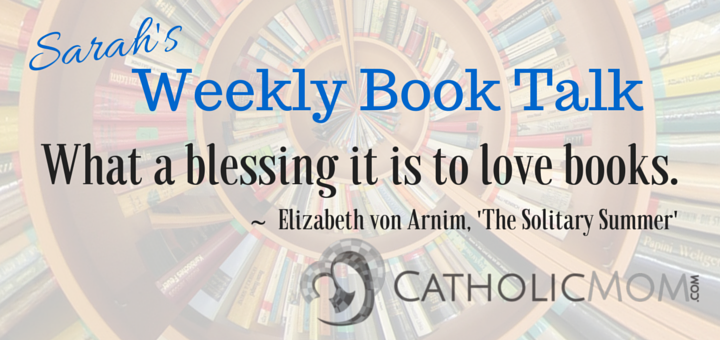 Recent Reads
Unleashed: How to Receive Everything the Holy Spirit Wants to Give You, by Sonja Corbitt (Ave Maria Press, 2015)
My rating: 5 out of 5 stars
I started off reading a chapter a week with the Unleashed Book Club. And then I just could. not. stop. reading. I'll be writing more about this book, in part because I was assigned a chapter as part of the book club, and in part because it is just the book I needed. This is an amazingly well done book, and Corbitt's writing inspires both snort laughs and tears from me (though if I farted, I shall not tell). She's real and tender and honest and I'd like to spend a day with her where we start with coffee and end with beer. Or maybe wine. Or hey, maybe BOTH.
If you haven't read this book, let me just challenge you: read it. Maybe I say that because I just came off a week of being in charge of the Bible stories at VBS where none of the Catholic kids knew much. Maybe it's because my own non-Catholic upbringing instilled a love of scripture in me. Maybe it's just that Corbitt is one of those people who puts a burr under my saddlebags and makes me jump to it!
Highly, HIGHLY recommended.
Saint Odd (Odd Thomas #7), by Dean Koontz (fiction, Bantam Books, 2015)
This was a fun read, and it made me realize that I missed a few books in this series over the last few years. I read the first few and LOVED THEM, but somehow, this is number seven and I only remember reading three...hmm. Well, it was as page-turnery as you'd expect, with a few surprises I didn't. I used to read Koontz when I was in my very young adult, very horror/suspense filled novel phase.
True Radiance: Finding Grace in the Second Half of Life, by Lisa Mladinich (Servant Books, expected publication Fall 2015)
My rating: 5 out of 5 stars
Every woman I know needs a copy of this book, because whether you're in the second half of life or not, you know someone who is and/or, God willing, you will someday be walking that path yourself. Mladinich's poetic prose is both inspiring and a bit of a kick in the pants. She manages to be a big sister without being bossy and a friend without being sappy. This book is a treasure waiting for you to find it. Go preorder it right now and thank me in a few months when it comes and you get to experience it for yourself.
Behold the Mystery: A Deeper Understanding of the Catholic Mass, by Mark Hart (Word Among Us Press, 2014)
My rating: 5 out of 5 stars
I've had this book for over a year, and I've tried to read it (by carrying it around and never opening it) at least once before. Boy oh boy was I glad to read it now. Hart is, as ever, down-to-earth and approachable, but he's also not dumbing things down. I appreciate that about him: maybe his brain is as fried as mine is after a stint of sleepless nights, but doggone it, I want you to tell me things as they are, not in some cushiony language.
He delivers. There's a tenderness in this book, too, that I couldn't help but warm up to. I'm used to Hart the Funny Guy, the one who dances to Taylor Swift and fakes an Australian accent. But you know, he's a dad too, and he has a house full of little girls. That makes a guy...well, he's Daddy. And however hilarious he is (and OH, he IS hilarious), he also loves Jesus.
While this may be a bit of an introductory text, it is also a good refresher. While it may not be deep scholarly work, it is also not a bad thing to sit down with and ponder.
Can you stand to understand the Mass more deeply? Well, I could. And I did. And I'll be revisiting this book, too. Great reading.
Current Reads
Confessions, by St. Augustine
I hate this book. I love this book. It was my idea for the Catholic Spiritual Direction Book Club, and that's what I get, isn't it? I will finish it, oh yes. And I may be a better person for it. Or not. This book is bigger than me by about a mile. But it's not bad reading...maybe it's just not "right now" reading for me. Hard saying...I was sitting at the pool the other day reading it and chuckling to myself at the Catholic nerdiness of it all: bikinis and screaming children and hot sun and...Confessions.
Practical Theology: Spiritual Direction from St. Thomas Aquinas, by Peter Kreeft (Ignatius Press, 2014)
I may be reading this book for the rest of my life. But it's GREAT reading, and not hard the way you think it will be when you see the title (or maybe that's just me). I try to read a page or two during my morning devotional time, if and when I get said morning devotional time. (What that means in practice is that I'm reading about four pages a week.)
A Book of Uncommon Prayer: 100 Celebrations of the Miracle & Muddle of the Ordinary, by Brian Doyle (Sorin Books, 2014)
Hands down, this is my favorite prayer book EVER. I have laughed and nodded and been left with seeds of thoughts that have blossomed throughout the day. This book embodies what prayer should be: a conversation that's quirky and enjoyable and real.
Sense and Sensibility, by Jane Austen (fiction, audio via CraftLit)
I. Love. This. Book. The narration is fabulous, yes, and Heather Ordover's insights and commentary is also wonderful. But Jane, she is a gift all unto herself, and one that I am so, SO enjoying!
Up Next
Well, we'll see. My ten-year-old has a book she wants me to read next, and I quite agree with her. That said, my niece also requested I read a book, and she's been patiently waiting (with her book on my to-read shelf) for over a year. And then there are all the books I "have" to read. (Such a hard, hard life I lead...) :)
What have YOU been reading lately?
*Are you on Goodreads? I'll see you there!
Curious about what my ratings mean? Here's an explanation of what the stars mean to me.
Be sure to check out our Book Notes archive.
Copyright 2015, Sarah Reinhard
About the Author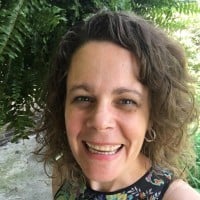 When she's not chasing kids, chugging coffee, or juggling work, Sarah Reinhard's usually trying to stay up read just one…more…chapter. She writes and works in the midst of rural farm life with little ones underfoot. She is part of the team for the award-winning Catholic Mom's Prayer Companion, as well as the author of a number of books. You can join her for a weekday take on Catholic life by subscribing to Three Shots and follow her writing at Snoring Scholar.