Do not neglect to show hospitality to strangers, for thereby some have entertained angels unawares. Hebrews 13:2
I have never seen a burning bush like Moses saw, or witnessed the parting of a sea like the Israelites but I know God works beautifully and profoundly in my life just the same. The middle lovelies and I spent a lot of time last year talking about Divine Revelation and we learned that one powerful way God reveals himself to us is through others.
I was reminded of this very truth recently in a completely surprising and beautiful way. It all happened at the mall and it involved a saintly woman with a huge laugh, a contagious spirit and a message nobody but God knew I needed. Satan is such a weirdo! He's evil, wicked and he knows just how to trip us up! It amazes me how often I fall for his lousy tricks. I'm gonna be completely honest and tell you that I was in a dark spot spiritually earlier this summer. I know our faith journey is one of twists and turns and ups and downs so I didn't fuss or worry too much about it because I knew God was teaching and I would be changed at the end of the struggle but it was no fun!
The root of the problem stems from the one thing Satan can grab me by the throat and toss me down with…my struggle with my weight. I can try to ignore it or pretend it doesn't matter or tell myself the inside matters most and to some extent that's exactly true but the fact remains; food is my battlefield and I wasn't viewing food as fuel but as entertainment, stress release and comfort…not a good idea. We all have battles and I just so happen to have one that is visible to the world and I was feeling very lousy about that. I was frustrated because it never goes away…I never fix it for good and I needed to. My health was beginning to suffer and I was so heavy-hearted!
I knew God was teaching in my darkness but I just couldn't seem to get the lesson so my prayer became very specific. I asked him to send me someone to help me and I asked that he make it so powerful and so surprising I could not mistake it for his help and his love. As requested, God delivered in a mighty way. I had a meeting at a restaurant in the mall with a wonderful guy who was inviting me to become a part of a fabulous ministry. I was excited about the opportunity and felt the Holy Spirit calling on me to use my gifts in a really cool way. After the meeting I wandered into the mall to buy a gift and satan began to work his discouragement in my heart. As I walked through the mall my knees began to hurt and I was short of breath; that's when all the negative messages started running through my head.
I slipped into a store to look around and out popped the most delightful shirt-selling saint I've ever met. I recognized her from a previous visit to her store but it was her laugh that drew me in and her Italian eyes and straightforward conversation kept me there for almost an hour. I told her what I was looking for and as she led me through the store I mentioned how lovely she looked. She turned and looked at me and said "Thanks, I've lost 109 pounds." She gave me that look like, oh man, did I just say that.
I nearly burst into tears as we spent precious minutes talking about her journey. In her strong Italian style, she laid it all out for me and told me what I needed to do and made no bones about telling me I was perfectly capable of calling on God to help carry this cross. Loving others is what we are called to do and we are part of "others." We laughed, we cried and we shared our struggle. She told me the two apps I needed on my phone to put it all together and she gave me her phone number for help.
As she handed me my receipt, she drew a cross on the back and said, "Do you know what this is? It's his love for you and he loves you enough to help you be who he created you to be and in that there will be the happiness he planned too. This is hard work but it's worth it!" She said exactly what I needed to hear. Without even knowing what was on my heart she brought up every issue that was sitting so heavy and she did it with humor and love. I was astounded…she had no idea but yet she knew everything.
Just as I asked him, profound and surprising and to top it off, not one single person came into the store the whole time we were talking. She also mentioned that a Fitbit had been a key component of her success and just because God is so amazing, I had gotten an email that same day from a friend who had an extra one she wanted to sell. He thinks of everything...and sometimes just because he can, he shows-off a little!
Would I have rather had a burning bush or parted sea? Absolutely not! I'll take the laugh, hug and tough love of a perfectly placed sales saint any day! He revealed himself perfectly through that beautiful woman and my heart was changed! As I thanked him again and again for that gift I asked him to send others along the way when I get too tired to carry this cross on my own. I am absolutely confident that he will do just that! Divine revelation…it's amazing; be on the lookout for it!
A Seed To Plant: Take time this week to notice the people around you…they may be waiting for God to reveal something through you or they may be waiting to reveal something to you.
Blessings on your day!
Copyright 2015, Sheri Wohlfert
Image copyright, Sheri Wohlfert. All rights reserved.
About the Author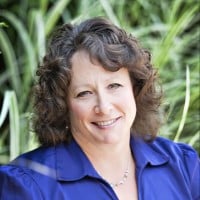 Sheri is a Catholic wife, mom, speaker and teacher. She uses her great sense of humor and her deep faith to help others discover the joy of being a child of God. Her roots are in Kansas but her home is in Michigan. The mission of her ministry is to encourage others to look at the simple ways we can all find God doing amazing things smack dab in the middle of the laundry, ball games, farm chores and the hundred other things we manage to cram into a day. Sheri also writes at JoyfulWords.org.