My favorite part of this recipe is the sauce. I make it all the time, seriously, there is some in my refrigerator on an almost continual basis. It is good on anything, from fish to turkey burgers to crackers to veggies to cold shrimp. Full truthful disclosure, I like to eat it off the spoon. Here we go!
Sauce Ingredients:
1 cup plain yogurt (I use full fat, Greek style, but use what you prefer)
1 teaspoon old bay seasoning
½ teaspoon chipotle seasoning
Dash cumin
1 tablespoon lime juice
Dash chili powder (optional)
Mix all of this together and let the flavors blend while you cook your fish:
1 lb fish (lean toward steak style, not fillets; I've used Mahi and Salmon)
I like to pan fry for this dish, so heat up your pan, add a bit of olive oil or coconut oil and add seasoning to the pan (Old Bay, garlic powder, onion powder, pepper, cumin, whatever you like) When it is heated up, put the fish in the pan (medium heat). Turn the fish when it is cooked about halfway. While the fish is cooking thinly slice your cabbage, red or white, whatever you like.
Lightly toss the cabbage with the sauce, about a 1/4 cup of it.
I served our tacos on lettuce leaves, but use whatever you like. Add tacos toppings to your taste.
Please remember, I am not responsible if you too find the sauce the best thing since sliced bread!
You can find all our Meatless Friday featured recipes here.
Copyright 2015 Deanna Bartalini
Photo copyright 2015 Deanna Bartalini. All rights reserved.
About the Author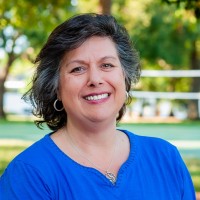 Deanna G. Bartalini, MEd, MPS, is a Catholic writer, speaker, and educator. Her Bible study, invite the Holy Spirit into Your Life, is published by Our Sunday Visitor. Her website, DeannaBartalini.com, is for the Every Day Catholic. There you can find Deanna's writing, free webinars on Catholicism, her podcast and social media services, and invite her to speak to your group, in person or virtually.