Part of the fun in the project that started as a blog series and turned into Word by Word: Slowing Down with the Hail Mary, is how the Holy Spirit assigned words.
You see, everyone assumes that I had a hand in it. And maybe I did. I faithfully made a spreadsheet and asked a bunch of talented people to write some nearly impossible reflections.
And then I sat back and collected them, put them up on my blog, and marveled. Now that it's a book, I'm even more marveled.
The word that best sums it up for me is today's word: BLESSED.
Which just happens to be the word that Maria Johnson was assigned by "me." (I put that in quotes on purpose: I am serious that I had NOTHING TO DO with who got what word!)
I can't help but smile to think of how Maria has blessed me in the time I've known her. She's helped me meet Mary in new ways and she's taught me a thing or three about friendship. She tweets with the best of them (if you don't already follow @bego, you should!). She's also written what might be my favoritely titled book, newly out, My Badass Book of Saints: Courageous Women Who Showed Me How to Live.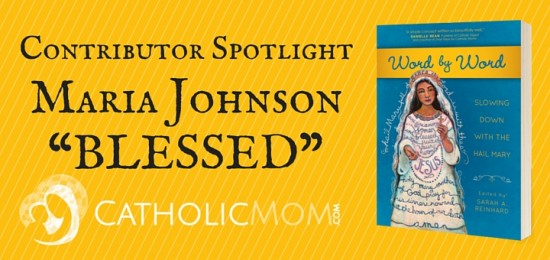 Maria, what's your relationship with the Hail Mary as a prayer?
Like most Catholic little girls, I learned the Hail Mary as a child. Of all the prayers, it's the simplest for me, and I've prayed it often in both English and Spanish.
Despite its presence in my prayer life (which had been, frankly, weak and mostly nonexistent in my young adulthood), I came to the Hail Mary with new eyes sometime in my late thirties, and every year since have seen enormous growth in not just my ability to hold onto to this prayer with piety (which varies and includes a lot of distraction), but that it has opened up for me a relationship with Mary that is as tangible as the rosary beads on which I often pray Hail Marys.
How does it help you grow closer to Mary and, through her, Jesus?
It took praying the Hail Mary with attention to detail to bring out its wonder. I mean, more often than not in those early years it was a rote recitation. Not much to ponder that way, right?
When I taught it to my children, and then spent considerable time reviewing it in Catechism classes when I was teaching prayer, I came to discover what it was really saying.
We first greet Mary and recognize who she is, the Mother of Jesus Christ, our Savior. Mind blown! And then we ask her to pray for us! Wow! Could there be a better prayer partner? The prayer led me to a relationship with Mary, and we know that Mary always leads us to her son, Jesus.
Your reflection was on the word BLESSED. Tell us a bit about what this word means to you in the context of the Hail Mary.
I live and work in a community that often says, "God bless you" as a goodbye, and what they're wishing is for good things, so I responded to "blessed" by pondering the joy of being blessed. How joyful must Mary have been to learn she would be carrying Jesus. We don't know how she felt because so very little is known, so I came at it with what I think I would have been joyful about.
What's your top tip for slowing down as you pray the Hail Mary...or any prayer, for that matter?
It's so easy to zip through the Hail Mary (or any prayer) and go on auto-pilot. I've tried various approaches, and they all involve intentionality. I really need to be a grown up and put myself into the frame of mind that I'm going to pray with intentionality.
I fail often...my mind wanders, or I realize 5 beads into a decade that I zoned out, but I refocus and continue.
The Hail Mary is easy for me because I visualize talking to Mary. I greet her, "Hail Mary, full of grace, the Lord is with you!" And then I marvel at what that means, "Blessed are you among women, AND BLESSED IS THE FRUIT OF YOUR WOMB, JESUS!" Finally, I present my petition, "Holy, Mary, Mother of God, pray for us sinners, now and at the hour of our death."
When I approach it as a real encounter, I find that not only do I slow down to pray -- but I manage a great deal piety in the process. I'm working on sustaining that through all my prayer. Pray for me!
*
Go forth, good people, and check out Maria's work, her tweets, her Facebookings, and her new book. I'm betting you'll find yourself more than a little blessed by it. :)
If you're interested in purchasing Word by Word, consider stopping in at your local Catholic bookstore first. It's also available online, and if you use our Amazon link, CatholicMom.com gets a small percentage of the sales.
Copyright 2015 Sarah Reinhard
About the Author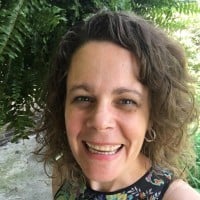 When she's not chasing kids, chugging coffee, or juggling work, Sarah Reinhard's usually trying to stay up read just one…more…chapter. She writes and works in the midst of rural farm life with little ones underfoot. She is part of the team for the award-winning Catholic Mom's Prayer Companion, as well as the author of a number of books. You can join her for a weekday take on Catholic life by subscribing to Three Shots and follow her writing at Snoring Scholar.