When I began the project of looking closer at the Hail Mary on my blog many years ago, I never dreamed it would be a book. That project inspired a whole new way of praying for me, and it made me slow down.
The book inspired by the blog series, Word by Word: Slowing Down with the Hail Mary, is now available, and I'm excited to share more from some of the contributors who have agreed to be interviewed here.
In Word by Word, each contributor wrote a brief reflection about every word of the Hail Mary. The idea was that, in reflecting on the prayer one word at a time, we would all slow down and pray it differently, more meaningfully, and closer to Jesus.
Today, my guest is the lovely Pat Gohn, who has been a dear friend, a mentor, and a mom figure to me for going on ten years. The fact that she's involved with this project is a joy, and no less because of how I've seen Pat's ministry grow over the years.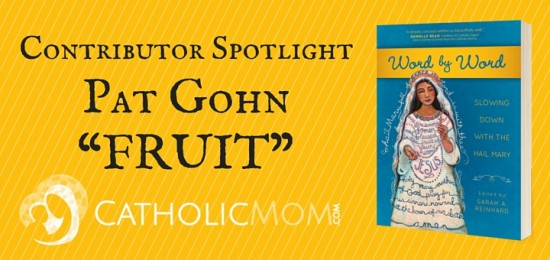 Pat, what's your relationship with the Hail Mary as a prayer?
I learned this prayer as a child, and I memories of playing with my grandmother's rosary that she kept in a gold box on her dresser. Years later, I inherited her rosary, that now is in a gold box on my dresser when it's not in use.
In my heart, the Hail Mary is my Momma's prayer. As in, "Hail Mary!" -- "I love you, Mom!" I took Mary as my spiritual mother during a Marian consecration in the spring of 1996. So that prayer has meaning when I pray the rosary. It also is one of the most scripturally-based prayers we have as Catholics, with Bible verses from the Annunciation and the Visitation as part of its structure.
How does it help you grow closer to Mary and, through her, Jesus?
Great question. Jesus is the Head of the Church. We are the Body, the members. The Fathers of the Church fondly called Mary "the neck," meaning the body is connected to the Head through her. The Hail Mary's central point is Jesus… and I think that's beautiful because Jesus was the central point of Mary's whole life.
Your reflection was on the word FRUIT. Tell us a bit about what this word means to you in the context of the Hail Mary.
Well, to talk about Mary, I have talk about Eve first. What was Eve's relationship with the forbidden fruit in the Garden Eden? Most of us remember that outcome from the early verses of Genesis. When Eve ate the forbidden fruit, and shared it with Adam, they both were banished from the Garden. In her moment of truth, Eve grabbed for what she thought would make her happy. She forgot, or conveniently ignored, what her loving Father had said to her. It makes me think of all my "moments of truth" when I've clearly had a moral choice to make. I always felt that history was really hard on Eve, and women in general through the centuries.
Now Enter Mary. Her moment of truth arrives — at the Annunciation when the angel appears to her and invites her to become the Mother of God -- Mary chooses for God, rather than ignoring him. She says, "Let it be to me, according to your word." Mary chooses God's good plan and she if given the greatest fruit of all — the fruit of her womb, and the forever apple of her eye: Jesus.
In short, all of our choices bear fruit. But there's differing quality of that fruit based on our purity and acceptance of God's plan and his Will in our life.
What's your top tip for slowing down as you pray the Hail Mary...or any prayer, for that matter?
Besides walking away from all electronic devices and screens? I light a candle and I sit in my favorite spot in my living room. Just the candle lighting alone triggers a sense of calm in me. Sometimes, I'll just sit out in on the front step and turn my face toward the sun and soak it up. Both of these short 5-minute practices help to settle me down for prayer.
*
You can find Pat in a variety of places, though my two favorites are her Among Women podcast and her book, Blessed, Beautiful, and Bodacious (a book I personally felt so strongly about that I bought copies for everyone in my prayer group). Pat also writes a blog, which is full of great things, and in many other places. If you're lucky, you'll get to hear her speak someday (she's one of my favorites there, too).
If you're interested in purchasing Word by Word, consider stopping in at your local Catholic bookstore first. It's also available online, and if you use our Amazon link, CatholicMom.com gets a small percentage of the sales.
Copyright 2015 Sarah Reinhard
About the Author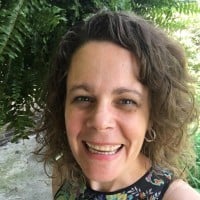 When she's not chasing kids, chugging coffee, or juggling work, Sarah Reinhard's usually trying to stay up read just one…more…chapter. She writes and works in the midst of rural farm life with little ones underfoot. She is part of the team for the award-winning Catholic Mom's Prayer Companion, as well as the author of a number of books. You can join her for a weekday take on Catholic life by subscribing to Three Shots and follow her writing at Snoring Scholar.