With Your Family (Feel free to invite over another family or two!)
Have a special harvest-type meal. Your family will come to remember and associate this type of food with your All Saint's Day celebrations. We often have something like Pumpkin Chili. Dessert usually also involves pumpkins or apples. This is a feast day—so look for something special to set this day apart! There are also special desserts associated with All Soul's Day that some folks will make a part of this celebration—like donuts!
Pull out some of your saint's books and leave where people can pick them up to read. I usually put some in a nice basket and have them out as part of our living room décor for this month.
Discuss these questions at dinner:
Whose feast do we celebrate on All Saint's Day? (All the saints—especially those who aren't mentioned by name!)
Do you have to be famous to be a saint?
Do you really think you are able to become a saint or is it just reserved for a few privileged folks?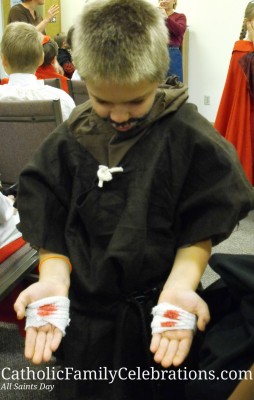 With a Group
If you have the opportunity to celebrate All Saint's Day with a group, like at your parish, school, or homeschool group, by all means "Do It!"
Dress up. This is such a great opportunity for your children, especially if they get to dress up as a saint. We've learned so much about the saints through the many times that we did this. And don't sweat the costumes! There are many ideas online to make this simple. For example, an apron (with optional grill marks) and spatula or grill with a sign "I think I'm done on this side" for St. Lawrence. Do some research on saints to come up with your own. Usually the saints are represented by an item or are patrons of something then can lend to an easy costume.
We usually start our party with a Saint Guessing Game. Each participant stands in front of the group and gives three facts about their saint. After this, everyone has a chance to guess who they are. Older kids delight in looking up obscure saints to stump everyone which takes the realm of costumes beyond St. Michaels, St. Georges, and St. Elizabeths, and helps everyone learn a few new saints.
Play "Saint" games. At our parties, we play Saint Bingo, Pin the Halo on the Saint, A Cakewalk using cupcakes and playing the song, "When the Saints go Marching In," Saint Trivia games, and many other variations of popular games with a saint-twist.
Finally finish the party with great festival food!
Yes, Halloween and Trick-or-treat were fun, but following that with All Saint's Day, and then another celebration of All Soul's, really keeps God and our faith front and center. And isn't that really what we want for ourselves and for our kids?
About the Author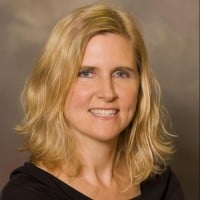 Tami Kiser is a wife, mother, teacher, author, and speaker. She runs a video production studio featuring Catholic speakers. These can be purchased or viewed on Formed. She also is the co-owner and host of a new Catholic Retreat and Cultural Center in the Carolina Mountains called Heart Ridge. She has taught everything from NFP, Zumba, cleaning toilets, Catholic crafting, the hula, bullet journaling, tap dancing, and liturgical living to Saxon Math 54 for the 10th time.