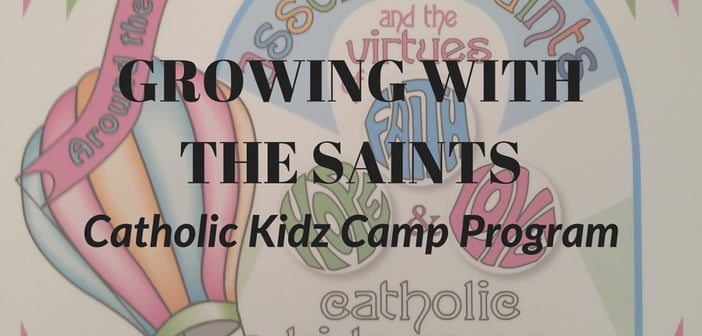 For years, Melissa Kaiser kept hearing from priests and religious educators that Catholic parishes were purchasing Protestant-based vacation Bible school materials, and she wondered why. After doing a bit of research, she realized it was because there was nothing available for Catholics! In response, she along with Susan Lawson, Maryalice Beach, and Margaret Windle decided to create an authentically Catholic program that parish educators and VBS directors could use called Catholic Kidz Camp.
The company website includes in this bio about why the Catholic Kidz Camp trademark was created:
In 2011, to distinguish ourselves from publishers claiming to be totally Catholic when in truth they are derivatives of Protestant programs, we acquired a Catholic Kidz Camp Trademark. This trademark replaces Vacation Bible School label and reclaims our Catholic identity.
Specifically Catholic in its vision and mission, Growing With the Saints offers several programs, including "Vatican Express," "Assorted Saints and Virtues of Faith, Hope and Love," "Parachute with the Angels: St. Catherine Laboure," "Set Sail with the Holy Trinity," and "Parade Around the Our Father." These are dynamic, engaging and rich in Catholic tradition, revolving around themes that are developmentally appropriate for ages pre-K through sixth grade.
Each Catholic Kidz Camp theme includes well-organized and visually appealing information, including lesson planning and preparation before the event takes place, forms and documents to copy and print, plus activities that include song and dance, creative crafts, and even fun snacks for the kids to enjoy that fit in with the theme.
I reviewed the "Assorted Saints and Virtues" packet, and I was amazed at the artistic quality, as well as knowledge of Catholicism incorporated into the program. Even more, that catechesis was well formatted for children, which in and of itself is a gift. Some of the saints featured include St. Kateri Tekakwitha, St. Juan Diego, and St. Brigid, so even a variety of cultural backgrounds are represented, making this adventure one around the globe.
A complete program for one week of Catholic Kidz Camp costs under $300, and it includes everything listed above and more. I think one of the most appealing aspects of this program is the fact that it has the Imprimatur from the Diocese of Fort Wayne-South Bend, making it spiritually sound and free from error in matters of the Catholic faith.
People from around the world have enjoyed Growing With the Saints products, most notably those who work with adult formation for people with disabilities. This particularly grabbed my attention because of my two daughters with disabilities. I considered how the Catholic Kidz Camp programs might work for people who otherwise do not feel connected to their faith in a meaningful way. Because the program addresses different learning styles, such as the visual, auditory, and kinesthetic learners, every child will take away something valuable about his or her faith after completing the Catholic Kidz Camp.
Because it is also a comprehensive program, religious education leaders don't have to rethink the Catholic wheel. All of the work and preparation has been done by the developers, so it really is a perfect solution to often overworked and hectic ministry leaders who need something solid without the hassle of creating a program from scratch.
What a refreshing, educational, and fun resource Catholics have for children and adults with disabilities. Melissa and Susan are warm, inviting women of faith whose work with Growing With the Saints has been truly life-giving for them and life-changing for the Catholic community.
Copyright 2015 Jeannie Ewing
Image copyright 2015 Jeannie Ewing. All rights reserved.
About the Author

Jeannie Ewing believes the world ignores and rejects the value of the Cross. She writes about the hidden value of suffering and even discovering joy in the midst of grief. As a disability advocate, Jeannie shares her heart as a mom of two girls with special needs in Navigating Deep Waters and is the author of From Grief to Grace , A Sea Without A Shore , and Waiting with Purpose. Jeannie is a frequent guest on Catholic radio and contributes to several online and print Catholic magazines. She, her husband, and three daughters live in northern Indiana. For more information, please visit her website lovealonecreates.com.