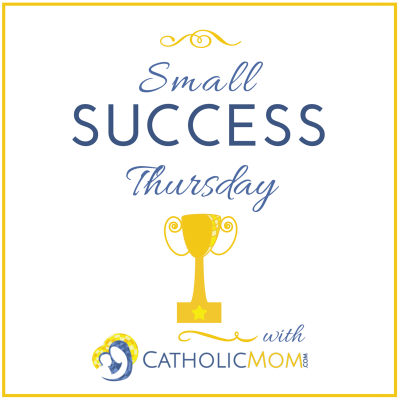 Sorry I missed last week folks! I was down in Texas visiting my mom. She'd had hip surgery and so after my sister and her sister took care of her, it was my turn to get a rare gift, to spend a week with my mom during ordinary time. We went to dinner, we went to mass, we talked, and it was a stolen bit of sacred time.
My home parish hosts a Halloween carnival every year. It is part of my childhood, so much so, I've sought on occasion to recreate it for my own children at our home parish now. It happened that the weekend I visited, the carnival took place and so I was blessed to get this experience for my daughter: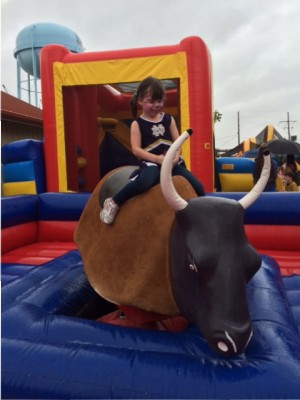 I have a video of her squealing with delight, and it made her brothers and sisters laugh too. We missed our whole family. So much so, Anna woke up the last night, and cried because she missed her sisters in particular. The week went by far too fast and too slow at the same time, because part of our hearts were back in Maryland, even as we enjoyed every minute seeing family and friends and old places that also feel like old friends, because they make up so much of the structure of my past.
Caring for my mom brought an insight too. First, I've always wanted to help someone, the way my sister and mom and mother-in-law and friends, have helped me during various pregnancies over the years. My own family size has precluded being able to reciprocate. Not so this time around. When my sister came to help me with my ninth child, she was newly pregnant with her first, I saw her as being like Mary in the Visitation, coming to help her older sister (11 years) as opposed to cousin. It is a sacrifice to give, and an act of humility to receive. I was grateful for the opportunity, if not the cause, to care for my mom.
Second, being away from home, my subconscious decided, "You may not be crying like your daughter, but you are homesick" and gave me vivid dreams of being an Eucharistic extraordinary minister (I'm not, though I have been on occasion), and holding and misplacing a ciborium. I knew, the ciborium filled with consecrated hosts was my family. I woke knowing, we are all called to be extraordinary ministers of the Eucharist to our families, who are also, the Eucharist we are to safeguard.
I hope all of you had a week full of small successes, and that you'll share them here and with each other. Have a great week.
Copyright 2015 Sherry Antonetti
[inlinkz_linkup id=567963 mode=1]
About the Author

Sherry Antonetti is a mother of ten children, published author of The Book of Helen and a freelance writer of humor and family life columns. You can read additional pieces from her blog, http://sherryantonettiwrites.blogspot.com.