Welcome to our 33 day Marian Consecration Retreat as we prayerfully anticipate the commencement of the Year of Mercy. Join us as we share the book 33 Days to Morning Glory: A Do-It-Yourself Retreat In Preparation for Marian Consecration by Fr. Michael E. Gaitley, MIC.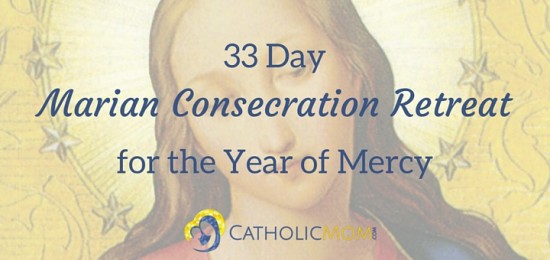 Today's Reflection:
The idea for this 33 Day "Total Consecration" retreat at CatholicMom.com was "born" in mid-July. A group of our CatholicMom.com contributors had the great joy of sitting together at a breakfast at the annual Catholic Marketing Network conference. Our speaker that morning was Fr. Michael E. Gaitley, MIC. With his usual enthusiasm, Father lit up a room of coffee-chugging conventioneers as he spoke with infectious joy about the upcoming extraordinary jubilee, a Holy Year of Mercy proposed by Pope Francis, to highlight the Catholic Church's "mission to be a witness of mercy." How perfect it would be, Fr. Gaitley suggested, if all of us would participate simultaneously in a 33 day Marian consecration retreat! If we all began together on November 5th, our retreat would culminate with our consecration to Jesus through Mary on December 8th--the exact date when the Holy Year of Mercy will begin. As Pope Francis wrote:
The Holy Year will open on 8 December 2015, the Solemnity of the Immaculate Conception. This liturgical feast day recalls God's action from the very beginning of the history of mankind. After the sin of Adam and Eve, God did not wish to leave humanity alone in the throes of evil. And so he turned his gaze to Mary, holy and immaculate in love (cf. Eph 1:4), choosing her to be the Mother of man's Redeemer. When faced with the gravity of sin, God responds with the fullness of mercy. Mercy will always be greater than any sin, and no one can place limits on the love of God who is ever ready to forgive. I will have the joy of opening the Holy Door on the Solemnity of the Immaculate Conception. On that day, the Holy Door will become a Door of Mercy through which anyone who enters will experience the love of God who consoles, pardons, and instils hope.
Today, we embark upon our retreat together! For each of the next 33 days, as we anticipate the joy of that December Marian solemnity, we will pray the consecration prayers as a CatholicMom.com family. Our writers are using the format provided in 33 Days to Morning Glory: A Do-It-Yourself Retreat In Preparation for Marian Consecration (obtain the book here for a $1 donation) by Fr. Michael E. Gaitley, MIC. But the consecration preparation prayers can be found online in other venues, so we invite you to simply join us using the resource of your choice. Each day, you will find a brief reflection, a question to ponder and discuss in the comments section, and a short prayer to use as a compliment to your retreat prayers for that day.
On this first day of our mutual preparation, it feels fitting for me to mention just a few words about Fr. Gaitley's comments in the book for Day 1. After acquainting us with the spiritual giant responsible for this devotion, St. Louis de Montfort, Fr. Gaitley asks, "Do we have a fire in our hearts as we begin this retreat?"
I have to admit that I laughed a bit when I read that line. My great intentions back in July got caught up in the usual rush of my life. So as I type this Day 1 reflection, my "fire" feels like the flame on one of those tiny little birthday cake candles... the kind that blows out if you even just breathe on it! I'll spare you all of my excuses for not feeling "the zeal of a Celtic warrior" that Fr. Gaitley calls us to put on. Suffice it to say that the many reasons I feel too busy to participate in this consecration retreat are also the exact reasons I need this time of zealous preparation so deeply in my own life!
If you're nodding in agreement, please know that I'm sending a little prayer for you today as I pray our Day 1 retreat prayer with you. I hope that this will be for all of us a time of mutual support, preparation, and--yes--even zeal!
To Ponder:
How do you feel about making a 33 day "retreat" in preparation for the Total Consecration to Jesus through Mary in anticipation of the Year of Mercy? What obstacles concern you? Why is this experience worth striving for?
Let Us Pray:
Come Holy Spirit, light a fire of love in my heart! Help me to more fully give myself in love to Jesus through our Blessed Mother Mary. Clear my path to God and help me to make this holy retreat with joy and zeal.
Copyright 2015 Lisa M. Hendey
About the Author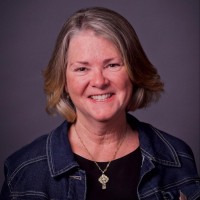 Lisa M. Hendey is the founder of CatholicMom.com, a bestselling author and an international speaker. A frequent radio and television guest, Hendey travels internationally giving workshops on faith, family, and communications. Visit Lisa at LisaHendey.com or on social media @LisaHendey for information on her speaking schedule or to invite her to visit your group, parish, school or organization. Visit Lisa's author page on Amazon.com.