Welcome to our 33 day Marian Consecration Retreat as we prayerfully anticipate the commencement of the Year of Mercy. Join us as we share the book 33 Days to Morning Glory: A Do-It-Yourself Retreat In Preparation for Marian Consecration by Fr. Michael E. Gaitley, MIC.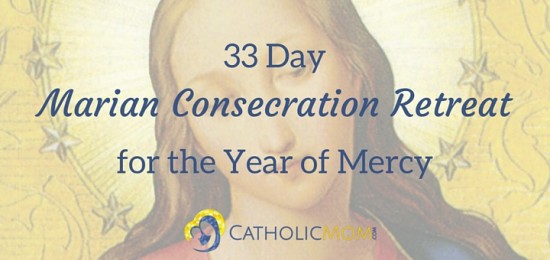 Today's Reflection:
Today, I'm going to start with a little confession. I've tried on numerous occasions to pray my way through this book and the Marian Consecration. The dates I've written in the margins of my book's pages are a history of sorts. They marks "attempts" made over the years. Some of the pages are marked all the way through to the end. But those dates get thinner around Days 9 and 10 of the retreat. So when we prayed yesterday with Charisse on Day 9, I did a little mental "Hooray!" happy dance. "Thank you God," I prayed, "For gifting me with this group of fellow retreatants along this 33 day journey because they will hold my hand and lead me closer to our Blessed Mother and to you."
When I set out to write today's reflection, I realized why I've been a Consecration "drop out" in the past. My simple mind begins to cloud over when I try to wrap my brain around understanding such incredibly complex concepts as the Holy Spirit or the Immaculate Conception. Often in the past, I read the words of Days 9 and 10, tried to understand their deeper layers of meaning but, in a way that troubled me, my heart was left cold.
Today, I do not feel that coldness. Today, in the company of whoever is "out there" in the Internet praying with us, I feel companionship along a journey. And I feel the tangible presence of Our Lady and the Holy Spirit coaxing me forward through my virtual fellowship with all of you. In a few lines today at the end of his reflection, Fr. Gaitley blesses me when he says,
Third, if you get only one point from this challenging passage, may it be this: Mary is the Spouse of the Holy Spirit.
The first time I read the line, I shook my head again. "I still don't get it, Lord," I whined.
And then I read the words of the consecration prayer for today, "Come, Holy Spirit, living in Mary...unveil for me the meaning of the Immaculate Conception."
"Unveil for me..."
I don't have to "get it". My role in this retreat is simply to let the workings of the Holy Spirit take root in my life, and to be open to that unveiling. God has a perfect plan. My role in this is to persist, despite the fact that I may not perfectly understand. My role is to be present for the unveiling--which in truth may not ever happen fully during my earthly journey. My role is to trust, to persist despite my simplicity, and to give my "Yes" as Mary did. Surely, there was much that she likely couldn't fully understand as the Holy Spirit, her spouse, moved within her.
My role is to love.
To Ponder:
How do you persist in prayer and faith when your intellectual nature causes you to question or doubt?
Let Us Pray:
Holy Spirit, spouse of our Blessed Mother, use me today to accomplish your divine and perfect will.
Copyright 2015 Lisa M. Hendey
About the Author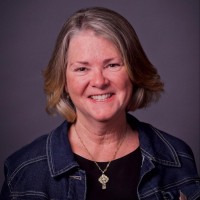 Lisa M. Hendey is the founder of CatholicMom.com, a bestselling author and an international speaker. A frequent radio and television guest, Hendey travels internationally giving workshops on faith, family, and communications. Visit Lisa at LisaHendey.com or on social media @LisaHendey for information on her speaking schedule or to invite her to visit your group, parish, school or organization. Visit Lisa's author page on Amazon.com.