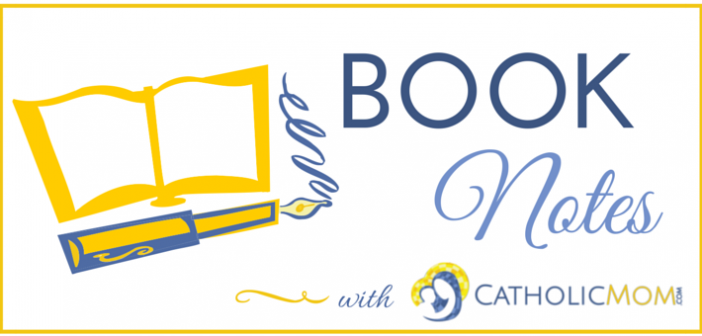 What a delightful surprise! You never know how you're going to feel about a children's book, and personal tastes vary so much. When I received Of Bells and Cells my mouth fell open. It's beautiful! The illustrations are simply awe-inspiring. It's a nice large book too - 8.5"x11" - so the pictures are big, clear and crisp! M. Cristina Borges and Michaela Harrison have created something really spectacular here.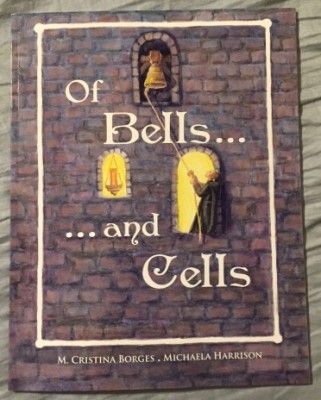 The book is all about religious vocations. Cristina starts by explaining that while some people are called to be married, single, priests or nuns, we are all made to be saints. I love that part. Then it goes on to explain how some people feel called to religious life and what that process looks like. I learned what the word "postulancy" means!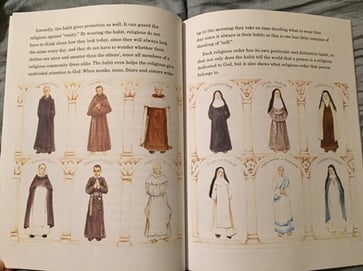 Next, Cristina talks about the different orders and has a wonderful picture of what the habits look like for each one. She talks about what religious life looks like in its many forms and what the vows of poverty and chastity mean. This book is PACKED full of good information!
The book was a little long for my not-quite five-year-old so I imagine 6+ is the right age. As we are living in a time with fewer and fewer Catholics choosing religious life, I think every Catholic family needs to buy this book and start reading it to their kids at a young age. We need to plant the seeds of why being a priest or a nun is such a wonderful and fulfilling life.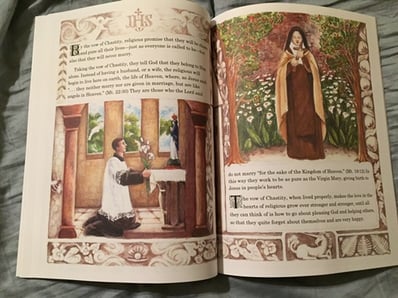 Of Bells and Cells is a great book to talk about during this week when we are focusing on vocations and hoping that more will feel called by name. If you know someone who has vocations on their heart, I hope you consider sharing this with them. Put it on your Christmas list. Buy it for a friend. I'd love to see these books scattered around and kids thumbing through them and pretending they are Benedictines or Franciscans as they play.
Be sure to check out our Book Notes archive.
If you're interested in purchasing this book, consider stopping in at your local Catholic bookstore first. It's also available online, and if you use our Amazon link, CatholicMom.com gets a small percentage of the sales.

Copyright 2015 Sterling Jaquith
About the Author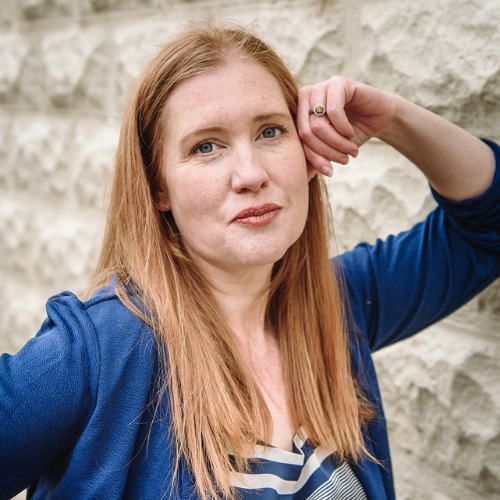 Sterling Jay is a Catholic life coach. She is a wife and unschooling mom of 6 young children and lives in Boise, Idaho. She is a co-host of the Made For Greatness podcast. As an adult convert, she loves sharing her passion for the faith. She believes Catholic moms can change the world! Learn more at MadeForGreatness.co. See her books on Amazon!