Welcome to our 33 day Marian Consecration Retreat as we prayerfully anticipate the commencement of the Year of Mercy. Join us as we share the book 33 Days to Morning Glory: A Do-It-Yourself Retreat In Preparation for Marian Consecration by Fr. Michael E. Gaitley, MIC.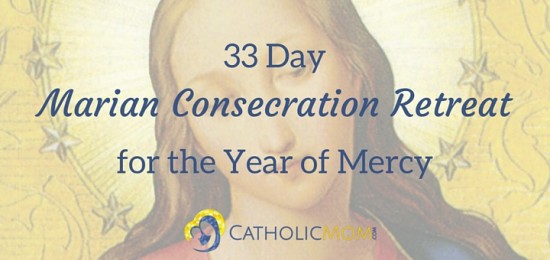 Today's Reflection:
Confession: I'm a bit of a control freak.
OK, I'm actually a LOT of a control freak.
I want things planned and orderly. I want to know what's next.
Don't get me wrong: I love spontaneity as much as the next gal. Bring me flowers, whisk me off my feet, or send me an unsolicited gift anytime.
But if you're asking me to go with the flow? Well. There's a screaming voice in my head protesting that it would be SO MUCH BETTER if things were planned.
Motherhood has stretched me and taught me many things, not least of which is how to be a more adaptable person. I've learned to value flexibility and even become the annoying person who may be prone to say, "Well, we'll just see how it goes." (It's taken me ten years of motherhood to be able to say that without gagging, mind you.)
And you know what I've found? There's a freedom in not having things planned to a T. There's beauty in going with the flow. There's joy in spontaneity.
Disorganization doesn't kill you. In my case, it's made me stronger.
When I first read that part of consecration to Jesus through Mary involves giving Mary everything, including the final say in how our prayers are used and applied, I couldn't help but feel relieved. I can just pray. MARY can worry about who needs what and how much and when. My role isn't to run things or figure things out or insert any kind of juggling. SHE can worry about that.
And she's going to do a far better job of it than I would have anyway!
To Ponder:
What do you need to give over to Mary today so that you can grow closer to Christ?
Let Us Pray:
Mary, hold me and help me let go...of my worries, of my intentions, of my need to control.
Copyright 2015 Sarah Reinhard
About the Author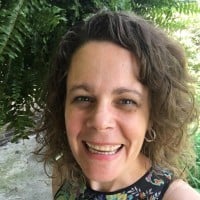 When she's not chasing kids, chugging coffee, or juggling work, Sarah Reinhard's usually trying to stay up read just one … more … chapter. She writes and works in the midst of rural farm life with little ones underfoot. She is part of the team for the award-winning Catholic Mom's Prayer Companion, as well as the author of a number of books. Follow her writing at Snoring Scholar.