Welcome to our 33 day Marian Consecration Retreat as we prayerfully anticipate the commencement of the Year of Mercy. Join us as we share the book 33 Days to Morning Glory: A Do-It-Yourself Retreat In Preparation for Marian Consecration by Fr. Michael E. Gaitley, MIC.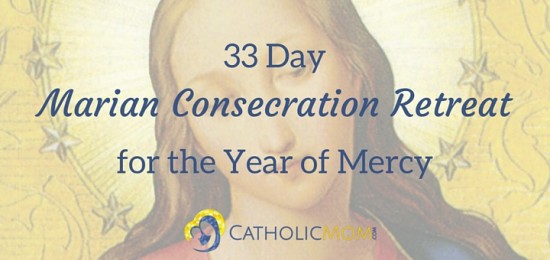 Today's Reflection:
When I first found out my husband was reading Saint Faustina's diary, I was shocked. First, he's NOT an avid reader. Second, he's not the kind of guy to pick up a book from a saint. Third, it was just unexpected.
It was his fault that I started reading it and then became very devoted to the Divine Mercy Chaplet and Saint Faustina.
When I connected the dots between Divine Mercy and Mary, in part thanks to Fr. Gaitley's excellent explanation in today's reading, I had a Moment. Suddenly, things that had seemed like disparate devotions, rabbit trails leading to the same end through different ways, and even conflicting interests were united. Ding!
...consecrating ourselves to Mary means relying on her motherly intercession to help us offer ourselves more fully to Christ in his own consecration for our redemption.
I'm a mom, and the notion of being "relied upon" weighs on me some days more than others. It seems there's no shortage of people who need something from me...and they're not always my kids!
God also knows how often I fail--in my devotions, in my efforts, in my holiness. I need some pretty major help on a very regular basis.
And Mary's just the person!
Through Mary, Jesus becomes someone approachable, someone who I can see and touch and relate. Suddenly, he's a boy crawling in the dirt pile, a young man reasoning through a problem, a man throwing a child high in the air.
And, just as suddenly thanks to Mary, the Cross becomes less a scary thing to avoid and more an opportunity to embrace. Standing beside her, holding her hand, trusting that she won't let go, I find myself drawn in and swimming around in mercy.
To Ponder:
In what small way can you rely on Mary today?
Let Us Pray:
Mama Mary, hold my hand as I stumble, kiss my knees when I fall, and hug me while I struggle.
Copyright 2015 Sarah Reinhard
About the Author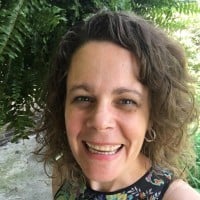 When she's not chasing kids, chugging coffee, or juggling work, Sarah Reinhard's usually trying to stay up read just one…more…chapter. She writes and works in the midst of rural farm life with little ones underfoot. She is part of the team for the award-winning Catholic Mom's Prayer Companion, as well as the author of a number of books. You can join her for a weekday take on Catholic life by subscribing to Three Shots and follow her writing at Snoring Scholar.