November is a month of transition – the weather shows signs of winter's approach, the liturgical year wraps up, and we all move into "holiday mode," planning for Thanksgiving dinner and thinking of Christmas gift lists. This month also hosts a feast day with much spiritual significance to me, that of St. Cecelia on November 22nd. Admittedly, I am a total saint fan girl, as I have at least one to two favorites each month! But St. Cecilia? She is even more special. I will explain why, but first let us take a brief look at St. Cecilia's life and legacy.
St. Cecilia is an ancient and important saint on the Church calendar, being one of the few mentioned in the official Canon of the Mass during Eucharistic Prayer I. She lived in the third century and wished to remain unmarried in the service of her faith. She was betrothed against her will to a non-Christian man named Valerian. Cecilia prayed that this man be converted, and that she might remain a virgin. According to tradition, Valerian saw a vision of an angel praying beside Cecilia. Subsequently, Valerian indeed was converted and baptized, along with his brother. Both men were later killed after being discovered giving proper burial to martyred Christians. When Cecilia saw to their burial on her own property, she was arrested. She was ordered to sacrifice to false gods and refused. For this, she too was martyred. Her tomb was exhumed in 1599, and her body found to be incorrupt.
Cecilia is the patron saint of musicians, in reference to the part of her story in which she interiorly sings a hymn of love to Jesus, her true spouse. In iconography, she is always shown playing an instrument, such as an organ or violin.
St. Cecilia has a lot of personal significance to me, as she is my confirmation patron. I am a cradle Catholic, confirmed while in high school, so I will be honest: I was not at the most mature point in my faith at that time, and I chose Cecilia because I liked her name. By way of explanation, my name is Tiffany, which is not exactly a name we would refer to as a classic. I do not dislike my name, but I have never loved it. Admit it, you have likely read books in which a character named Tiffany was very ditzy or otherwise the foe of the heroine! If it were up to me, my name would be something timeless like Teresa, Jane, or Mary. Our baptismal names are not our decision, but our Confirmation patrons are, and I was determined to really love the name that I chose.
I thought the name Cecilia was feminine and beautiful, and that is why I chose it. Indeed, the choice was fortuitous. Years later, when my faith meant more to me, I researched Cecilia and found her story intriguing. I loved reading about how brave she was, how dedicated to her faith. And I think that she had a hand in my adult faith formation, as I wrote about back in September. Her late November/just prior to Advent feast day always seems to be significant in terms of faith developments for me. Coincidence? I do not believe so.
I did not initially choose St. Cecilia because of her patronage or example. I believe, however, that she chose me, and our sacramental connection has remained meaningful from November to November. Looking back now, as an adult with a retained childhood love of, and avocation in, dance, and as a cradle Catholic at times needing a boost in my faith life, St. Cecilia seems like she was meant to be my patron.
Do any of you have a devotion to St. Cecilia, or another saint with a November feast day? Who is your confirmation patron? I would love to hear about it in the comments!
Copyright 2015 Tiffany Walsh
Photo copyright 2015 Tiffany Walsh. All rights reserved.
About the Author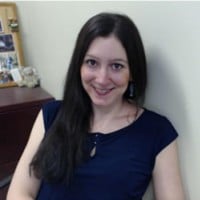 Tiffany Walsh is a wife and mother, a native western New Yorker, and a college librarian. She is a cradle Catholic who rekindled her childhood faith as a graduate student via her love of books, and is the author of Exploring the Catholic Classics, part of the Stay Connected Journals for Catholic Women series. She enjoys writing about faith, crafting, dance, fitness and wellness. Visit her blog at Life of a Catholic Librarian.