One of the casualties of my "spirit of Vatican 2" Catholic-school education was the practice of praying for the dead. It wasn't that I didn't know I was supposed to pray for the dead. In fact, my grandparents and my mother were quite good about doing that. It's just that Catholic education in the late 70s didn't really emphasize the necessity of keeping that practice. So I entered my early adult years with no habit, routine or intention of praying for the dead.
That all changed with the stillbirth of my sixth baby. I needed to pray for him and feel God's mercy and grace for his little soul. That event was a reminder that this time on earth is fleeting, and that as Catholic Christians we were all part of that great communion of saints. As I worked through my grief, the belief that all of our souls, even the soul of my precious little unborn baby, were part of God's big plan, and that someday I would be able to see my baby, and hold him and talk to him, got me through. I experienced this realization even more so after the death of my mother in 2009.
A few years later I had the opportunity to find the grave of my grandparents and my uncle. I had been there before, but I always forget exactly where they are buried. We found them. Their graves were overgrown and abandoned. That wasn't true, of course. They were still loved deeply. Yet my practice of praying for their souls was a lot like their graves - untended, and uncared-for.
That November I made the decision to deliberately remember an pray for my beloved dead. November is a perfect time to do that as it is the month when the Catholic Church remembers all of the dearly departed.
I went through my late mother's prayer books and found them stuffed with the Mass cards of friends and family members who had passed away. She kept these cards to remember their lives and to remember to pray for their souls.
As I went through these cards, I couldn't bring myself to throw any of them away, even though I had never met many of the people she continued to pray for. It seemed wrong to abandon their souls now. As I move through middle age I also have collected quite a few prayer cards for the deceased over the years. Between the two collections, I have quite a compilation!
I had the new intention of praying for the souls represented by the cards and I discovered that for me, I have to see something to bring it to mind. I took all of my prayer cards, obituaries and remembrances of the dead and put them in a pretty basket that I bought specifically for that purpose. Most of the year I keep that basket on my built-in buffet in my dining room so that I can see it every day and remember to say at least a small prayer for the souls represented in my basket. In November, it sits in the middle of the dining room table for special significance.
A couple of years ago, I also found Susan Tassone's book, Day by Day by Day for the Holy Souls in Purgatory: 365 Reflections, to be an quick but meaningful way to remember the poor souls every day and make it part of my daily prayer routine.
In the meantime, it gives me comfort to know that my little one is not alone! There is family in the next life. My beloved parents and grandparents are already there as were my in-laws, beloved family friends and many others. Through God's divine mercy, we can all could be together and happy throughout eternity.
If you're interested in purchasing this book, consider stopping in at your local Catholic bookstore first. It's also available online, and if you use our Amazon link, CatholicMom.com gets a small percentage of the sales.
Copyright 2015 Elena LaVictoire.
About the Author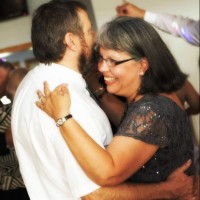 Elena LaVictoire is a graduate of Baker College and a retired medical transcriptionist. She is married and homeschooled six children. Elena is a public speaker on the topics of marriage, homeschooling, and confirmation preparation. She was also a contributing author to The Catholic Mom's Prayer Companion. Elena practices and performs with her flute and records with the Peace Together Choir. She blogs at MyDomesticChurch.com.