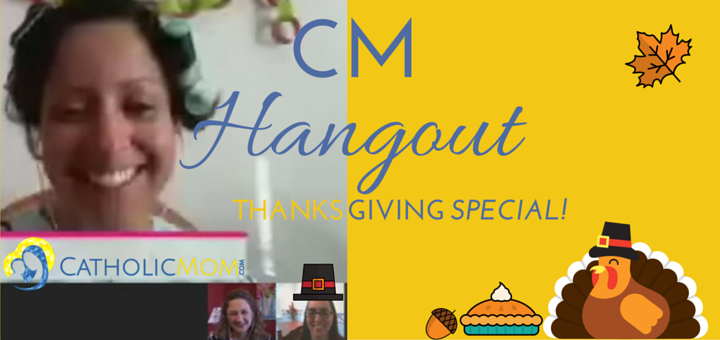 Listen to audio podcast online | View video Hangout online
CatholicMom.com's CM Hangout hosts Lisa Jones, Gina Felter, and Erika Marie, decided their Thanksgiving week wasn't crazy enough and that it would be a great idea to add in a fun and totally off-the-cuff CM Hangout Thanksgiving Special just for you.
That's right, for you -
Ambitous mother in the kitchen trying to bake a turkey for the first time.
Creative mother trying to set the table just like the fancy one you saw on Pinterest.
Generous mother who graciously opened up her home to her family and her husband's family and then some for a "fun family get together."
Exhausted mother just trying to get through another holiday without anyone landing in the apple cider bowl or getting pumpkin pie thrown at them.
Wise mother smart enough to order everything or head out of town and enjoy time with her family for a change.
Mentioned this week:
The Penguin Pajamas NFP Method
Curly Hair vs. Curly Hair
Traveling on an Airplane Alone with Two Small Children
How to Balance Family Commitments during the Holidays without Freaking Out
And all Sorts of Random In Between
We hope this CM Hangout Thanksgiving Special gives you a chance to laugh and relax as you go about your Thanksgiving preparation. Prop us up on your kitchen counter, tune in through your car while you drive around on your Thanksgiving shopping errands, or sit back, grab some wine or coffee - or your favorite pumpkin spiced tea - and enjoy a break with us crazy silly beautiful Catholic Moms.
And Happy Thankgsiving - may it truly be a day of joyful gratitude for you and your family.
We'd love to hear how your Thanksgiving Week is going! Leave us a comment here or on the YouTube link, Facebook, or Twitter #CMHangout @lisahenleyjones, @faithisgrace, and @_ErikaMarie_.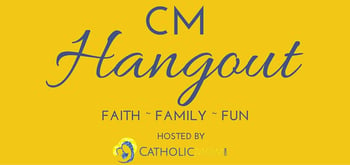 You're invited to be a part of this show. We invite you to the conversation:
Subscribe to the show at iTunes or your favorite Android Podcast App
Share this project on social media using hashtag #CMHangout – this is also a great way to send feedback, to ask a question, or to propose future conversation topics
Leave comments here on the blog each week to help us develop this as a fun and helpful project
Watch for a new episode of CM Hangout next Tuesday and please keep this project in your prayers!
About the Author