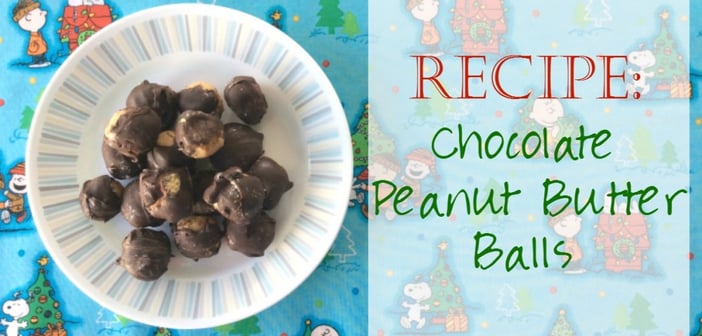 It's a cookie! It's candy! It's our family's favorite recipe ever ever, and I'm excited to share it with you today.
Chocolate peanut butter balls have been a staple in our house for Christmas since - well, since forever. I remember making them as a kid; they were always my favorite as they combined the best tastes - sweet chocolate, salty peanut butter, and crunchy graham crackers. Yum!
Now that I'm a mom, I love making this kid friendly recipe with my son. There's no oven to burn yourself, no mixer to spray flour around, and - since there's no egg - licking the bowl is encouraged.
Ready to cook? Grab your family and these few simple ingredients:
1 1/2 cups of peanut butter (tip: the organic PB with the oil settled on top works the best)
1 stick of melted butter
2 cups confectioners sugar (you can add more if you want it sweeter)
1 1/3 cups crushed graham crackers (put graham crackers in a double baggie, and let the kids smash them up. This is half the fun!)
1 bag semi-sweet chocolate
wax-paper lined cookie sheet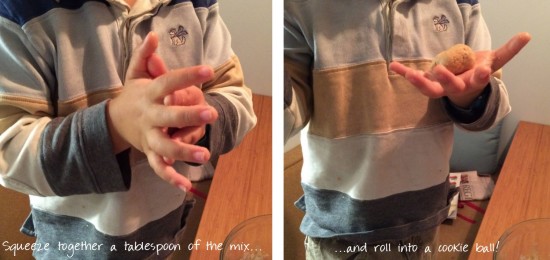 Mix together the peanut butter, butter, sugar, and graham cracker crumbs in a large bowl until well blended. With clean hands, roll into 1" balls. Melt chocolate in microwave (follow package directions). Using a spoon, drop the balls into the chocolate and roll around until coated. Place each cookie ball onto the wax-paper covered sheet and refrigerate until chocolate cools and hardens. Serve and enjoy!
Copyright 2015 Jen Frost
Photos copyright 2015 Jen Frost. All rights reserved.
About the Author