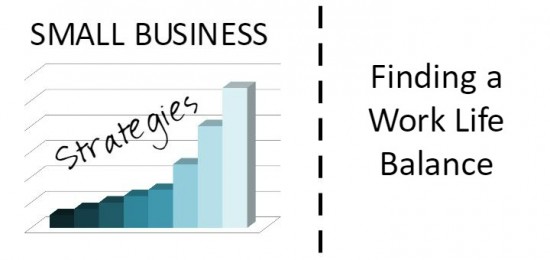 You're in the thick of managing your own small business, and while profits are growing, the housework and homework are piling up. How do you manage it all? This month, I'm honored to sit down with Jennifer Lawrence at Catholic Inspired (CI) to talk about balancing it all. As a small business owner of both an Etsy and digital shop *and* a homeschooling mom of a large family, she shares the scoop on making it work!

Tell me about your business
CI: Catholic Inspired has grown from being a simple family blog to being a website and shop that shares and sells e-files, crafts, and jewelry. I started the blog 5 years ago to share family photos with my husband's sister who was 6 hours away in the hospital fighting for her life. Blogging for her only lasted 4 months before God took her home to Him. During that short period of time I gained a group of followers who enjoyed seeing the many Catholic crafts that my children and I created. So eventually, I separated the family part of the blog from the craft part of the blog to make it easier for visitors to find what they are looking for.
We now sell craft patterns and teaching tools to help parents and teachers share the faith with their family and/or students. We also sell custom Catholic jewelry. Customers can choose their favorite saint medals and charms and I create a unique necklace or bracelet for them!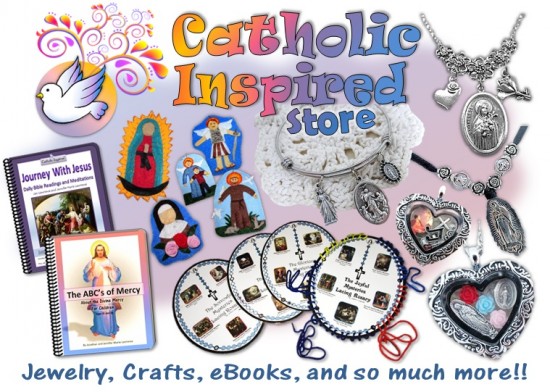 What does your typical week look like? (i.e.: homeschool, craft time, cooking dinners, etc.)
CI: Being a homeschooling mom of 9 children (grades 12 – K), a typical weekday is a juggle between homeschool and business. Often I start the day with prayers and school. After lunch, I push into the early part of the afternoon with more school. We'll stop school between 1:30 – 3:00 depending on the events of the day. Then we say a family rosary and after that it's "free time." If the kids need to go to an event I'll take them; if not, the kids have personal time. If possible, that's when I can take time to work on business-related things. Sometimes I'll work while making dinner. After my husband arrives home, we eat dinner. Then he teaches math to the kids, while I continue to work on my blog, crafts creations, e-files, or shop orders. Later we all have a religion and/or Bible study together during evening snack. Then we say evening prayers and the younger kids go to bed. This leads into what is often my most productive time for working, cleaning, or preparing for the next school day. It's the only uninterrupted time I have!
In reality I'm working four jobs: Mom, teacher for 9 different grades, homemaker, and blogger/shopkeeper. In truth I can't do it all. It's impossible! So my husband and children help where they can. Mainly they help with the homemaker part of my jobs. And some days the house can get rather messy unless I step in and help out. I've learned to except a less than perfect house, but Saturday is known as "List Day." Everyone helps to do the chores on the list that my husband and I have created. So about once a week the house can be pushed back into better order before we start over again.
Sundays are family fun days! That's a house rule. No work for myself or my husband. Just Mass, God, prayer, and family. We try to stay off the computer or TV unless we watch a family movie together on rainy or cold days. We play games, take short trips, and do activities together. It's a great day to do crafts with the kids, too!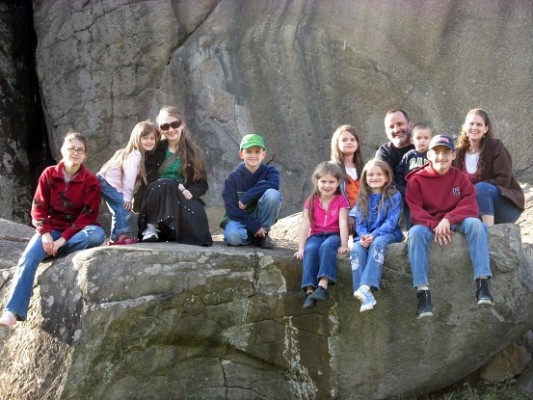 How do you fit your business into your family life, and how do you stop your business from running into (and over!) your family life?
CI: Actually my business does run into my family life and that's a good thing – SOMETIMES! The blog and the shop are both faucets that pour out a small fraction of what our family is doing. I try to incorporate what we do as a family into what our business is focusing on. For example, if we are learning about the Divine Mercy as a family, then my husband and I are creating a Divine Mercy e-book for others to use, too. Another example is our Catholic jewelry. I started selling jewelry because I was looking for a project that my oldest daughter and I could do together. She's now a high school senior, and has moved beyond the mom-daughter jewelry making. The good news is I'm now able to share this love of creating with my younger daughters. So my family is a very important part of what I do.
Now that being said, I also need to be very careful how much time I spend on the computer or working to make my creations. To help with this I try to set select times during the day that are to be working-mom-times and homeschool-mom-times. Although, if one of my kids has a need during the working-mom-time I have to "stop and go". It can feel a bit like a juggling act, but family comes first!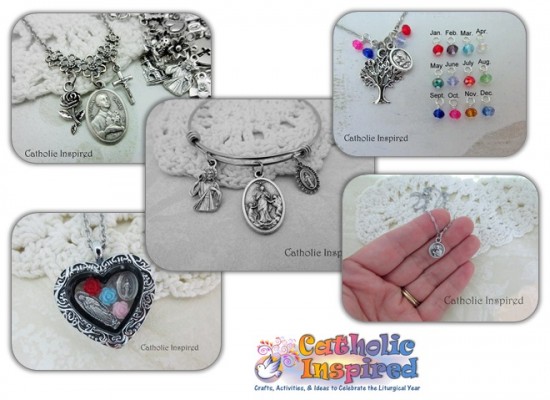 What do you do to de-stress, and how do you make time for yourself?
CI: Life is always busy! Homeschooling 9 kids, general home upkeep, and making meals for a family of 11 is enough chaos to make even a typical mom run and hide in the bathroom or wherever it is in the house she can get away! The attic was my preferred spot for many years! My kids didn't know where I was and I was still able to hear everything they did! Many of those moments in that dusty old attic were my most treasured prayer times. Sometimes you have to find time to pray in any way or in any place that you can – including the bathroom when necessary! The important thing is spending time with God, because without that time everything will begin to fall apart! My point is that time to myself is really my time with God! It's a time that helps me to find myself and discover what God is showing me through the things that are happening to me throughout each day.
I don't need to hide in the attic anymore; my youngest child is almost 5 years old. Now much of my alone time is part of my morning and evening routine. I try to connect with God and find peace with my thoughts and feelings before I greet my kids or before I go to sleep. It helps to improve my mood and relieve my stress. It helps me to find peace in all situations and through all trials. Even when I'm alone working on something I feel it's my personal time to focus on how I'm doing as a child of God and how my life is meant to fit into God's perfect plan. So in truth I'm never alone. God always fills that space and that helps me to de-stress my emotions of the day. Also, making a visit to the Perpetual Adoration Chapel and reading good spiritual books are always a huge help to me as I reassess my personal and spiritual health!
How do you make time to connect with your husband?
CI: My husband is my right hand. Without him I would not be able to do what I do! So this is really OUR business! He is my accountant as well as my advisor and my assistant. We work well together. We try to be sympathetic to each other's needs and feelings. But of course that requires uninterrupted conversation! A rare treasure in our house! We try to find small pockets of time to sit and talk, have a cup of tea, or help each other on projects. The most likely time for that to happen is in the evenings and Saturday mornings while the kids are asleep or when they are having a leisurely Saturday breakfast. Now that our kids are older we do have more ability to get out by ourselves. So that is a huge help! If we were not able to find that time to reflect and discuss our needs or feelings, I know that this road of life would be much more difficult.
Copyright 2016 Jen Frost
Photos courtesy of Jennifer Lawrence. Used with permission. All rights reserved.
About the Author