Today, I am happy to share my recent conversation with CatholicMom.com contributor Susan Bailey. We're celebrating the launch of Susan's beautiful new book River of Grace: Creative Passages through Difficult Times and its companion soundtrack, the River of Grace CD.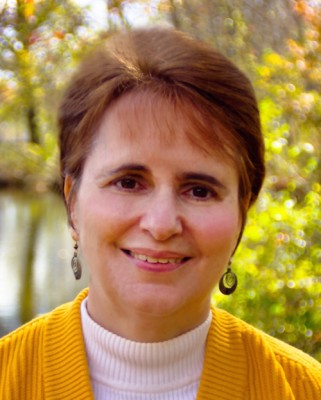 Susan Bailey has faced her fair share of challenges and "difficult times" and yet she's emerged not only a survivor, but also even stronger in her spiritual commitment and joy. In this book, you'll learn what made the difference for Susan in her spiritual journey, but even more so how to face your own struggles with a faith that will renew and support you. River of Grace is a perfect gift for any friend or loved one facing a time of loss or difficulty, or for yourself when you need the companionship of a trusted friend. The "Flow Lessons" contained in Susan's book are the perfect tools to help you more fully rely on God's love in your life. I hope you enjoy my chat with Susan and that you'll consider this beautiful book as a gift for yourself or a loved one this Christmas. Lisa
Congratulations on the launch of your beautiful new book River of Grace: Creative Passages through Difficult Times! Please begin by sharing a bit about yourself and your family with our readers.
I am a cradle Catholic and have been married 37 years to my husband Rich who is a deacon in the Eastern Catholic Church (Melkite). We met when we were sixteen in high school—we played in the folk group together at church (we both play guitar). We have two grown children: Stephen, 30, and Meredith, 27 (recently engaged!).
I love to read, play the guitar and sing, and spend time outdoors, especially engaging in bird watching and kayaking. I'm also a crazy cat lady!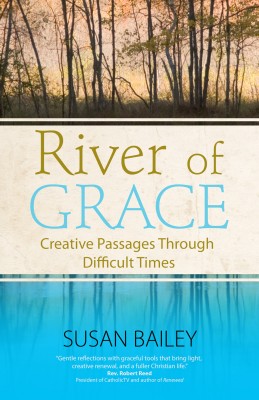 Susan, I know some of the behind the scenes stories from this lovely book, but please share with our readers how River of Grace was conceived in your heart and mind.
I had what I thought was an unusual experience of grief, one that very much lacked the sad part! I lost my mom in 2010 after a long illness and I barely cried. Yet my mom was my best friend. The whole thing baffled me. I knew the grief journey could be capricious having lost my dad in 2003 but frankly, I felt abnormal not crying for my mom. My grief journey instead took me on this amazing journey of transformation that filled me with joy and gratitude. River of Grace gave me a chance to explore and understand better just what happened.
https://youtu.be/qUAGdvCOBHQ
While I can't remember the exact year we met online Susan, you and I have been friends for years and I know you've faced your fair share of trials and challenges, both with your own health and in the lives of loved ones. Yet to me you've always had an amazing spirit of resilience which truly shines through in this book. This has taken shape in the heart of this beautiful book. What helped you to crystalize your own personal philosophy and translate it in book format?
I remember when we met – 2002 when you reviewed my Advent/Christmas CD, Wait with Me. You were doing CatholicMom and I was doing my online e-magazine for Catholic musicians called GrapeVine. We were doing the same kind of thing (supporting a community) and shared our experiences.
There was a pivotal moment in my life about ten years ago. We had moved into a town that had a boat access and my husband came up with the idea of getting a kayak. I resisted thinking we couldn't afford it but he wore me down (so glad he did!). We both loved the water and had always had trouble finding recreational things that we liked to do together. We bought a tandem kayak and the minute I slipped into the seat I knew this was where I belonged. It put me as close to the water as I could be without being immersed in it. Kayaking brought harmony into our lives; normally competitive with each other, we instead worked together as you must if you're going to kayak together. This harmony was a great grace for our marriage. Being on the water gave me such peace; I loved it so much that I would daydream about floating downstream. At some point, that daydream translated into trust—I imagined the river being the grace of God carrying me. I was always a worrier (often waking up at 4am with a pit in my stomach) and that river metaphor helped me to let go of my worries and hand them over to God.
After that I began to see God more and more in the everyday experiences of life. I was granted new vision. It became like a wondrous game seeing his messages, his lessons, his love in everything around me.
What will readers discover in this book?
I am hoping they will discover that when you let go and let God, life becomes an amazing series of adventures. Onerous words such as "obedience" and "discipline" took on new meanings for me. Sometimes as Catholics we feel that such words mean "no" and "punishment" but in fact, they both mean "yes!" Obedience changed from "do not" to "Do!" and discipline provided me with the tools to draw closer to God each day.
I am hoping they will recognize that discovering who we are as children of God is not a self-centered act but rather one of self-discovery, something we all need to do in order to know better what God means for us to be and do. The grief journey is one of the most powerful forms of God's grace, creating us anew if we just go with the flow. Psalm 139 is not just about God knowing us and loving us as we are; it's also a guide to knowing and loving ourselves and becoming empowered in that knowledge. That grace of self-knowledge translates into a creative way of life for everyone, not just for artists—we take what we already have and make something new and wondrous from it. Relying on God's grace to lead us opens up a bottomless well of joy and gratitude—it restores the "joie de vivre" in our lives!
How do your "flow lessons" help bring to life the message of the book?
As I wrote the book I started relating my experiences to concrete things, everyday things that point to a spiritual truth. I thought back to my childhood and how, after receiving the Eucharist (this was during the days of the Latin Mass), I would imagine the foyer of our house with a hardwood floor made shiny clean. Or I'd imagine a rose bush growing in my heart. I realized years later that these were lessons from God on how the Eucharist cleanses us of our venial sins and plants new life within us. Those images cultivated a love the Eucharist that kept me going to mass even as I went through years of serious doubt and dryness.
This memory prompted me to jot down other such ideas linking the concrete world to the spiritual, thinking I would post them on my website as an addendum to the book. At the last minute when I sent off the manuscript I also included those exercises and the editor opted to include them in the book.
Spiritual truth is sometimes hard to grasp precisely because it is not concrete. Yet God provides us with so many ways to understand his truth through what he has given to us in our lives. The concepts of being rigid versus being flexible turned into a flow lesson involving spaghetti! Resistance to events in our lives translated into pulling and pushing heavy furniture. Prayer could take place during a hot bath! Reminiscing on books we read as children could help us trace our creative history, leading us to unearth a dormant gift/talent within ourselves, a gift that God kept safe for us until we were ready to use it. In my case, he kept my writing gift safe until I was ready to use it just three short years ago.
Unlike any other book I've encountered before, this book has a bonus feature - a soundtrack! Tell us about the River of Grace CD and how it was inspired by your work on this book.
Besides losing my parents in 2003 and 2010, I lost my singing voice; it happened a few months after my mother died. I had been a professional singer for many years and led singing in my parish all throughout my adulthood. My voice failed me several times in front of a full church which caused me to leave my position as a song leader. I grieved the loss of my voice just as I mourned for my parents. A little over a year ago I received a healing through a blessing of my throat on the feast of St. Blaise. The healing was not immediate—it began with emotional and psychological healing which then translated into physical healing. My voice now is as strong as ever.
Every time that I sing I am filled with gratitude for my healing. I kept thinking of songs as I wrote the book and knew I had to put together a CD; I longed to share my joy with others. As music has a way of going straight to the heart, I thought it would be nice for the reader to have songs to sing which reinforced the content of River of Grace.
https://youtu.be/CW_XrUG7CaQ
What words of encouragement can you offer for any of our readers out there who are facing their own difficult times?
One thing is certain: everyone's experience of suffering and grief is unique. It can be chaotic, baffling, oppressive … and in the middle of it, you can find joy. It's one of the great paradoxes of our faith. With every death, whether it be actual death or the loss of something in your life that you cherish, there is resurrection. Jesus suffered an unimaginable death—the devil threw everything he could at our Lord: excruciating pain, humiliation, betrayal, feeling abandoned and unloved, powerlessness—and it looked for a time like the devil had won. But we know the Lord claimed the victory—he rose again with a resurrected body, one that shown with such glory that his closest friends had trouble recognizing him. That resurrection experience is for all of us, not just in death but in everyday life! And resurrection is not just coming to life again but being transformed to something new and wonderful. We don't want to suffer and our Lord did not seek it. He did however trust in his Heavenly Father and go along with the plan—his suffering meant that we could all be like him! Suffering can take away life, but it also can restore it.
Do you have a favorite saintly companion or two that have inspired you to persist and to thrive?
There are so many, where do I begin? I prayed to an army of saints while writing this book and continue to ask for their prayers each day: Saints Teresa of Avila and Therese of Lisieux—the "reluctant writers" for help with my writing. St. Bernadette, for humility, holy composure and a laser-like focus on God. St Anthony, to help me find and keep inspiration, and to lead me to ways to share the message of River of Grace. Venerable Bruno Lanteri, to never give into discouragement, and if I do, to repent peacefully and rise again, no matter how many times I fall. St. Nicholas, the patron saint of finances, for trust and calm. And last but not least, the Blessed Virgin Mary, to watch over my children and to be my companion.
What comes next?
It has to do with chapter 4 of River of Grace. One of the sweetest favors that God granted me was using a longtime love of an author to teach me lessons and lead me to my newfound writing vocation. Ever since I was small I have loved reading about Louisa May Alcott. For the last five years I have blogged about Alcott (Louisa May Alcott is My Passion); that blog revealed a love for writing which eventually produced River of Grace along with my second blog, Be as One. I was in the middle of researching a book about a long-neglected Alcott sister Elizabeth, the real-life counterpart to Beth March in Little Women when Ave Maria asked me to write River of Grace. Now that my other writing obligations are done, I am returning to that project. It will be a biography, revealing the true flesh-and-blood sister who inspired Alcott to create the character of Beth March. With no formal education in the writing of a scholarly work, I am truly stepping out in faith for this one! Luckily I have cultivated friendships with several Alcott scholars to whom I can turn with questions and support.
In giving Elizabeth Alcott a voice, I hope also to give voice to all those people in the world who quietly, within their own small spheres, serve and love God in hidden ways. They are truly the ones that obey our Lord's command: "But when you give alms, do not let your left hand know what your right hand is doing." (Matthew 6:3, NRSV).
I also have a devotional coming out with another publisher as we speak! It is part of a series called the Literary Portals to Prayer—pairing the classics with passages from a contemporary translation of Bible to spark prayer and meditation. I was asked to do Louisa May Alcott; it's called Louisa May Alcott: Illuminated by The Message. It's actually a perfect companion volume to River of Grace as it contains many of the passages from Alcott's book which spoke to my grief.
Are there any additional thoughts or comments you would like to share with our readers?
Rethink some of the language of your faith, particularly the words "obedience" and "discipline." For a long time these words have held a negative connotation when in fact the opposite is true. Mary, the Mother of God certainly knew this—she understood that "obey" meant saying "yes" to something wonderful and far beyond her capacity to imagine. The word "grief" also holds the key to hidden blessings that God is longing to bestow on us. Our faith is full of paradoxes and mysteries—it's what makes being a Catholic so rich and exciting. River of Grace urges the reader to take that deep dive into the faith, revealing such richness and understanding of who we are as children of God.
Connect with Susan Bailey:
Purchase Susan's book River of Grace at Amazon through any of the links above and support CatholicMom.com with your purchase
Copyright 2015 Lisa M. Hendey
About the Author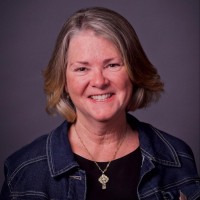 Lisa M. Hendey is the founder of CatholicMom.com, a bestselling author and an international speaker. A frequent radio and television guest, Hendey travels internationally giving workshops on faith, family, and communications. Visit Lisa at LisaHendey.com or on social media @LisaHendey for information on her speaking schedule or to invite her to visit your group, parish, school or organization. Visit Lisa's author page on Amazon.com.