This time of year, my newsfeed and Pinterest boards are peppered with fun and creative ways to help families celebrate Christmas in a meaningful way. As a parent of a two-year-old, I'm grateful for the free coloring pages and popsicle manger templates, but as a high school youth minister, I can't help noticing that there's not much out there to help parents of older teens and even college-aged kids celebrate the reason for the season
It can be difficult for teens to celebrate Advent in s meaningful a way as they and we would like because December is one of the most stressful and chaotic months for them: final projects, papers and exams, extra-extra-curricular activities like concerts and tournaments and longer work shifts. But we can make up for that by getting creative and using their winter break as a little Christmas-retreat.
I'm certainly not an expert, but a decade of high school youth ministry has given me some ideas to store away for when my own daughters are older. So, in the spirit of the season, I offer you:
8 Ways to Celebrate the Octave of Christmas with Your Teen
Offer Inspiration
Young children aren't the only ones who approach the mysteries of faith through art, song and story. Teens do too. Strategically put beauty and inspiration around your home for your teen to encounter: quotes from saints stuck on the bathroom mirror, displaying sacred art, short devotionals or daily readings (like the Magnificat) left open on the kitchen table, beautiful Christmas music left in their car CD player or downloaded on their iPod. Help them to encounter through the senses the beauty and theology of the season.
Spend Time in Silence
Teens are not immune to the chaos of the season; in fact, they are very sensitive to it. Most teens aren't yet aware of how important silence is, and frankly, many of them are uncomfortable with it. But they need it. Maybe in your family silent prayer looks like practicing Lectio Divina with the Nativity readings. Perhaps you imitate that first Silent Night with quiet prayer by candlelight on Christmas night. My experience in youth ministry has shown me that given the time and space for silent prayer, the Holy Spirit moves in the hearts of teens in profound ways.
Create an Opportunity for Real Conversation
Believe me, I know how difficult it can be to "get teens to talk." But they want to talk. They just might not know how to overcome some of the awkwardness they feel, or how to get past some of the logistical hurdles, like finding the time, or starting the conversation. My experience has taught me that some of the best talks with teens begin side-by-side, like in the car, or working together in the kitchen. Start a new tradition of intentional one-on-one time with your teen at Christmas. Make it special, fun, and dedicate a good amount of time. Pack a thermos of cocoa and drive around for an hour or two looking at Christmas lights and listening to carols. Talk about favorite traditions and Christmas memories and see where it takes you.
Celebrate the Family
Do you know your teen's favorite way to spend time with the family? Do they like looking through old photo albums and hearing stories about your and other relatives? Do they like an outdoor family activity like hiking or playing in the snow? Do they have a special childhood memory they want to relive? Give your teen time to consider all the options and then let them call the shots. Use this special family day to affirm your teen and to help them recognize what is special about the family.
Go to Mass
It's fitting that the Christmas Octave begins and ends with Holy Days of Obligation, but make it a goal to go to Mass on a weekday with your teen. There are lots of ways that you could make this a special event; one of my favorite ways is to make it a "Mass and breakfast" day. I've learned that while it's true that teens love sleep, what they love even more is breakfast food. The promise of a donut run or a breakfast out may be enough to get even the sleepiest teen out of bed and in the pew.
Practice a Work of Mercy
Christmas is a good opportunity to help teens practice gratitude and generosity, especially as an act of love to the Christ Child. Let your teen choose a Work of Mercy for your family to practice during Christmas Break. Encourage them to get online and find unique opportunities for Christian service in your community. Or call your parish and find out how other families in your community are coming together to practice the Works of Mercy at Christmas.
Make a Resolution
The tradition of making a New Year's Resolution can be great for a teen's spiritual life. Set the example for your family and make a spiritual goal for the year and share your plan for sticking with it. Ask your teen to think about one way they want to grow in their faith this year, and help them to turn that into a concrete goal.
Pick a Patron
Encourage your teen to choose a patron for the new year, either by selecting one based on the spiritual goals they've set, or using one of the many online saint resources (like this great patron saint generator) to make a new friend in heaven. Make it an event by reading about your teen's saint together, and brainstorm ways you can invite this heavenly friend to be a part of your year (celebrating feast days, incorporating new prayers into your routine, etc.)
I hope you – and your teen – have a very blessed Christmas Octave!
Copyright 2015 Megan Swaim.
Image: "Christmas decorations in Braga, Portugal" by José Goncalves 6 December 2008 via Wikimedia Commons, CC 3.0.
About the Author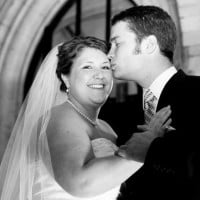 Megan Swaim is an Indiana girl on an east coast adventure. A former high school youth minister, she now gets to minister full-time to her three young daughters and her husband Josh. Megan spends her days homeschooling at the kitchen table, drinking iced coffee, and exploring coastal Virginia.