I don't know about you, but we're only halfway through Advent and the feeling of burnout is starting to creep in. If it were just Advent, I think I'd still be all-in, but there is just so much more. On top of our Advent activities, and prayers and service, we've got St. Nicholas Day and the Feasts of the Immaculate Conception and Our Lady of Guadalupe. Then our family follows these feasts with two baptism days and a patron feast day (St. Lucy). I'm all for feasting, but sometimes, I just start to feel…stuffed.
My husband and I joke that I've got an alter-ego, who we lovingly refer to as "bad Catholic mom." I check Pinterest and Facebook and blogs to see how the "good" Catholic moms are raising liturgically awesome children. I make all the plans to be just like them, but then life happens. I forget to buy the ingredients, the kids are eating the crayons instead of coloring the craft, and there's wailing and gnashing of teeth. Most days I trade in my superhero cape for pajama bottoms, slap on my "bad Catholic mom" badge and call it a day.
[Tweet "We have to make sure we're not sitting in front of a beautiful feast but going hungry."]
Here's the thing, we have to make sure we're not sitting in front of a beautiful feast but going hungry. You know what I'm talking about. It's like the church potluck where you're so busy filling everyone else's plate you forget to take anything for yourself, so you make a peanut butter sandwich when you get home. And if I've learned anything in these short years of motherhood, it's that it's easy to starve in December. I spend so much time trying to fill up my children's spiritual plates with the "important" things that my own sits empty.
Mamas, our children will learn far more about Jesus from a mother who is joyful and peaceful (even if she forgot to put treats in the shoes) than one who is Pinterest-perfect, but forgets to pray.
Maybe you are able to celebrate each of these days with creativity and joy while feasting in prayer and quiet. If that's you, I applaud you and thank you for your witness. I hope to join your ranks someday.
But if you're feeling over-stuffed or under-fed this Advent, here's my challenge to you: whatever is keeping you from the real feast, let it go. If your superhero cape is strangling you, take it off. If Pinterest or Facebook or Instagram is making you feel inadequate, log off for the next few weeks. Whatever is robbing you of your joy, put it away. Simplify your feast so that you can really enjoy its sweetness. I'll be trying to do the same.
From one "bad Catholic mom" to another, have a blessed Advent and a joyful, delicious, abundant feast.
Copyright 2016 Megan Swaim
About the Author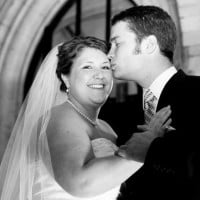 Megan Swaim is an Indiana girl on an east coast adventure. A former high school youth minister, she now gets to minister full-time to her three young daughters and her husband Josh. Megan spends her days homeschooling at the kitchen table, drinking iced coffee, and exploring coastal Virginia.