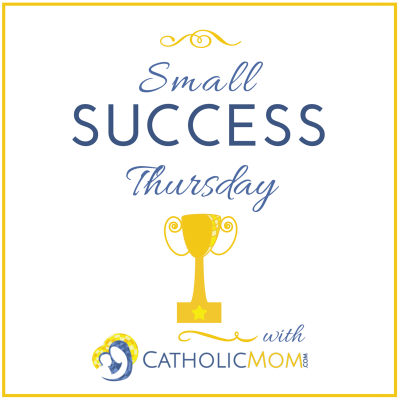 This past week so much happened, I feel weary. We had a light freeze on Wednesday night, which meant my son was trapped in a bus for 4 hours, coming back from a track meet. The trip should have only taken one hour. We got home at 1:30, his principal exonerated the entire track team from that day's exams. Thursday, I took two of my girls to the Tony Melendez concert as part of the pre-prep for the March for Life. It was wonderful and moving and I highly recommend to anyone who has not witnessed his ministry, if he's in your area, at your parish, or at a parish you can drive to, go. I've heard him perform before, and it never fails to inspire, watching him create music with his feet and asking the crowd not merely to listen, but to enter into prayer with him.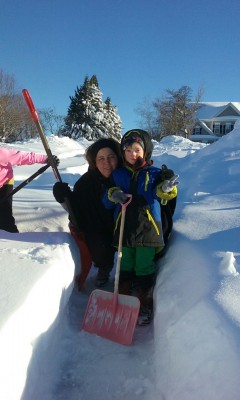 Friday, up early and on the metro for the March for Life. The crowd wasn't what it normally is, as many buses turned back, some were cancelled, and even local parishes took heed. A blizzard would hit in the afternoon. The youth rally mass normally swells to the rafters with people. Today, it was half filled. When we walked to the ellipse, the testimony of faith rang true. An elderly husband pushed his wife in a wheelchair. A mother carried her son in a sling. A host of children of differing abilities marched and smiled despite the cold, and bus loads of seminarians sang "Silent Night." The first flakes fell around the time the march started. The full storm hit by four in the afternoon.
For the next two days, we took shifts of digging out, grateful the power hadn't cut. A neighbor lent us his snow thrower, and saved everyone's backs. By Sunday evening our driveway was clear, but the road wasn't.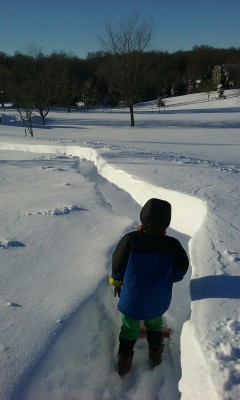 Monday and Tuesday were declared days off, and the children rediscovered the pleasure of each other's company. The sixteen-year-old took his seven-year-old brother and five-year-old sister sledding. The eleven-, ten- and eight-year-olds made a snow fort. The thirteen-year-old and ten-year-old played Rock Band together. The eighteen-year-old showed off her cooking skills for everyone at breakfast. They watched movies, played games and came to listen in when each of the younger ones got bedtime stories. It was like Christmas vacation again.
When I was at the Verizon Center, I had the opportunity for the sacrament of reconciliation. The priest gave me a bit of counsel, to "Enjoy the March for Life." I know he meant it about the day, but it also was a directive about every day. God didn't make us to be busy, or to stress, He made us to be happy, to participate in His abundant joy. So I fixed myself a hot cocoa and took a deep breath to soak in the peace of a filled house even if there are 1000 socks to sort and I can't tell you how many wet mittens.
Enjoy the march of life. Have a great week of Small Successes.
Copyright 2016 Sherry Antonetti
Photos copyright 2016 Sherry Antonetti. All rights reserved.
[inlinkz_linkup id=596085 mode=1]
About the Author

Sherry Antonetti is a mother of ten children, published author of The Book of Helen and a freelance writer of humor and family life columns. You can read additional pieces from her blog, http://sherryantonettiwrites.blogspot.com.