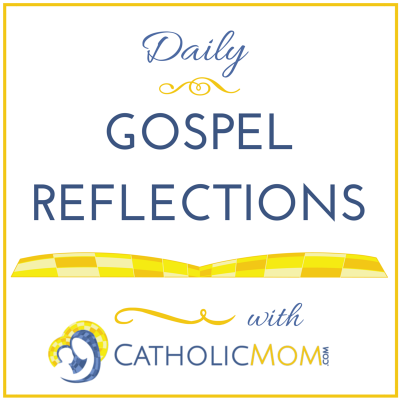 Today's Gospel: Mark 4, 35-41
How many times has a violent squall erupted in our lives, leaving us wondering if Jesus is asleep at the wheel? There was a year when a Category Five hurricane hit my life, and all I could do was cry: "Lord, do you not care that I am perishing?" Jesus answered me with the same words He spoke to his disciples: "Why are you terrified? Do you not yet have faith?"
Faith is more than simply believing in God, or even getting into Jesus' boat. It is our total self-surrender to the living God whereby we "freely commit (our) entire self" to him (CCC #1814). Such a commitment implies radical trust, which in Greek, can be rendered "are persuaded." Are we persuaded that God has authority over the wind and sea, as well as every detail of our lives? Are we persuaded that God loves us, that he is good, and that he is faithful to his promise to work all things together for our good?
It is in the storms of life that we learn to trust, for trust is often born in the crucible of suffering. When tempests rage, our sovereign God demonstrates that he is faithful and can be relied upon, and in response, we gain trust. I experienced this personally twenty-five years into my adult conversion when I spent three months in the I.C.U. with my late husband, Bernie — for whose conversion I'd prayed for many long years. I watched God move mightily in Bernie's heart following a massive heart attack — the wound that proved to be the access point through which he finally embraced God's merciful love. I watched God transform Bernie's soul, and prepare him for a holy, beautiful death. In the face of such outrageous grace, I became persuaded. Truly, I stood in awe.
Ponder:
Can I say that I truly trust God, and that I believe in his goodness and love, no matter what storms come?
Pray:
Lord Jesus, help me to trust when storms erupt in my life, especially those that threaten to sink my faith. Give me the grace to trust more deeply in you, and open my eyes that I may behold your majesty and power in my midst. Amen.
Copyright 2016 Judy Landrieu Klein
Judy Landrieu Klein, a mother and grandmother, is an author, inspirational speaker, widow - and newlywed! Her book, "Miracle Man," which has been an Amazon Kindle Bestseller in Catholicism, chronicles her late husband's near death experience and deathbed conversion. A Catholic theologian, Judy speaks about cultivating hope in our brokenness. Her blog, HOLY HOPE, can be found at MemorareMinistries.com.
About the Author