To enjoy all of my Philippines Journal entries and travel with me and Unbound, click here.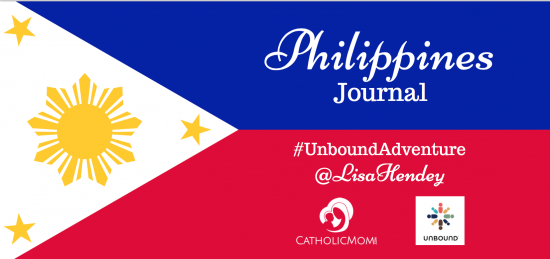 In the sight of the angels, I will sing your praises Lord. Psalm 138
I met some "angels" yesterday.
One of them was named "Lovely Faith". This precious little eight year old had traveled with her paternal grandmother all the way from Zamboanga to meet Lia and Ken, her Unbound sponsors. In truth, Lia and Ken are angels too!
Sunday morning found our group of Unbound sponsors and staff enjoying the breathtaking views of Manila Bay at Ocean Park. For the first half of the day, we were treated to an orientation of the Zamboanga program. Zamboanga City is located in the Southern Philippines on the island of Mindanao. Because it is too far for us to visit in person, the Unbound staff from that region brought Zamboango to us. We were greeted with brightly colored handmaid fabric leas and cultural dances. A video presentation left me writing "Zamboanga" on my list of places to see before I die.
Then the moment many of us had been waiting for happened. Little Lovely Faith, a nine year old Unbound program participant, gave us a video tour of her home and read her testimonial. When I have wifi access, I will share the precious words she shared with us—a witness to the power of sponsorship to change and improve lives. Lovely Faith lives with her grandparents in one of the very poorest regions of this country. With her reading, her singing and even just her precious smile, Lovely reminded me that we can learn so very much about what really matters in this life.
After hearing Lovely Faith, we were all treated to the moment when her sponsors, Ken and Lia, came forward to share what this little girl has meant to them. Lovely is the most recent of their over 20 sponsored friends. Many may think that Unbound sponsorship is simply automatically having funds deducted every month from your account to go to a nameless entity. As Ken and Lia have taught me on this trip, the potential to grow true relationships with the sponsored friends is both real and life changing.
Personal Encounter
To watch Ken and Lia interact with not only Lovely but also the four other children and parents who came to see them yesterday brought our trip's theme "Personal Encounter: A Rejoicing Hope" to life. After the morning orientation, we joined all of the visiting program families for a tour of the Oceanarium, a combination sea park and aquarium. What Minions and Storm troopers featured in one dispay at the park have to do with fish is something I am still trying to figure out. But I do know that the chance to spend a day treating these children to someplace so fun was probably even more fun for us than for the children. For many of the Unbound participants we met, a day like this doesn't happen very often. Watching Ken and Lia interact with their children made me so anxious for the day later in the week when I will meet Jackilyn, my sponsored child.
Put Out into the Deep
Our day ended with worship at the Shrine of Jesus, the Way, the Truth and the Life. When we approached the church from the boulevard it shares with the Mall of Asia, I noticed people spilling out the doors of the oversized shrine. We were able to find seats inside the church for the later Mass so I was able to enjoy the amazing artwork, especially a lovely oversized statue of Our Lady of Lourdes. The church was filled to capacity. Praying here made me think of the strong faith of many of my Filipino friends at home. I know them to be people who not only believe strongly, but also some of the most dedicated servants in our parish. To see this all around me in the pews at that shrine made me fall even more in love with the Philippines.
Yesterday's gospel passage from Matthew 4 relates the story when Jesus told the disciples, "Put out into deep water and lower your nets for a catch." During his homily, the presider reminded us that we are each called in our own way to "put out into the deep". Pope Francis has reminded us time and time again to go out to the peripheries to serve. For our Unbound group here in the Philippines, this trip is a personal encounter with our sponsored friends. It is a look at "the deep", a consideration of the possibilities. But being here reminds me once again that "the deep" can be my very own home or community. The "periphery" is not defined by geography, but by need—especially the need so many have to be loved as Christ would have us love.
Lovely Faith, so aptly named, brought the gospel to life for me yesterday. Her sponsors, Ken and Lia, will continue to teach me all week long as they meet several more of their children living here in the Philippines. Our personal encounter with these beautiful souls invites us into an ever-deepening encounter with Jesus Christ. In our desire to see, to know and to love him, let's each remember to look for our Lord in the faces of those most in need.
My patron saints for this adventure will be St. Lorenzo Ruiz of Manila and his companions, who gave their lives for their faith, and Nuestra Señora de Guia (Our Lady of Guidance). Please join me in praying for Our Lady's intercession in the work of Unbound and for the courage and conviction of St. Lorenzo to lovingly reach out to those most in need.
For More Information:
About the Author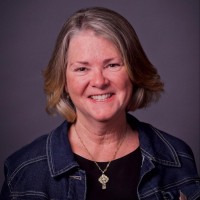 Lisa M. Hendey is the founder of CatholicMom.com, a bestselling author and an international speaker. A frequent radio and television guest, Hendey travels internationally giving workshops on faith, family, and communications. Visit Lisa at LisaHendey.com or on social media @LisaHendey for information on her speaking schedule or to invite her to visit your group, parish, school or organization. Visit Lisa's author page on Amazon.com.