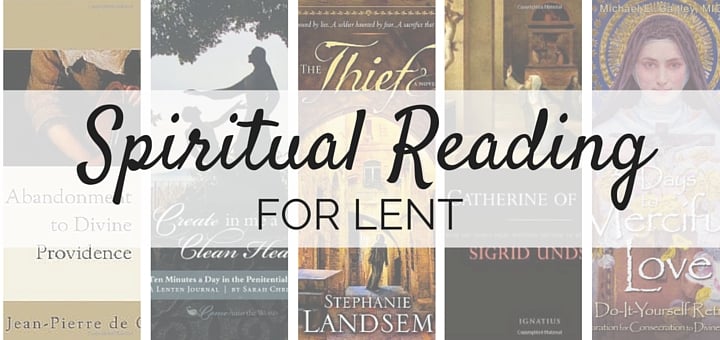 It is the day after Ash Wednesday. The entire Lenten season is ahead of us. Many have their Lenten plans all mapped out. But some of us might still be deciding how we will spend this prayerful and penitential season.
What prayers will we say? How will we fast? Where can we give alms?
If you are still trying to figure out your Lenten plans, may I suggest beginning with a book?
Lent is a wonderful season to select a special spiritual gem to read and ponder. When we read spiritual books for the purpose of growing in holiness, we can truly be inspired while our insights in faith are deepened. Spiritual books can include the lives of the saints, writings of the early Church fathers, and modern theological or faith-based books. I would conclude that spiritual reading can be practiced with just about any book that causes us to draw closer to Jesus and grow in our relationship with Him.
In 1 Timothy 4, St. Paul advises, "… attend to the reading, exhortation, and teaching." According to St. Alphonsus Liguori, this means that we should "apply to the reading of holy books, not in a passing way and for a short time, but regularly and for a considerable time."
The key, therefore, is not to plow through a stack of books during Lent (or any time of the year), but rather, meditate slowly on one, good spiritual read at a time. It is perfectly fine if it takes the entire Lenten season—and beyond—to finish a spiritual book. The pile of books isn't going anywhere, but this Lent will go by too quickly not to savor the words of one spiritual gem.
Here are five books, in very different genres, that could provide wonderful reading this Lent. All of them may not be spiritual classics, but they do help the reader grow in faith and hope, while contemplating the message of Christ's love.
Abandonment to Divine Providence by Jean-Pierre de Caussade. This classic is what I will be reading this Lent, as recommended by my spiritual director. I plan to carry it with me and read it in short excerpts during Adoration, in waiting rooms, and at night instead of watching TV. The author, a French Jesuit spiritual director, is known for his belief in the sacredness of the present moment, or the "eternal now"—something I can definitely work on in my own life.
Create in Me a Clean Heart: Ten Minutes in the Penitential Psalms by Sarah Christmyer. Growing in prayer is a common desire, especially during Lent. In this brand-new release, Bible Scholar Sarah Christmyer invites us to set aside 10 minutes a day to ponder one of the Penitential Psalms each week of Lent. Traditionally, the Penitential Psalms help us recognize our sin, offer up our sorrow, and turn to God for forgiveness. By reading the Bible and using the ancient prayer practice of lectio divina that is outlined in this book, we can move toward a fresh, new start at Easter.
Catherine of Siena by Sigrid Undset. If you enjoy reading about the holy lives of the saints, this is one of the best biographies of St. Catherine of Siena. Sigrid Undset, known for her historical fiction, won the Nobel Prize for literature in 1928. During her writing career, she became acquainted with some holy men and women, and the impression they made on Sigrid is one of the reasons she entered the Church in 1924. Catherine of Siena was a particular favorite of Sigrid, who also became a Third Order Dominican, and in this novel she presents a most moving and memorable portrait of one of the greatest female saints of all time.
The Thief by Stephanie Landsem. This novel beautifully weaves actual events from Sacred Scripture with a new storyline that is very realistic. It allows the reader to imagine life in Jerusalem at the time of Jesus. It is about a young woman who is trying so hard to support her family and a Roman centurion who is searching for peace in a very unsettling career and world. Both are drawn to Jesus and His indescribable ways, and both are very much present at His arrest, trial, and crucifixion. The Thief not only is enjoyable and captivating. It also penetrates the soul with a deep message of mercy, love, faith, and peace. It enlivens the Gospel message and invites readers to deeper discipleship in Christ.
33 Days to Merciful Love by Fr. Michael Gaitley. This sequel to the do-it-yourself retreat, 33 Days to Morning Glory, is the perfect companion in this Jubilee Year of Mercy. Using the same preparation format, Fr. Gaitley guides us in journeying with one of the most beloved saints of all time, St. Therese of Lisieux, and concludes with a consecration to Divine Mercy. The preparation is intended to begin on March 1 and conclude on the Feast of Divine Mercy, which is April 3 this year.
Many saintly people were profoundly impacted after reading spiritual works, including St. Augustine, St. Ignatius of Loyola, and St. Edith Stein. Perhaps this Lent, we can be, too.
What are you reading this Lent? If a particular spiritual read has impacted your faith life, please share it with us in the comments.
About the Author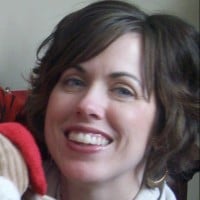 Sarah Damm is a Catholic wife and mother of six children, living in Minnesota. She spends her days running errands, helping with homework, and keeping up with laundry and the family schedule. Sarah loves her faith, coffee, and good books. You can find out more about her at SarahDamm.com.